My Favorite Sweet Potatoes
Updated from the archives
Although it may not be popular, I'm just going to say it: turkey is my least favorite part of Thanksgiving. I really get into the carbohydrates. We typically dish up our plates buffet-style, then sit down to eat together. It usually goes about like this for me: Turkey? Nah. A touch of stuffing? If I must. Why hello, mashed potatoes. Long time, no see. Warm, delicious rolls? Go ahead and hop on my plate. And you, glorious sweet potato casserole… you may just be my best friend.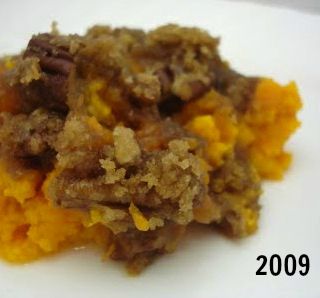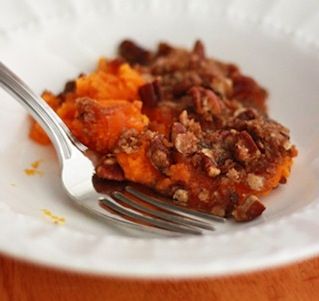 (Before we get to the recipe, let's just take a minute and see what the old picture looked like… three years ago. I've done some improving, and I hope the next three years bring much more improvement!)
It's not even close to the healthiest sweet potato recipe out there, but it's especially fabulous and perfect for Thanksgiving. Another beautiful thing about these sweet potatoes is that you can prepare them the night before or the morning of Thanksgiving and then just pop them in the oven when you're ready to cook them. If you don't want a full 9 x 13″ pan full, you can certainly half the recipe and cook it in an 8 x 8″ pan, as I did here. They are very simple to prepare, and the leftovers are fantastic.
I typically make mine with the red/ruby sweet potatoes (sometimes sold as yams). They're delicious and I just love the extra depth of color. My aunt and mom both make them with the canned ones. You do what floats your boat. Lastly, one big giant thank you to my Aunt Kelly for this recipe! We can never get enough.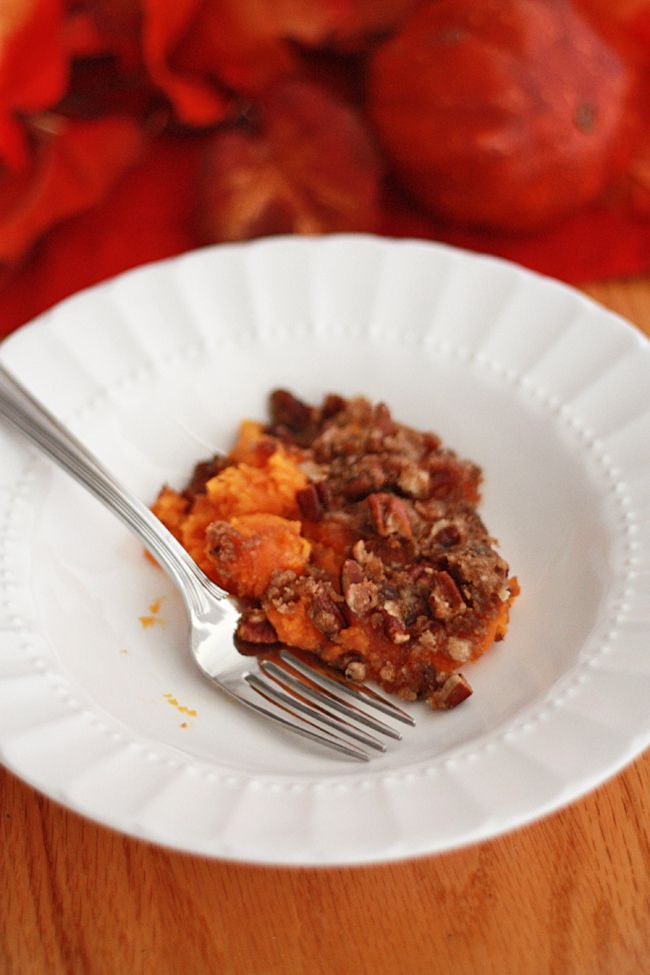 Print
My Favorite Sweet Potatoes
---
Description
If you like, feel free to double the topping… I won't tell.
---
For sweet potatoes:
6

c mashed sweet potatoes (

3

–

4

large sweet potatoes)

1

c sugar

1/2

c milk

1/4

c butter, melted

3

eggs

1tsp

salt

1tsp

vanilla
For the topping:
1

c brown sugar

1

c chopped pecans

1/2

c flour (can substitute Bob's Red Mill GF 1 to 1 Baking Mix)

1/4

c butter
---
Instructions
In a large bowl, combine sweet potatoes, sugar, milk, and butter. Add eggs one at a time, stirring well after each addition to fully incoporate the eggs. Stir in salt and vanilla. Pour into a 9 x 13″ baking dish.
In a medium bowl, combine brown sugar, pecans, flour, and butter until very crumbly and well combined. (a pastry blender or two forks work well for this). Sprinkle over the sweet potato mixture.
Bake uncovered at 350 degrees for 40-45 minutes or till golden.