nectarine, ham, & cheese panini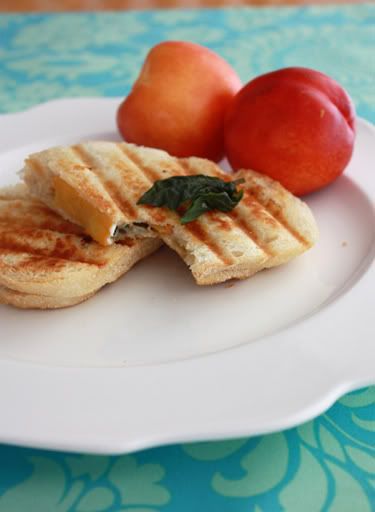 It's been monsoon season in the desert these past few weeks and Mother Nature has been as hormonal as menopause, poor girl. Thundering, crashing, gushing rain, then bright sunshine and a cloudless sky 10 minutes later, then drizzly rain, then death by dust storm, and so it goes.
Monsoon rains are the equivalent of snow days here, where it's sunny and warm 98% of the time. So, I've been inside a bit more than usual, and it's been kind of fun to pretend that I'm "stuck" inside. Of course, I'm not really, but it's fun to pretend, so I do. I'd had plans to go out running errands the other day, and it started gushing rain the moment I put my hand on the doorknob to leave. It's not safe to drive during the flash floods, so I decided to make the most of things while I waited it out. I flipped on You've Got Mail (probably my favorite movie of all time) and decided to make some lunch.
And there they were: fresh, juicy, nectarines. And in my fridge, some fancy locally-grown basil and a few slices of bread leftover. So, I made grilled cheese. But not just any grilled cheese, dear reader, I made fantastic, glorious grilled cheese. Thin-sliced ham, nectarines, tangy cheese, and basil made for a delicious, amazing lunch. The saltiness of the ham and cheese played really well off the sweetness of the nectarine. It was a really great combination.
If you're not into ham or are nervous about trying basil with fruit, feel free to leave it off. You can use any spreadable cheese (or non-spreadable, really) here–brie (no rind), talleggio, or even those little Laughing Cow cheeses. If you go the non-spreadable route, I'd stick with something light, like mozzarella or jarlsberg.
Anyway, something a little different for a rainy day lunch.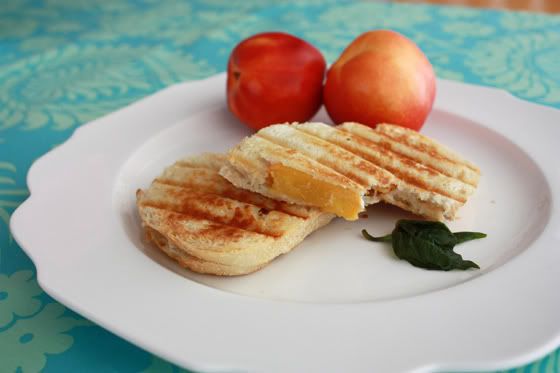 Print
Nectarine, Ham, & Cheese Panini
---
thinly-sliced bread
about

1 1/2oz

spreadable cheese, (such as brie or talleggio) or a few slices white cheese

1

–

2

thin slices deli ham

1

nectarine or peach, thinly sliced
basil leaves
salt & pepper
butter
---
Instructions
For each sandwich, spread cheese across one slice of bread. Layer ham, nectarine slices, and a few basil leaves. Sprinkle with salt & pepper as desired and top with second slice of bread. Butter outsides of sandwich and grill or cook in a pan about 5 minutes or until golden brown. Serve warm.