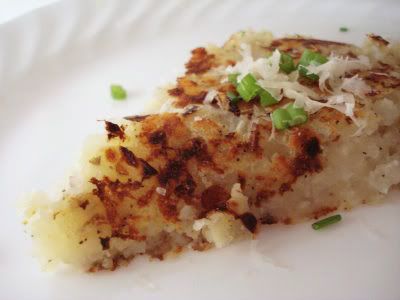 I am just getting to post this recipe (finally) now that the end of finals week is in sight. The other night, I was craving something filling and warm, but still pretty light. This potato pancake fit the bill!
I must share with you a secret I have learned from making hash browns and potato pancakes: You have to leave them alone. I'm not so good with the leaving alone usually. I'm the type who likes to peek and see if it just needs a little attention, or the type who think somehow that by stirring something it will cook faster/better/more golden/insert other adjective here. This kind of peeking and stirring typically prevents things from getting golden and crispy lile I want them to.
What I love about this potato pancake (inspired by a recent episode of Giada at Home), is that it takes hash browns to a more elegant level. The recipe is incredibly versatile–you could stir in fresh herbs (Giada did basil, but you could certainly do rosemary or just Italian parsley), change up the cheese or leave it out, and then dress up the toppings (sour cream or creme fraiche is common)
We ate ours with a fruit side dish and it was heaven. Another good option would be a simple salad of greens and viniagrette. Oh heavens. I want leftovers.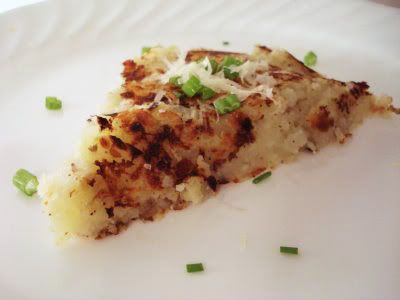 Potato Pancake
Printable Recipe
Ingredients:
2lbs potatoes, boiled and grated
1/2 sweet onion grated or finely diced
1/2c parmesan cheese, grated
salt and pepper to taste
2-3 Tbsp butter, olive oil, or a combination
garnishes and whatnot for toppings
(I used green onion and extra parmesan, you could use the same, or even venture into herbs or romesco sauce or whatever sounded tasty)
Directions:
In a large bowl, stir together the potatoes and onion. Stir in the parmesan and a generous pinch of salt and pepper. Meanwhile, heat a large skillet and melt half of the butter. Pour in the potato mixture and pat down. Cut up the remaining butter into teeny pieces and sprinkle on top of the potato mixture.
Cook over medium heat until golden brown. If you feel daring (and I hope you do) flip the pancake out onto a plate (I do this wearing oven mitts, placing a plate over the top of the skillet then flipping it over). Slide the pancake back into the skillet and cook until golden brown. Slide out onto a plate and cut into wedges. Serve with desired toppings.
Ours made about 5 good-sized wedges