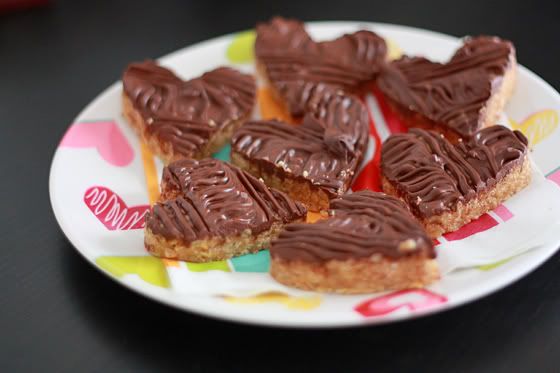 Thank you so much for your sweet comments on the quiet book! It was such a fun project and it's so fun to have it finished.
Did you have a good weekend, dear reader? Michael and I enjoyed some errands, some projects, some work, and some good old-fashioned loafing. All the elements of a great weekend.
Saturday evening, we were invited for dinner and games to Michael's brother Daniel's house. His wife, their four cute kids, our family friends, and even our out-of-town sister Stacy were all able to be there. Dinner was amazing, the after-dinner cobbler was to die for, and the conversation and games were both fantastic. I'd been bitten by the "make-a-treat" bug earlier that afternoon and had decided to make my mom's Oh-Henry bars to bring along for during the games.
I love Oh-Henry bars.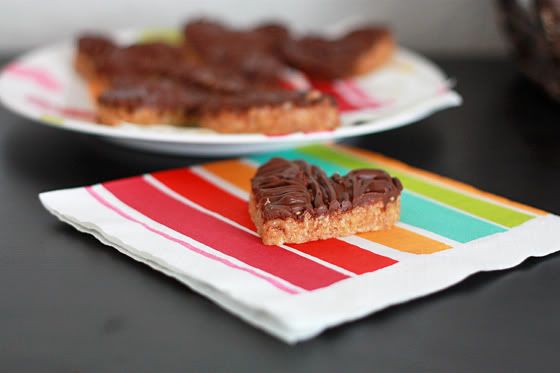 These have lots of different names–scotcheroos, peanut butter krispies, etc.–but I just love that my mom has always called them Oh-Henry Bars. Plus, ours don't have butterscotch, so scotcheroos wouldn't fit.
These are the treats we'd always bring to church youth activities and we'd come home with a completely empty cookie sheet pan every time. No matter where we moved, these were always a big hit. I think it's a huge bonus that they're a no-bake treat that's quick to whip up if you don't have much time.
I've scaled back the recipe to a 9×13″ pan size, but if you like, you can certainly double it and make it in a cookie sheet instead.
Also: it was the end of Valentine's week, and I just couldn't help myself cutting them into hearts with a cookie cutter, but usually we just serve them in squares or rectangles. Do what you like!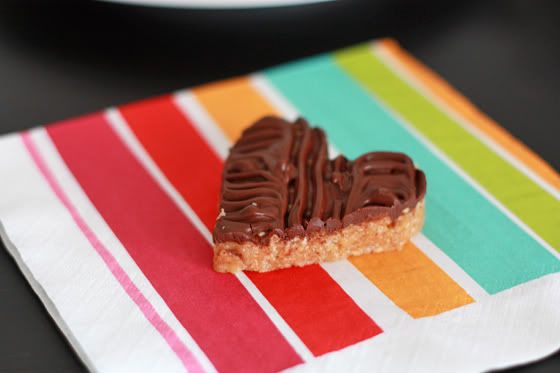 Print
Oh-Henry Bars
---
3

c crisp rice cereal (use

3

1/2c if omitting peanuts)*

3/4

c salted or honey-roasted peanuts (optional)

3/4

c sugar

3/4

c corn syrup

3/4

c peanut butter

1

–

1 1/2

c chocolate chips*
---
Instructions
In a large bowl, combine cereal and peanuts, if using. Set aside. Butter or spray a 9×13″ baking dish well.
In a large saucepan, combine sugar and corn syrup. Bring to a boil over medium heat, stirring often. When the mixture comes to a full boil, remove from the heat. Stir in peanut butter to melt.
Pour mixture over cereal/peanuts and stir to coat very well. Pour into baking dish and spread evenly. If you need to, feel free to use your hands for this part (you may want to get your fingertips damp).
Sprinkle chocolate chips over the top and allow to melt. If you find they aren't melting, you can put the baking dish in the oven on its lowest setting for 2-3 minutes. When chocolate chips are glossy and ready to spread, use a fork or spatula to spread the chocolate over the cereal mixture. (I like using a fork to make swirl designs)
Allow to cool and slice into bars or cut into shapes using a cookie cutter.
Notes
*Gluten and Dairy Free Notes:

Your crisp rice cereal MUST say "gluten free". We like Erewhon brand, but Rice Krispies also makes a gluten free version (again, the package MUST say gluten free).

These can be dairy free if you use dairy free chocolate chips. Trader Joe's semi-sweet chips are a good choice, or Enjoy Life brand are great too.