overnight chia oat bowls (gf, df, v)

I know. I'm turning into a hippie.
That's what it feels like sometimes when I see what the last several months have brought into my life–a gluten and dairy-free lifestyle, more organic produce, fewer chemical-laden cleaners and products, and even essential oils.
It doesn't get much more earth-loving than chia seeds and raw oats, but here I am. And it's a tasty place.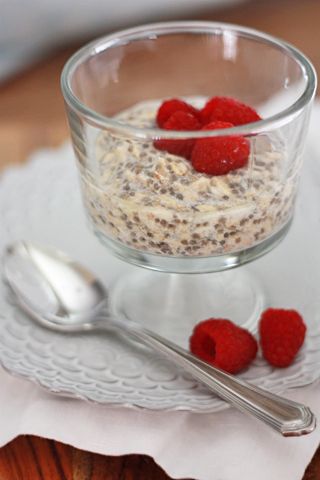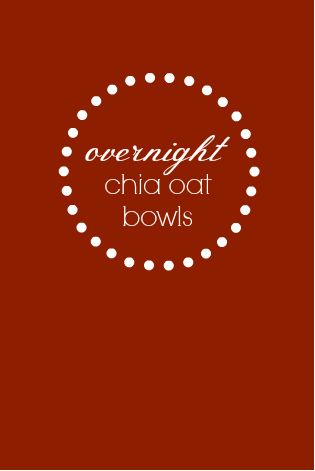 Have you tried chia seeds? I tried them first about three years ago when I read Born to Run and the author went into all their virtues. They were just really starting to get trendy, and I wanted to see what all the fuss was about. They're really interesting. I use them in my favorite granola recipe, but I've also been enjoying them soaked in these raw oats.
When soaked, chia seeds crack open and become a bit gelatinous. Lest that word scare the pants off you, know that in this case, "gelatinous" is a scary-sounding word that simply means "sort of pudding-like." This is easy to mix up the night before and leave in the fridge overnight. I sometimes mix it up after breakfast and eat a bowl for lunch. It's great for when you want something hearty and filling, but without all the heat. Dress it up any way you like. My favorite is fresh berries, but I've included lots of suggestions in the recipe notes.
Enjoy and happy Monday!
p.s. If you aren't concerned about food sensitivities or allergies, you can sometimes find chia seed in the bulk bins at the market. I did this when I first bought it, and only scooped out a few tablespoons' worth to try. Then, once I learned I liked it, I could buy whatever amount I wanted. Bulk bins often have cross-contamination issues ("that bin used to store ___ and now it stores ___" or "this scoop used to be used for ___ and someone accidentally used it for ___"), so those with allergies or sensitivities would probably be best off buying a separate package.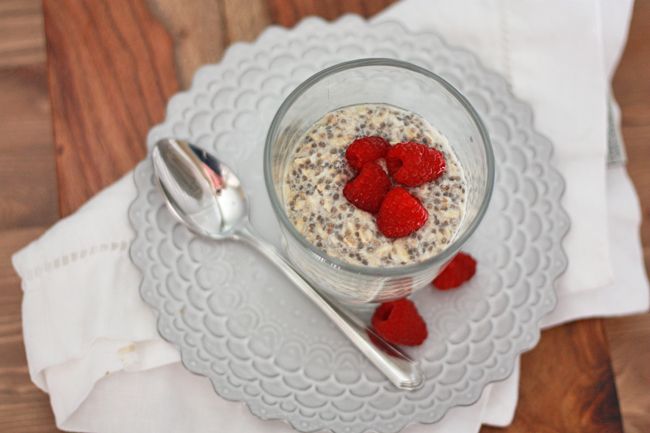 Print
For the chia oat bowls:
1/4

c old-fashioned oats* (not quick-cooking)

1 Tbsp

chia seed*

1/2

c unsweetened almond milk (vanilla or original)

1

–

2

tsp pure maple syrup or honey (optional)
Ideas for toppings:
Fresh berries–raspberries, strawberries, blueberries, or blackberries
Fresh mango & kiwi
Coconut & mango
Dried cherries & almonds
Toasted coconut & almonds
A dollop of your favorite jam or fruit butter
---
Instructions
For each chia-oat bowl, stir together oats, chia seeds, almond milk, and syrup (or honey). Refrigerate 3-4 hours up to overnight to allow everything to reach a pudding-like consistency. Top with your favorite toppings and enjoy!
Notes
*Gluten and dairy free notes: be sure your oats are certified gluten free. We've been very happy with Bob's Red Mill brand. Also, double-check that your chia seed is safe. Sometimes, it's processed on shared equipment with gluten- or dairy-containing ingredients and may cause a reaction, depending on your sensitivity. We got ours at Nuts.com, but I've also seen it at Trader Joe's for a great price.