peanut butter crunch brownies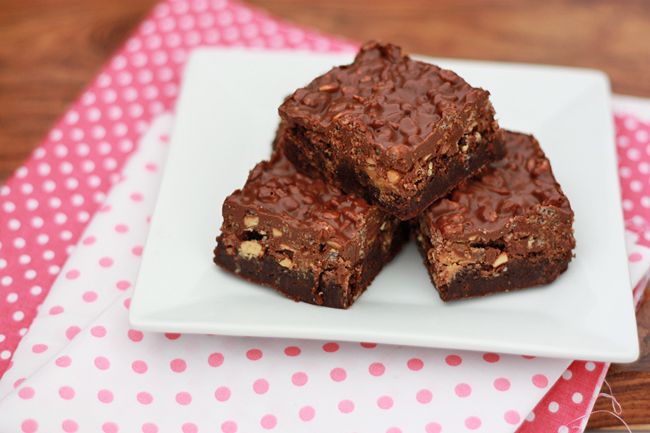 I am ridiculous. Help me, Rhonda.
I've been avoiding these brownies. I've been on a peanut butter and chocolate kick lately. First, with those brownies with fluffy peanut butter brownies, then those chocolate peanut butter clusters, and now these.
I may have a peanut butter and chocolate problem, but let me tell you, these. are. amazing.
Not to be bossy, but make these NOW.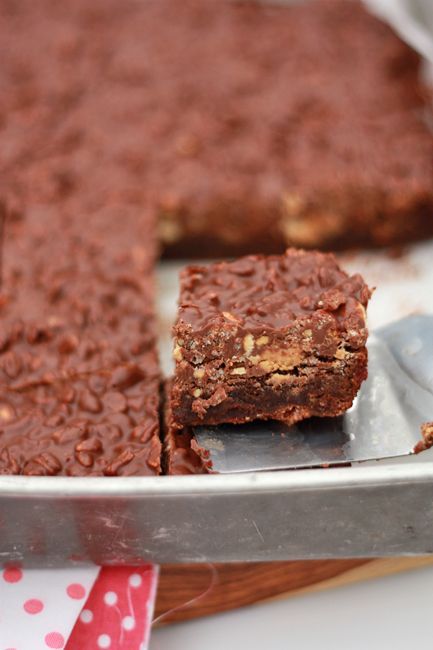 These should be called something like Brownies of Insane Greatness or something. They are delicious! The crispy topping with the fudgy brownie and the salty crunch of the peanuts… Help, help me, Rhonda. They are about as decadent as they come, but completely delicious and (surprisingly) not too, too rich.
For a faster version, you can use a boxed brownie mix and proceed with the rest of the directions. If you have the time, though, I highly (H I G H L Y) recommend making your own. Also, the original recipe calls for the addition of 1 cup of chopped peanut butter cups with the peanuts. I've tried it with and without, and I actually prefer it without. If you prefer, however, go for it. Peanut butter cups or no, these are a fantastic, decadent, happy chocolatey dessert perfect for Valentine's Day or any time.
…and I promise two things: 1) I will post something more artery-friendly soon, and 2) the next dessert I post will not be a chocolate-peanut butter something.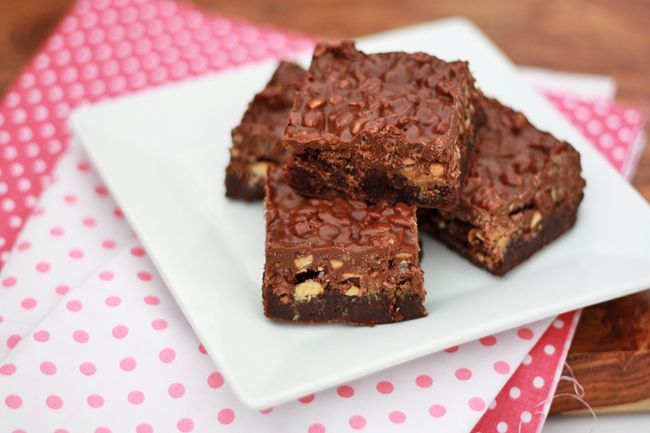 Print
Peanut Butter Crunch Brownies
---
For the brownies:
1

c butter

2

c sugar

4

eggs

2 tsp

vanilla

2/3

c unsweetened cocoa powder

1

c flour

1/2 tsp

salt

1/2 tsp

baking powder
For the topping:
1

c salted peanuts

1

c chopped peanut butter cups (optional)

1 1/2

c chocolate chips

1 1/2

c peanut butter (I used crunchy)

1

c crisp rice cereal
---
Instructions
To make the brownies, melt butter in a large saucepan. Stir in sugar, eggs, and vanilla. Stir in cocoa, flour, salt, and baking powder. Spread batter into a 9 x 13″ pan sprayed with nonstick spray or lined with parchment paper. Bake at 350 degrees for 25-30 minutes, or until a toothpick inserted in the center comes out with only a few moist crumbs.
While brownies are cooking, melt chocolate chips and peanut butter in a medium saucepan over medium heat, stirring often to prevent burning. When mixture is melty and smooth, stir in crisp rice cereal and stir to coat.
When brownies are finished baking, remove from oven and immediately sprinkle with peanuts and peanut butter cups (if desired). Spread chocolate/peanut butter/cereal mixture over all and smooth with a spatula. Refrigerate brownies about 2 hours or until topping is firm.
Notes
Makes at least 24 brownies.
Brownies adapted from Comfort of Cooking, topping adapted from Browneyed Baker