projects: scrap rag wreath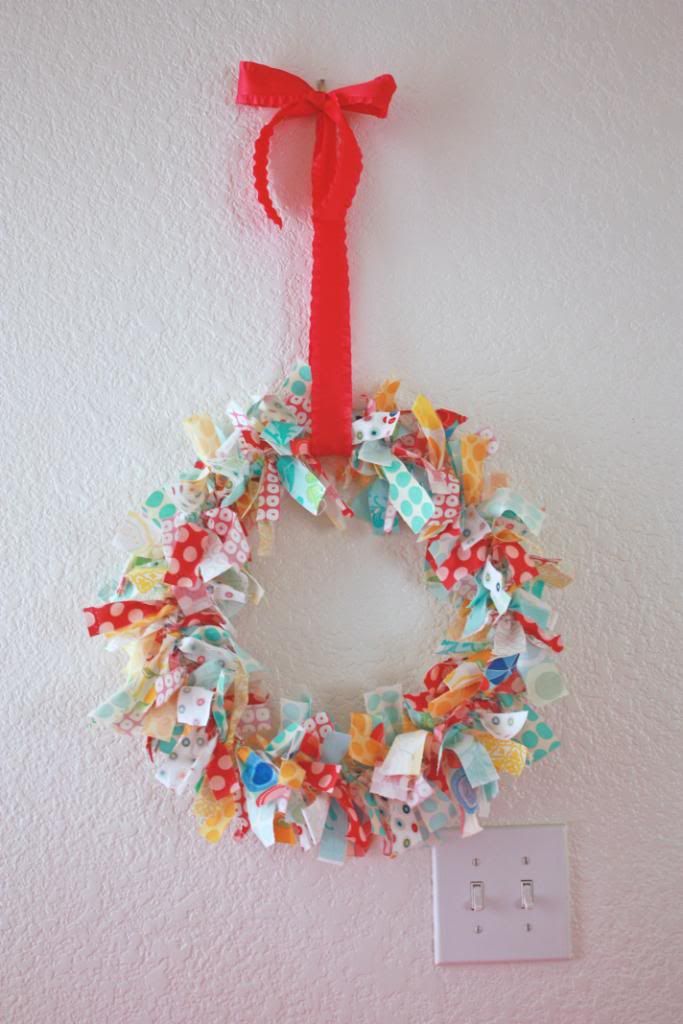 Although I don't know many newlyweds or college students who would say they LOVE living in a smaller space with a tightish budget, I've got to say that budget decorating is a really fun adventure. Michael and I currently live in an apartment by choice. Could we buy or rent a house? Yeah, we could. Would I love to paint, decorate, and furnish a house? Yeah, I would.
But.
We really like the idea of saving for a while longer before we take the plunge. That way, we're free to put more down when we do buy a house, and we have the mobility we need if we end up going away somewhere to graduate school in a few years without having to worry about the housing market.
It's been a good fit so far. We love our apartment and the amenities (hello, two pools and a gym!), the complex is well taken care of, and we have quiet, respectful neighbors. The only hiccup for us has been decorating the nursery. We'd both LOVE to paint the walls, choose our own carpet, etc., so the room has presented some design challenges. We decided that instead of feeling sad about what we couldn't do, that we'd find the fun in making as much of what we're adding to the room as we could on a budget.
One of our fun projects was this no-sew fabric wreath.
I've seen these made around holidays using either fabric scraps or ribbons. Both work beautifully. I used fabric I already had on hand that matches the color scheme we like (aqua, bright pink, and yellow).
The project could hardly be easier. If you can tie a knot, you can make this wreath.
I started out by buying a 12″ round metal hoop at Hobby Lobby (I've also seen them at Jo-Ann's and Michael's). Next, I gathered several different fabrics that matched the room, and cut strips that were about 7″ long and about 1″ thick. I used about 8 different fabrics and cut out 8-10 strips of each color, though you could use more or less depending on how full you want the wreath to look.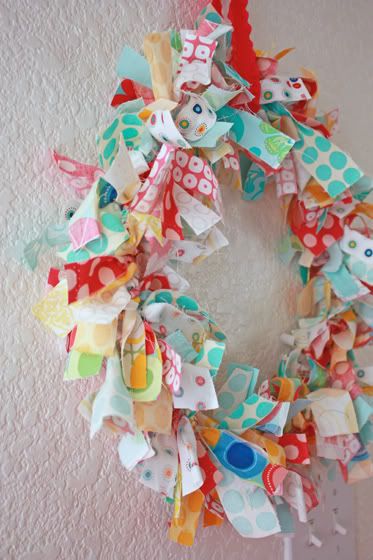 When all the strips were cut, all I had to do was tie them onto the metal hoop. I tied a single knot (a double knot seemed too thick) and then fit as many strips as possible onto the ring. When all my fabric strips were attached, I sort of twisted and fluffed them till I was happy with how they looked.
I bought some matching pink ribbon to hang the wreath, then hung it on the wall. Easy-peasy!
You could easily make one for Valentines Day, Halloween, Christmas, or any other holiday. Like I said, I've seen them made with ribbon or fabric, so whatever works best for you would be just fine.
Here's the cost breakdown:
65-80 strips of fabric: free (I used what I had)
metal hoop: $1.00 at Hobby Lobby (originally $1.99, bought at 50% off)
pink ruffle ribbon $2.17 at Michael's
Total cost? $3.17
If you do need to buy fabric, I'd recommend looking at remnants or fat quarters of fabric, which are available at discounted prices.
Anyway, we sure do like the spot of color this adds to the room and think it will be fun to look at while baby is getting changed (I still need to put a changing pad into that pink cover).