raspberry chocolate chip brownies
Raspberry Chocolate Chip Brownies – Fudgy and delicious with a perfect berry bite.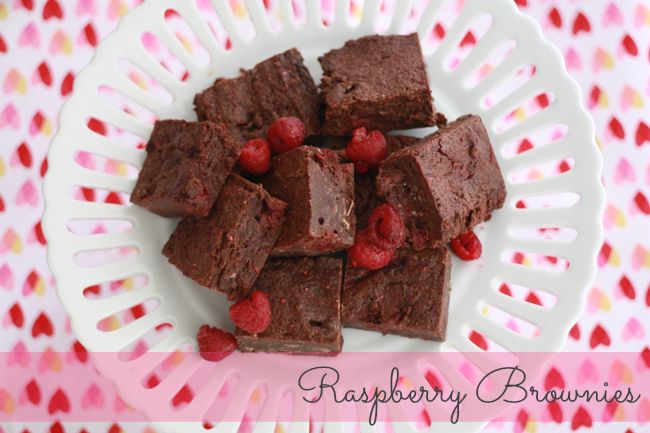 Life with our two munchkins is still crazy-pants, so I'm not much for words today… I just wanted to pass along our brownie experiment in case you wanted to use it for Valentine's Day later this week. 
Perfect for Love Day later this week, these brownies are not for the faint of heart. But you should make them for the person who has your heart.
(See what I did there? … give me a break, I'm sleep deprived.)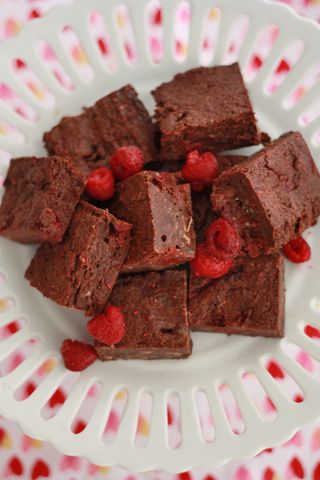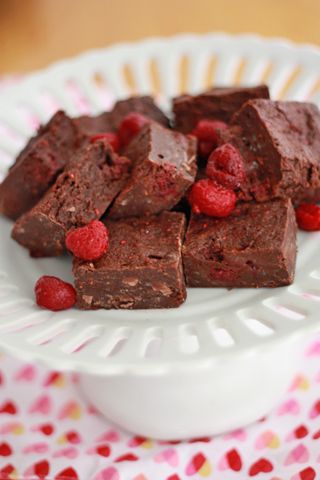 These intensely fudgey brownies (seriously, they're almost like fudge) are incredibly rich and very satisfying. Do be sure to cut small pieces, since a little goes a long way (you can get at least 16 brownies out of this recipe). The darker chocolate is divine and the raspberry flavor comes through without being overwhelming. They were perfect plain, but we enjoyed them best when we chopped up some brownie bits to use in a trifle!
Want to make your own? Layer pudding (or mousse or whipped cream), fresh raspberries or raspberry sauce (we used this recipe for raspberry sauce), and tiny chopped up brownie bits. You won't be sorry. Even if your thighs are.
Happy Love Day (on Thursday)!
Print
Raspberry Chocolate Chip Brownies
---
1 1/2

c bittersweet chocolate chips

1/2

c butter

1/2

c brown sugar

2

eggs

1/2 tsp

vanilla

1/2 tsp

salt

1

c flour

1

c raspberries (if using frozen, do not thaw)

1

c semi-sweet or bittersweet chocolate chips
---
Instructions
In a medium saucepan, melt 1 1/2c bittersweet chocolate chips and butter. Stir until smooth. Remove from heat and stir in brown sugar, eggs, and vanilla. Beat until smooth. Stir in salt. Fold in flour, raspberries, and 1c semi-sweet (or bittersweet) chocolate chips until flour is just barely combined. Batter will be thick.
Pour batter into an 8×8 baking dish lined with parchment paper. Smooth surface.
Bake at 350 degrees for 25-35 minutes, or until a toothpick inserted in the center comes out with a few moist chocolate crumbs. Brownies may not seem all the way done. This is okay! They'll finish setting as the brownies cool.
Allow brownies to cool completely before cutting and serving. Store leftover brownies in the refrigerator.