You might not believe me, but that is the REAL color of this ice cream. No artificial colors, no messing with it during photo editing. This ice cream is REALLY this pink, folks.
Michael and I have been making homemade ice creams about once every other week this summer, and it's been a really fun date night treat (especially when the temperatures hover in the triple digits). I've been interested in trying something a little different, since our last ice cream was so rich. A berry frozen yogurt seemed like just the thing.
It was, dear reader. Oh…it was.
I combined and altered a few recipes to come up with this one, and I was really happy with how it turned out. The flavor was tangy and delicious without being too overpowering. The color–oh the color!–I was in love with. I figured it was best not to have too many seeds, so I strained out 2/3 of them for a smoother mouthfeel. I found this to be the perfect ratio for me, but if you don't want any seeds, feel free to strain them all out.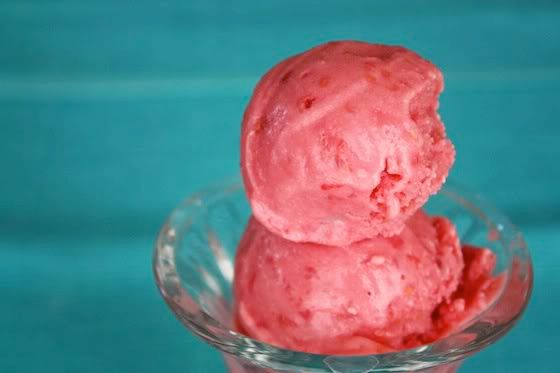 Print
2

c whole milk plain yogurt

3

(6oz) containers fresh raspberries, washed

3/4

c sugar

1tsp

lime juice

1/2tsp

vanilla
---
Instructions
Puree yogurt, 2 of the packages of raspberries, 3/4c sugar, lime juice, and vanilla in a food processor or blender. Strain into a large bowl to remove seeds. In a medium bowl, mash remaining package of raspberries well. Stir into pureed mixture. Refrigerate until well chilled.
Freeze in ice cream maker according to manufacturer directions. Freeze at least 2 hours before serving.