raspberry lemonade (gf, df, v)
Raspberry Lemonade – Just the right blend of sour and sweet.
"Oh what do you do in the summertime, when all the world is green? Do you fish in a stream, or lazily dream, or watch as the clouds go by? Is that what you do? So do I."
I love those words from one of my favorite childhood songs. It perfectly captures summer. This week has said summer to me more than a lot of other summer weeks, and I couldn't really tell you why. Michael and I have done lots of indoor summer foods, and we decided to cap off the week with some homemade lemonade.
We are water people 90% of the time. About 9% of the rest of the time is 100% juice and only 1% is soda (for Michael–it hurts my throat) or other drinks. But when the mood strikes for almost any recipe, we jump in with both feet. We had a huge craving for lemonade this week, and we thought it would be fun to try a flavored one.
Both raspberries and lemons were on sale this week, so our decision was practically made for us. I fiddled with the amounts a bit and came up with this combination, which was perfect for us–still a little tart, with plenty of berry flavor. The color was fantastic and looked brilliant in the glasses!
This recipe makes about 1 1/4 quarts of lemonade, which was perfect for two of us to have several glasses each. If you have a big family, you'll likely have to double the recipe.
When you look for lemons, choose those that feel heavy for their size and that give slightly when you squeeze them gently. You can use fresh or frozen raspberries for the lemonade, and the amount of sugar can absolutely be adjusted for your taste and depending on the sweetness of the berries.
Pour yourself a glass, tuck up your feet, and dive into a great book. Lovely.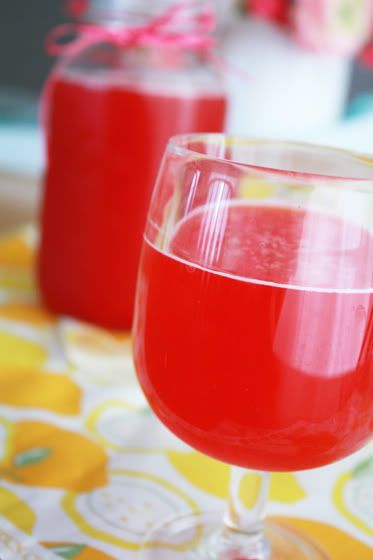 Print
1

c (about 6oz) raspberries (thawed if frozen)

2/3

c sugar

1

c fresh-squeezed lemon juice (between

6

–

8

lemons. I used 6.)

2

–

2 1/2

c water
---
Instructions
In a medium bowl, combine raspberries and sugar. Allow to sit 5-10 minutes (you can use this time to juice your lemons). Using a potato masher, forks, or even a blender, mash up your raspberries as much as possible. Combine with lemon juice and stir well. Pour mixture through a sieve to strain out raspberry seeds and any pulp you don't want. Discard seeds and pulp. Add 2 cups of water to lemon & raspberry juice. Stir and taste. Add additional water or sugar as necessary to temper the tartness.
Makes about 1 1/4 quarts.