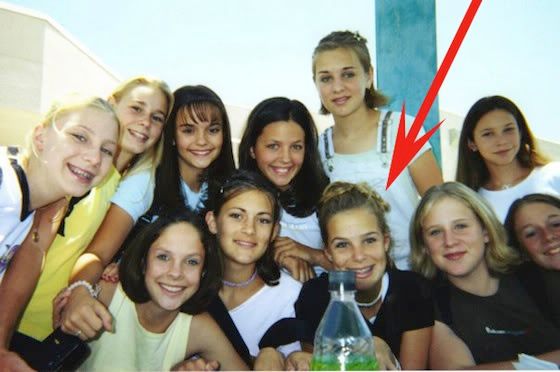 Remember that one time I was banned for life from a restaurant?
Uh, what?
Let me tell you the story.
First, off, did you see that embarrassing photo up top? I know. Junior high. One year of braces, two thick eyebrows, and three too many coats of mascara. In the picture I'm sporting what I referred to as a "messy bun." I didn't figure out how to do my hair till I was, oh, about 20 (I'm 23 and still working on it). I wish I could say I were kidding. Exaggerating for dramatic effect. Nope, it's the truth.
I should also tell you a little bit about junior high me. I was 14, a straight-A student on my way to student body vice-president and National Junior Honor Society. I was Spanish student of the year, and 7th and 9th grade student of the year. I hadn't an athletic bone in my body to speak of, but I was a smart girl who was super involved in choir, drama, student council, and my church youth group. My ambitions included graduating high school Valedictorian and getting a college scholarship. I only tell you these things to show that I was one straight-laced girl. To the max. I hadn't even thought of teenage rebellion. It didn't exist for me.
For fun, my friends and I went swimming, played Apples to Apples, went to the (PG and sometimes PG-13) movies, and occasionally went out for ice cream. When we were feeling daring. And when one of our moms would give us a ride.
So, you get the picture.
Anyway, one of my friends turned (I believe) 14 that year, and for a super-cool, grown-up birthday party, her mom was going to DROP US OFF at a restaurant for lunch, let us eat ALONE, then come back and pick up us/the tab. It was SO cool! Plus, I'd never been to this restaurant before, and it was going to be SO FUN!
So, far too many of us packed into her mom's suburban, and we got dropped off. As little girls do, we spent much of the time giggling and talking about silly things, like boys we liked, or how super cool it was to eat out ALONE.
Out of the corner of my eye, I noticed two of the waitresses whispering to each other and gesturing at our table. Then they disappeared back into the kitchen, and I figured the cosmos had aligned and I would be witnessing one of those rumored FREE BIRTHDAY DESSERTS I'd heard all about. Man, this day just got COOLER and COOLER.
A few minutes later, the waitresses returned, this time with a cook. They whispered, gestured, and disappeared again. Dessert for sure.
Five minutes later, a police officer walked into the restaurant, quickly conferred with the waitresses, then approached our table. All giggling immediately ceased and terror seized us. Had something happened to my friend's mom? Were we in trouble?
Pointing to me and a shy, quiet girl at the table named DeeDee, the officer said in a very firm voice "I'm going to need you two to step outside."
DeeDee and I clutched each other as we walked outside, scared to death. When we'd gotten about 20 paces away from the entrance, the officer turned to face us, hands on his hips, and a very serious expression on his face. " The waitresses have identified you as two girls who left a few weeks ago without paying your tab and they want you banned."
DeeDee was too scared to speak. Literally. Eyes wide, her mouth opened and closed a few times, and she clutched my arm tighter. Shaking, I mustered up my courage and in a small voice, said "Oh, there must be a mistake. I've never eaten here before, sir."
Officer: Now how do I know that's true? Those two waitresses remember you and that's good enough.
Me: Officer, I've really never eaten here. I promise. You can ask my parents!
Officer: Your parents don't know everything you do.
Me: Really, mine do! I have to tell them whenever I go anywhere. You can call them and ask! Really. I promise!
Officer: I have no way of trusting you, no reason to believe you, and I'm not going to call your parents. They wouldn't know. The restaurant has banned you for life. If you ever set foot on these premises again, you will be arrested. Understand?
Dumbfounded and stammering, we managed to nod our heads. DeeDee was crying by this time, and I couldn't hold my tears back any longer.
With that, we weren't even allowed to return inside to finish eating or rejoin our party. DeeDee and I sat on the curb out front shaking and crying. Why wouldn't he just believe us? I was a GOOD girl! I hadn't ever done anything wrong like this!
The worst part of it all was the complete disgust he showed when I tried to tell him to ask my parents. He clearly didn't believe a word I was saying, and treated me like a criminal. It took all my courage to tell him what I did tell him, but I wish I'd have pressed it a bit more. Not in a flagrant way, just to have him actually call my parents, you know?
Anyway, about 10 minutes later, my friend's mom showed up, paid for lunch, and then took us all home. I didn't stop crying for a long time.
Years later, I can joke about being banned for life from a restaurant when I was 14 for attending a birthday party. I can sort of understand the officer's seriousness. After all, while DeeDee and I were decidedly innocent, police officers have to deal with a lot of mouthy teenagers on a regular basis, and he was just doing his job. I do NOT think it was appropriate for him to treat us the way he did without consulting our parents (after all, we were 13 and 14) or the security camera. I also like to think the two waitresses (about 18-19 years old then) somehow realized the error of their ways. But meh… It's over.
And it makes a good story, right?