salted caramel pecan bars with brown sugar shortbread crust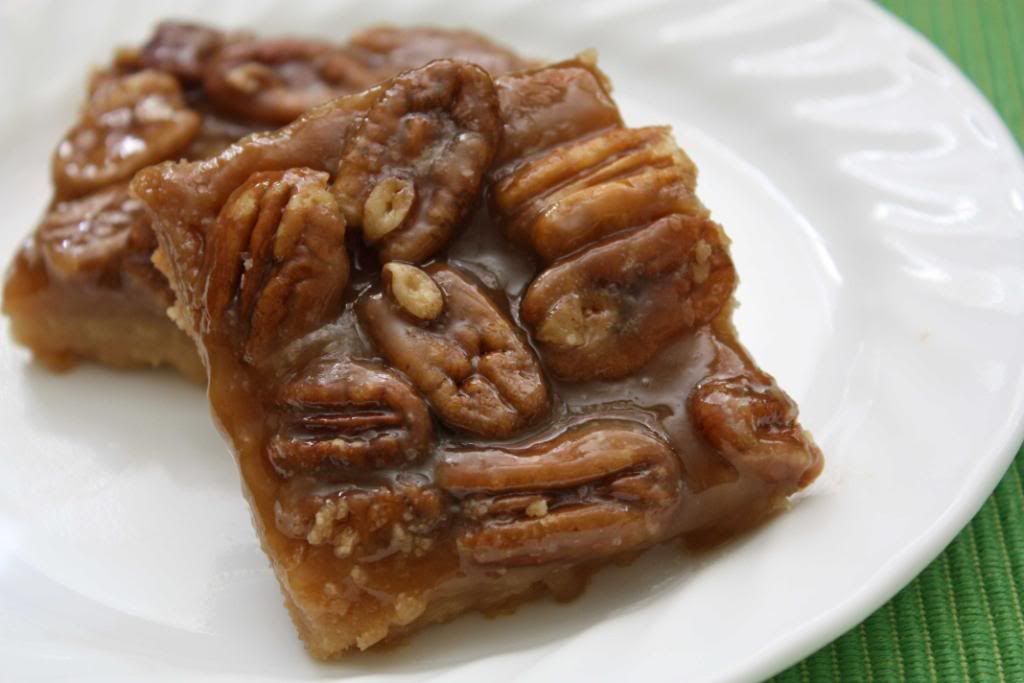 Warning: if you and your figure have had a close relationship until now, don't make these.
As it happens, my figure and I have not been on speaking terms for some time now (something about how hard it is to buy pants, I believe), so making these isn't a problem in the least.
Oh, dear reader. Had I words to tell you about how good these were, I would use them. But their deliciousness sucked the words right out of me. Instead, all that's left is "mmmmmm…." and "oh…wow…." and other sounds that sweet perfection make.
Every element of these was perfect: the brown sugar shortbread with tender crumb, the toasted flavor of the pecans, the salt paired with the sweetness of the caramel… I'm drooling again.
They are perfectly satisfying on their own, but I couldn't help thinking how amazing they might be served warm with a teeny little scoop of salted caramel or butter pecan ice cream. Help.
Notes about the recipe: It's important to use coarse salt in these cookies. If you are using table salt, they will be much too salty, so you'd want to decrease the amount you use. Kosher coarse salt is very inexpensive and is all I use in my kitchen. You may use any form of pecans you like–halves, pieces, chopped, whatever. I liked the look and mouthfeel of the halves, seen here.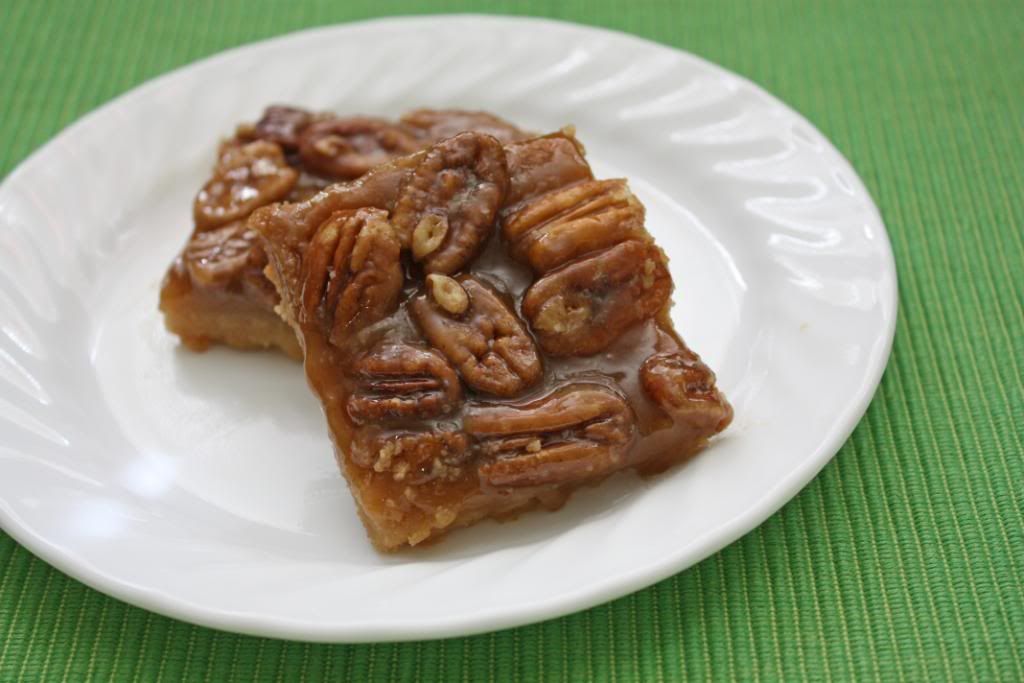 Print
Salted Caramel Pecan Bars with Brown Sugar Shortbread Crust
---
For the crust:
1/2

c butter, softened

1/4

c +

2 Tbsp

brown sugar

1

/tsp salt

1 1/2

c flour
For the filling:
5 Tbsp

butter

1/4

c honey

1/4

c +

2 Tbsp

brown sugar

2 Tbsp

half-and-half, cream, or milk

1/4tsp

salt

1/2tsp

vanilla

1

c pecans, lightly toasted
additional

1/4tsp

salt, to sprinkle on top
---
Instructions
Cream butter and brown sugar about 2 minutes, or until light and fluffy. Add in salt. Stir in flour 1/2c at a time. The mixture will seem very crumbly. (Don't panic. This is just how shortbread works.)
Spray an 8″ x 8″ baking dish with nonstick spray and press shortbread mixture into the dish, using your fingertips or a small glass. Try to make the surface as even as you can, but don't worry about small grooves from your fingers. Prick surface with a fork in about a dozen places.
Bake at 375 for 18-20 minutes, or until edges are golden brown.
While shortbread is baking, make caramel sauce by combining butter, honey, half-and-half, brown sugar, and salt in a medium saucepan. Stir and cook over medium heat until mixture comes to a boil. Boil about 3 minutes (surface will look frothy and have large bubbles). Remove from heat. Stir in vanilla and pecans
When shortbread is finished cooking, remove from oven and reduce heat to 325 degrees.
Allow shortbread to cool about 5 minutes before pouring caramel filling over top. Spread as evenly as possible over shortbread. Bake about 10-12 minutes at 325 or until edges are bubbly and center is no longer very wobbly. Sprinkle with remaining 1/4 tsp salt.
Allow to cool completely before cutting into 12 bars.