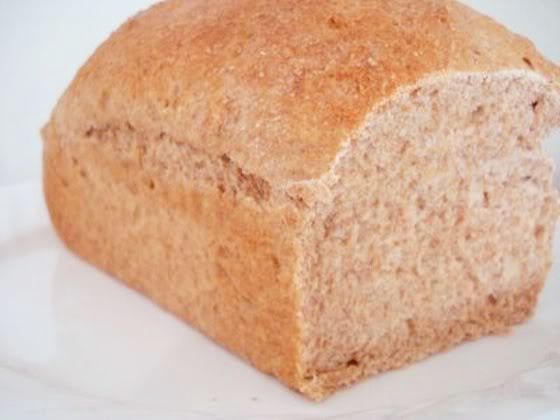 Michael and I had some friends, Christy and Ryan, in our old apartment complex who we loved to hang out with. They were adorable together, fun to talk to, and introduced us to one of our favorite restaurants ever. I mean ever. (If you ever go, get the Honey-Stung Chicken Sandwich. You'll go to heaven, come back, and go again. I'm serious.)
Anyway, Christy made all the bread they ate at their house. And it was AMAZING bread. A-ma-zing. It stayed so soft and was delicious and hearty. I loved it.
When we moved, one of the things I was most careful to do was to ask Christy for her bread recipe. I just made it this week, and–oh, dear reader–it is delicious. I made three loaves from the recipe and they freeze beautifully. I love this bread!
Christy uses 3/4 whole wheat flour and 1/4 bread flour, but she says she changes this ratio up every so often, depending on what she has on hand. She likes it all whole wheat and has made it with all bread flour as well.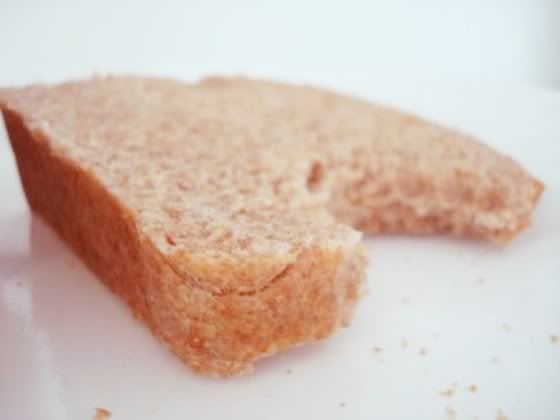 Print
4

c warm water

1/4

c honey

1/4

c sugar (you can use all honey or all sugar, if you like)

1 1/2 Tbsp

yeast

1/3

c canola oil

5tsp

salt

8

or more cups flour (I used 6c wheat flour, 2+ cups bread flour)
---
Instructions
Dissolve honey, sugar, and yeast in warm water. Let this mixture sit 3-4 minutes, until bubbles form at the top and everything is dissolved. Pour into the bowl of a stand mixer (fitted with a dough hook). Add canola oil, salt, and 4c flour. Mix 2-3 minutes.
Add 4c flour, and mix until dough pulls away from the sides and is cohesive. Flour a large work surface and pour out dough. Knead with hands until dough is elastic and a large ball. Place in a large bowl that has been greased or sprayed with cooking spray. Cover with a damp towel or piece of plastic wrap and let rise in a warm place until doubled in size, 40-60 minutes.
Turn out dough and divide into 3 for large loaves, 4 for smaller loaves. Shape each section of dough into a loaf and place in a loaf pan sprayed with cooking spray. Bake at 350 degrees for 20-40 minutes or until tops are golden brown and loaves sound hollow when you tap the tops or test with a toothpick.
Allow loaves to cool 2 minutes in pan and then turn out loaves to cool completely. Wrap any loaves not being used immediately securely with plastic wrap and place in zip-top bags in the freezer.
Makes 3-4 loaves.