Spice-Rubbed Chicken with Tropical Salsa (GF, DF)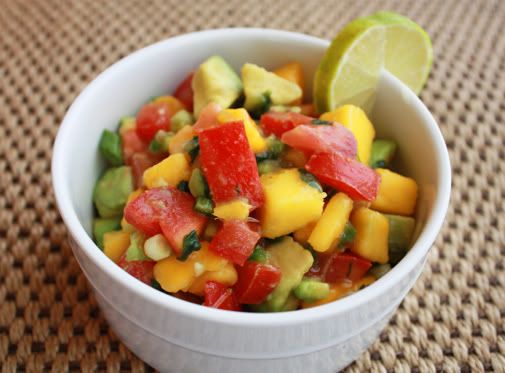 At around 7:45 in the mornings, a posse of children has begun collecting outside my bedroom window to wait for the bus. This means a few things:
School has started again.
It's really funny to listen to what elementary school children talk about and play in the mornings.
Summer is ending, dangit.
I really, really love summer. It's a fantastic, magical, happy time. Fresh produce in bright colors is in abundance, there is sunshine almost every day here (except during monsoon season), and there is time for swimming and summer reading, and projects and vacations.
It's kind of sad to say goodbye. My comfort is that I absolutely L-O-V-E fall and, lucky for me, it's the next season in line! Anyway, there's only a tad longer until autumn is really here, so we're saying goodbye to some of our favorite summer foods. Tropical salsa definitely fits the bill.
The salsa is most definitely the star of the show here. The chicken spice-rub is here so that you have more vehicles for the salsa, truth be told. It's fabulous with this spice-rubbed chicken, but it's also fantastic on tortilla chips and can certainly be served with chips as an appetizer.
Anyway, so long summer! We'll miss you!
*One tip for grilling/cooking the chicken: I like to pound the chicken out between plastic wrap so that it's roughly even in thickness. This helps grilling go faster and helps you keep the chicken from drying out.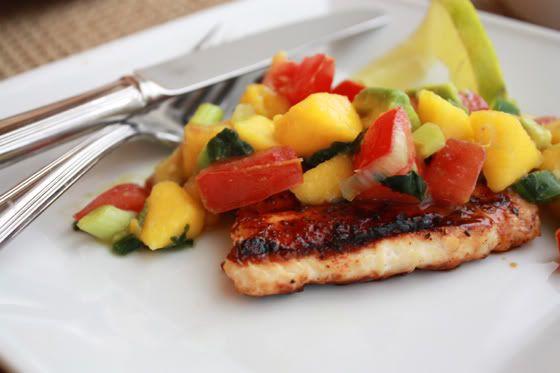 Print
Spice-Rubbed Chicken with Tropical Salsa
---
For the chicken:
1 1/2

lbs chicken breasts, pounded to 3/4″ thickness

1/4

c sugar
scant Tbsp salt

1/2 tsp

chili powder

1 1/2 tsp

paprika

1/8tsp

garlic powder

1/8tsp

onion powder

1/8tsp

dry mustard
For the salsa:
5

Roma tomatoes, diced

2

mangoes, diced

1

avocado, diced
juice of

2

limes

1/4

c cilantro

4

scallions, diced

1 tsp

vinegar
pinch salt and pepper

1

jalapeno, diced (with seeds and ribs removed)
---
Instructions
For chicken:
In a bowl, combine sugar, salt, and all spices. Rub mixture onto both sides of chicken breasts. Allow to rest 30 minutes to absorb flavors. Grill or pan-fry till done. (Yesterday, I pan-fried them for about 10 minutes on medium heat). Chicken will develop a crust from the rub. Don't panic. It's delicious. Let chicken rest 1-2 minutes to allow juices to redistribute, then serve warm with salsa.
For salsa:
Combine all ingredients and toss to combine. Chill until ready to serve.
Spice-rubbed Chicken with Tropical Salsa
Printable Recipe