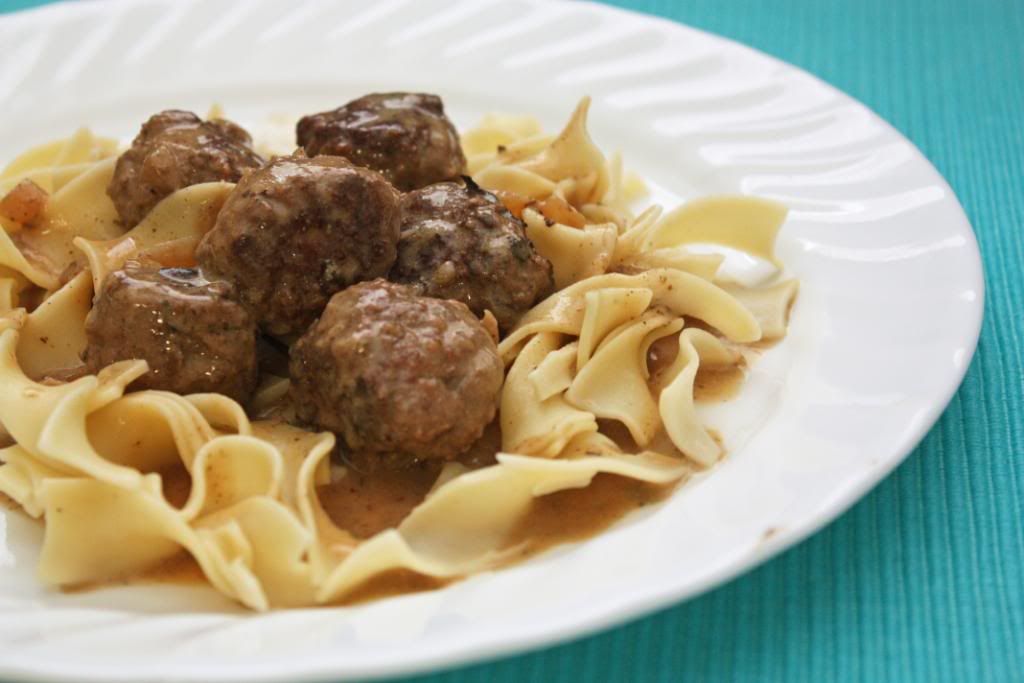 IKEA and I are buddies. Pals. Amigos.
I love spending a few hours every few months wandering through the store. It's ginormous. It takes hours. I almost never buy anything when I'm there, but it is SO fun to look.
One thing I wish was different about my IKEA experience: I wish I could read the dern labels. I can't pronounce any of the names of the lines. I feel super embarrassing when I have to ask a sales associate for help and have to fumble through the name. Woof. It's the worst.
But other than the labels thing, I love everything about the IKEA experience. I love the furniture, love the modern prints on the fabrics, love the prices, and love the food. Naturally. The good news is Swedish meatballs are easy to make at home. And even easier to pronounce, which is muy bueno for those of us not Swedish-language-inclined.
These make a fantastic anytime dinner. You can make them ahead of time and store them in the freezer, then just thaw them when you're ready to make them or just make them and eat them the same night. Very kid friendly and easy to make your own. I used extra-super-very lean beef, but you can certainly use ground turkey if you prefer.
Print
For the meatballs:
1 1/2

lbs ground beef (I use the 93% lean)

1/4

c fresh breadcrumbs (not the dry ones from a canister)

1/4

c milk

1/2

onion, diced finely

1 Tbsp

butter or olive oil

3

cloves garlic, minced

1tsp

salt

1/2tsp

pepper

1/2tsp

allspice

1

egg
For the sauce:
2 Tbsp

butter

1/2

onion, diced

2

cloves garlic, minced

1/4

c flour

3

c beef broth

1/2

c whole milk or half-and-half
salt and pepper to taste
---
Instructions
Make meatballs by adding ground beef, breadcrumbs, and milk to a large mixing bowl. In a large pan, saute onion in the 1 Tbsp olive oil or butter until translucent. Add garlic and cook 1 minute more. Sprinkle with salt, pepper, and allspice. Add to ground beef mixture. Add egg and use your hands to combine all meatball ingredients until well combined. Form into 1 1/2″ meatballs.
Cook meatballs in 1 Tbsp butter in the same pan you used to saute the onion. Cook meatballs in batches until well browned and cooked through, about 5-7 minutes each batch. Remove meatballs from pan.
Melt the 2 Tbsp butter in the same large pan and cook onion and garlic in butter till tender. Sprinkle with flour. Stir and cook 1-2 minutes over medium heat. Add beef broth and bring to a boil. Reduce heat and simmer until thickened. Stir in milk or half-and-half and return meatballs to pan.
Heat through and serve with mashed potatoes or egg noodles. Top with additional sprinkle of allspice if desired.