the take-my-breath-away sandwich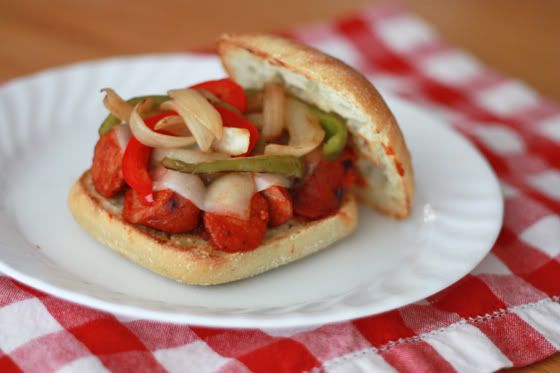 So apparently yesterday was National Sandwich Day. Where do people find out these things? I need a calendar of food holidays. At least food holidays celebrated in the blog world. Sources? Anyone? Bueller?
Well, we didn't technically eat these on National Sandwich Day, but hey. We ate 'em. And they were really good.
I don't know what it is about paninis and warm sandwiches, but Michael and I can't get enough lately. Plus, Michael gets these great ideas for sandwich names (a la Grilled Italy) and then we have to come up with something that fits the name. That's how this sandwich was born.
With a name like "The Take-My-Breath-Away," Michael wanted something flavorful and massive. Something you wouldn't eat before going on a first date or entering a staring contest. I think we hit the mark.
We're no strangers to the sausage and peppers idea. In fact, lots of versions of this sandwich exist, so we don't claim to have invented anything fancy or new, but it sure was delicious!
We made the sandwich using pieces of grilled sausage, grilled peppers and onions, provolone cheese, and a little of our favorite red sauce on top of a toasted ciabatta bun.
The buns we found were HUGE. Not for sissies. Turns out, I'm a sissy. I ended up only being able to finish half of the sandwich before I was stuffed silly. Luckily, Michael was able to polish the rest off.
Feel free to use any favorite sausage. I highly recommend something in casing for texture reasons (they hold up better when sliced). We used smoked sausage that looked akin to a bratwurst, but you could certainly try it with something like Italian sausages, sun-dried tomato basil sausages, whatever floats your boat. If you can't find ciabatta buns, you can use hoagie rolls or even hot dog buns in a pinch. The sturdier the better, since these aren't lightweight sandwiches.
If you don't own a grill pan, no worries. You can brown the sausages in a saute pan, then add a little olive oil and saute your peppers and onions until caramelized instead of grilling them.
p.s. sorry to everyone who now has "Take My Breath Away" stuck in their heads. I know I do…bleh…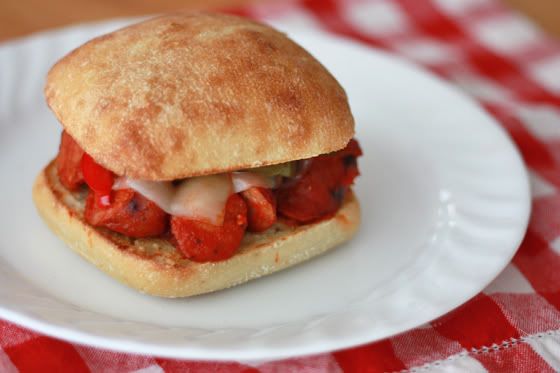 Print
The Take-My-Breath-Away Sandwich
---
1

pkg (1- 1 1/4lbs) sausages in casings, sliced into

1

" pieces

1

green bell pepper, seeded and sliced

1

red bell pepper, seeded and sliced

1

small sweet onion, sliced

1/2

–

3/4

c red pasta sauce
provolone cheese (or other favorite cheese)
sandwich buns, toasted
---
Instructions
In a grill pan or saute pan, brown the sausages until crisp and plump. Remove and place in a saucepan with 1/2c pasta sauce over low heat to keep warm. Stir to coat with sauce.
Grill peppers and onions (if you'd prefer, you can saute them with a little olive oil until caramelized) until browned and softened.
Assemble sandwiches by layering sausage/sauce mixture, provolone cheese, and grilled peppers and onions. Serve warm.