using up summer squash and zucchini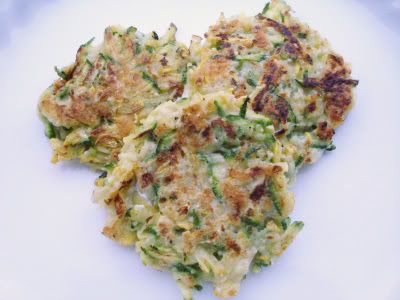 I must preface this post by telling you that I have really, honestly, truly made more recipes than I've posted. I've just had two failures and one that was less than photogenic. So… This is what you get. Forgive me. We all make mistakes.
Yesterday, I came home FAMISHED. Dying. Perishing. Nearly without life. Extinguished. My only thought was that if I didn't get some sort of food in me on the double, I might as well kiss my existence goodbye.
…Perhaps I overreacted… I do that.
So.
I opened the refrigerator, naturally, to find nothing fast to inhale. Figures. So I had a piece of ham and cheese. Once I had my faculties about me, I decided to see what I could make for a tasty lunch. Michael (bless him) settled down with the leftovers of one of the said yucky failures. I turned back to the fridge and saw…ingredients for dinner (not to be touched just yet) some milk…cheese…and a summer squash from my parents' garden. BINGO!
One of the tastiest and sneakiest ways to get zucchini and summer squash into picky eaters' diets is to sneak it into something tasty. If you are afraid of the squash by itself, combine it with some grated baked or boiled potato. No one will notice. But even for a "not-squash" person, these taste great. The flavors of parmesan come through with a hash-brown texture. How is this a bad plan?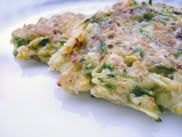 Summer Squash and Zucchini Fritters
Printable Recipe
Ingredients:
1 small summer squash
1 small zucchini, grated (I leave the peel on. More fiber and vitamins!)
1/4c grated parmesan cheese
4-5 Tbsp flour
salt and pepper
1 egg white
butter or olive oil for the pan
Directions:
In a medium bowl, combine zucchini, parmesan, flour, a generous pinch of salt and pepper and the egg white. Heat a skillet over medium to medium-high heat with a little butter or olive oil in the bottom of the pan. With your hands, form a small 2″ diameter patties of the squash mixture and place down in skillet (you may need to do this in a few small batches). Cook about 3-4 minutes or until golden brown on bottom side, then flip and cook an additional 2-3 minutes or till done.
Depending on the size of your squash, you should get between 8-10 patties.