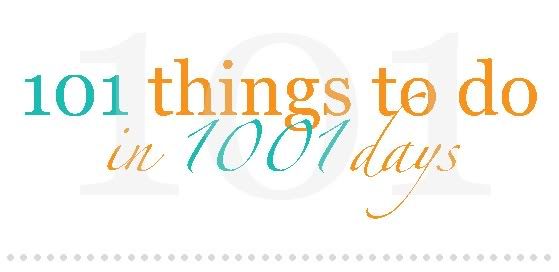 It's time for our latest 101 Things to Do in 1001 Days update. I love checking things off lists. There is such a feeling of accomplishment!
#21 Post every day on my blog for 1 month.
As far as I'm concerned, this means every day Monday through Friday. After four weeks of posting every weekday, I can tell you a few things. It was a fun experiment, it was definitely a challenge, and I don't think I'll be doing it regularly. I found I was spending a bit more time on the blog than I think is balanced. I think the quality of posts wasn't as great, and fewer people seemed to comment. So, it was fun while it lasted, but I'll most likely be back to posting 3 times a week with the occasional 4th or 5th post tucked in there. It just feels better.
#34. Learn the Relief Society theme completely.
I belong to the largest women's organization in the world. It's called Relief Society and is operated through my church. Our motto is "Charity Never Faileth" and our theme is really inspiring. I've wanted to learn the entire thing by heart for a few years now, and finally did it! You can read the entire theme here, but here's one of my favorite lines: "We are beloved spirit daughters of God, and our lives have meaning, purpose, and direction. As a worldwide sisterhood, we are united in our devotion to Jesus Christ, our savior and exemplar." I love the sense of unity I get belonging to such an amazing organization of women striving to live lives patterned after Jesus Christ's example.
#48. Try making homemade baby food.
Now that we're beginning to expand Sophie's solid food diet to more than just rice cereal, I made a batch of sweet potatoes. It was really easy and I made enough for one serving a day for three weeks for a grand total of $5. My local market was having a sale on organic sweet potatoes! I've since made butternut squash as well. Yay!
We've got other goals in the works, but we're pleased with our current progress. We're doing great!
Goals Remaining:61
Days Remaining: 638 days