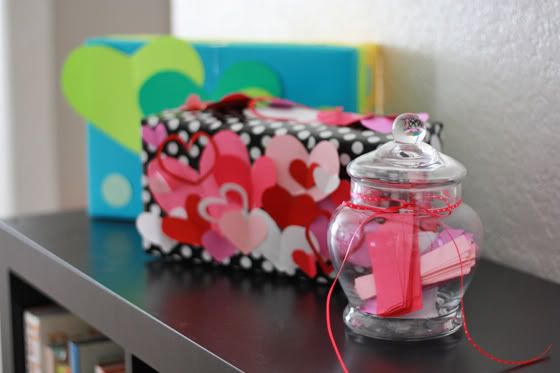 Yep, we're keeping cheesy, mushy, lovey-dovey love alive and well here. This weekend, Michael and I decorated shoe boxes for Valentine's Day. Just like we used to do in elementary school, only the purpose is a bit different.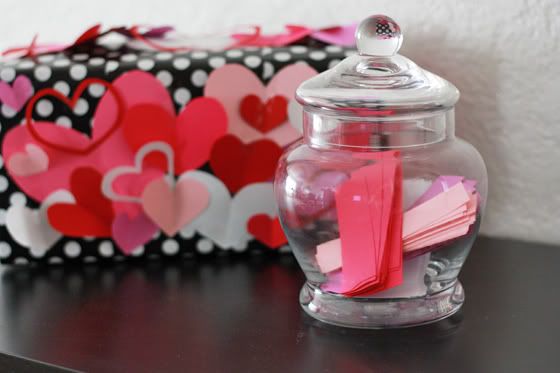 As often as we choose, we're going to write down things we love or appreciate about each other, as well as little thank-you's for things and slip them inside. I cut out colored strips of paper (since I'm a crazy person) to match and we've got them in a little jar next to the boxes.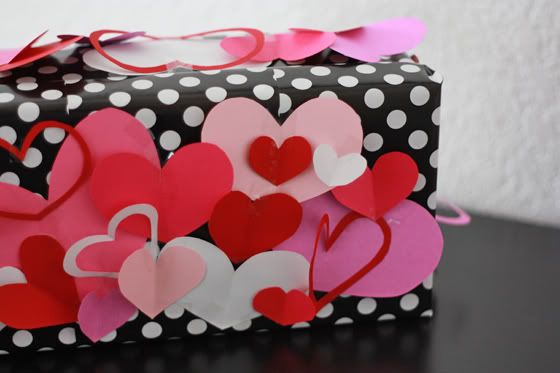 I thought an idea like this could definitely translate for a family–children could decorate their own little boxes and siblings and parents can write nice things or thank you's to slide in before the big day. The idea could also be used as the "mailbox" for 14 Days of Valentine's surprises–each day a different clue, note, or small present could be left inside.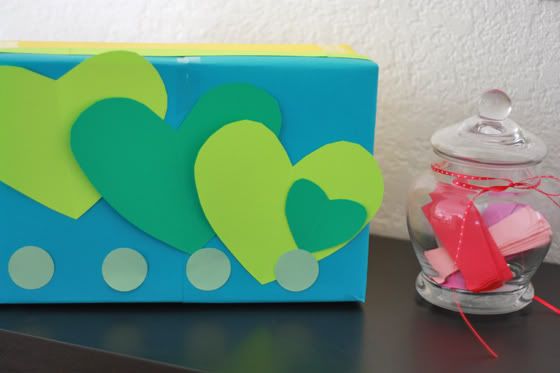 They can be as girly/frilly or plain and simple as you like. We tried to provide examples of each–can you guess whose is whose? Heh.
If decorating the boxes seems like too much work, or you want to go a different direction, I saw adorable little mini mailboxes that come in Valentine's colors in the dollar bin at Target that could easily be decorated (or left plain) and used instead. We just had the shoe boxes on hand and decided it would be fun to go this route.
Just thought I'd pass along the project idea!