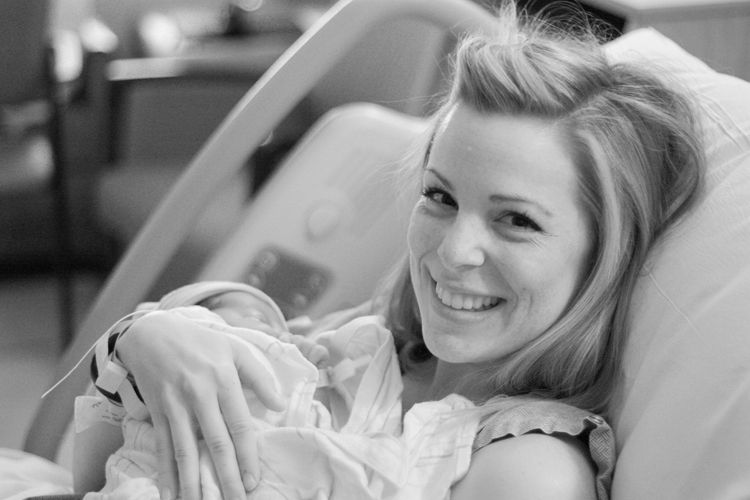 In honor of Milo's 2-month birthday last Sunday, this week's 5 Fact Friday will be replaced by Milo's birth story.
Here's the short and sweet version:
I was humongous. I was induced. I had back labor. I had an epidural. I had a baby.
Want the long version? Read on…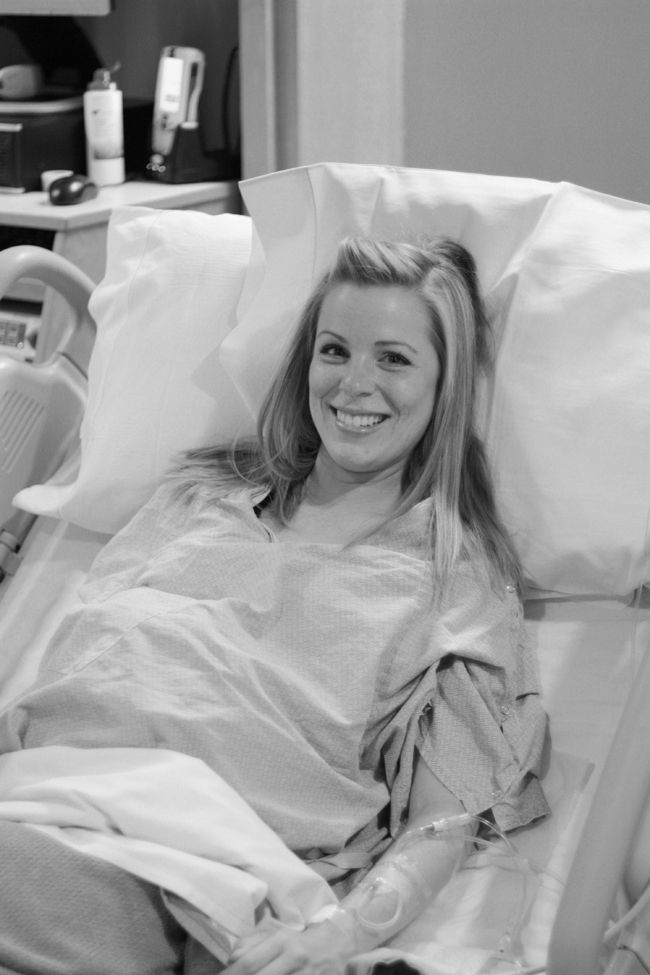 I had an 8lb 8oz baby, you guys.
It still kills me to write it. That's 1 ounce shy of 1 1/2lbs more than Sophie, who was 7lbs 1oz.  It's still a bit of a blur, but I suppose that comes with the territory. Let's get to the story, shall we?
At 39 weeks and 6 days, my doctor induced me. I was so grateful. SO. very. grateful. I'd been in intense back pain for weeks, I was seriously huge, and I was ready to meet our little man! Don't believe me? Take a look. Huge. H-U-G-E. All for the very best reason on earth, but it really looks like he's just standing on my spine and his head is by my belly button. That's also how it felt.
We were at the hospital at 5am for our induction. It was a funny morning, we had a lovely set of nurses helping us, and my contractions were pretty manageable. Nothing too intense. We chatted and laughed and enjoyed the process.
Things went from manageable to really uncomfortable very fast. And then they got worse. It started getting harder to breathe through the contractions. Our nurse decided to check me.
Whereupon we ascertained that baby's face was pressed against my spine.
Which explained why I was having back labor.
Back labor. Let's talk about it. Well, actually, let's not. It's the worst. Back labor dilated to a 5 unmedicated hurt worse than being fully dilated to a 10 unmedicated with Sophie. During those intense, grinding contractions at a 10 with Sophie, I groaned through them. I'm glad to say I never shouted or screamed, but I did sort of just "uuuuuuuughed" through them.
My back labor contractions were so intense I couldn't speak. It was all I could do to breathe. I worried that I'd progress too far to get an epidural before the anesthesiologist could make it to our room. Each wave of pain just seemed to suck all the energy out of me, removing the ability to speak or think anything other than "breathe. breathe. breathe." I really didn't think I could bear down to push during those kinds of contractions.
After what felt like an eternity, but was really more like an hour, the anesthesiologist walked in and cheerfully explained that he was sorry he was late, but that the woman next door had flung herself backward as he was attempting to insert her epidural, was caught by him and a posse of nurses, screamed, and pushed her baby right out.
Well, that explains a lot, I thought.  Also, I forgive you.
He was clearly an expert at his profession. He did things smoothly and patiently waited through my contractions to do the really difficult/painful parts in between. He was kind and understanding, and he gave me a suh-weet relief from back labor, so I guess you could say he's my new best friend.
After it settled in, I was able to talk again. My doctor popped in to say hello, and also please "hold it" because she had to run perform a quick c-section on another mama, and she didn't want my water to break while she was gone since she knew how quickly things progressed after my water broke with Sophie.
As soon as she left, the nurse wanted to check me. And my water broke. And things progressed quickly.
I was at a 10 almost instantly, and had to "hold it" (remember "it" in this case isn't a full bladder. It's a baby.) for about 20 minutes until my doctor got back. He was literally right there, ready to come out. I could see him.
Thanks to the benefit of the epidural, I was comfortable enough (in this case, "comfortable" is a nice-sounding word which means "not about to die") to focus. But baby's heart rate started dropping, and I got worried. With the application of an oxygen mask, everything went right back where it should be. As soon as my doctor walked in, in just a few short pushes (fewer than 10), everything was over.
And then it was Milo.
It's you, I thought.
There you are, we've been waiting for you.
And it was like I knew him all along.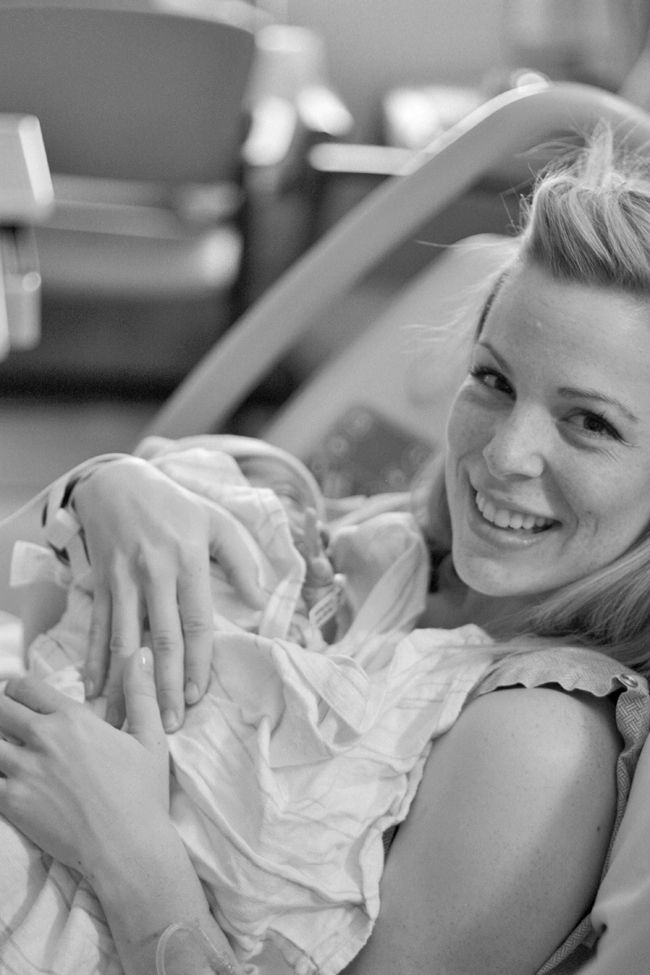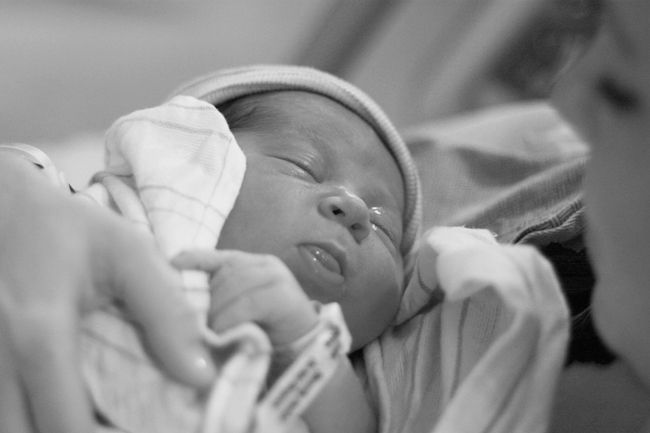 I'd heard stories of having a spiritual or emotional delivery. Moments where mother bursts into tears the moment she sees her baby. Of heaven being open to them. While nothing quite that spectacular happened in that room, I felt such peace. I knew him and he was here.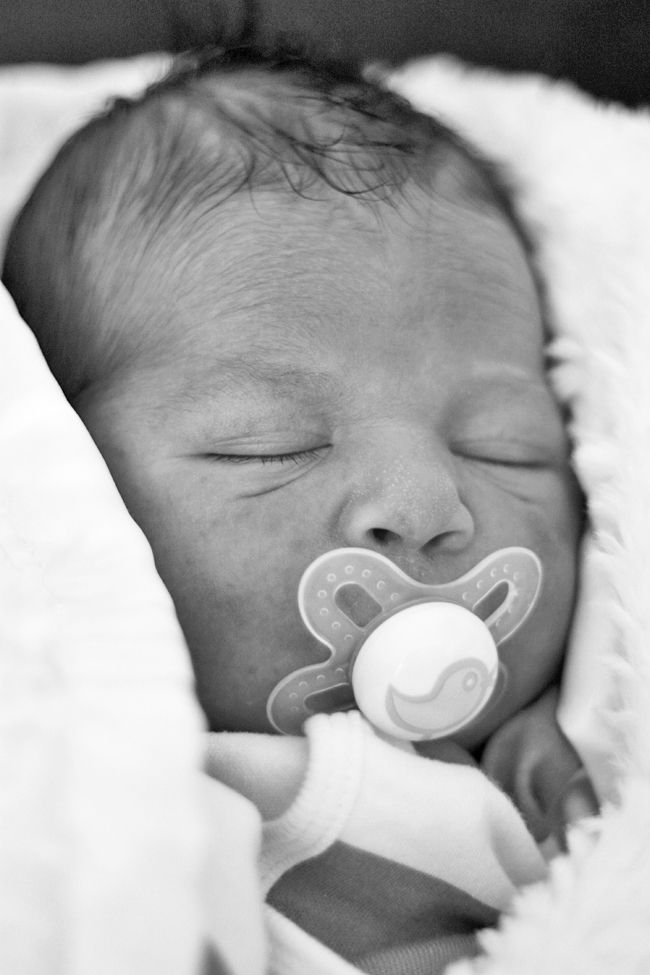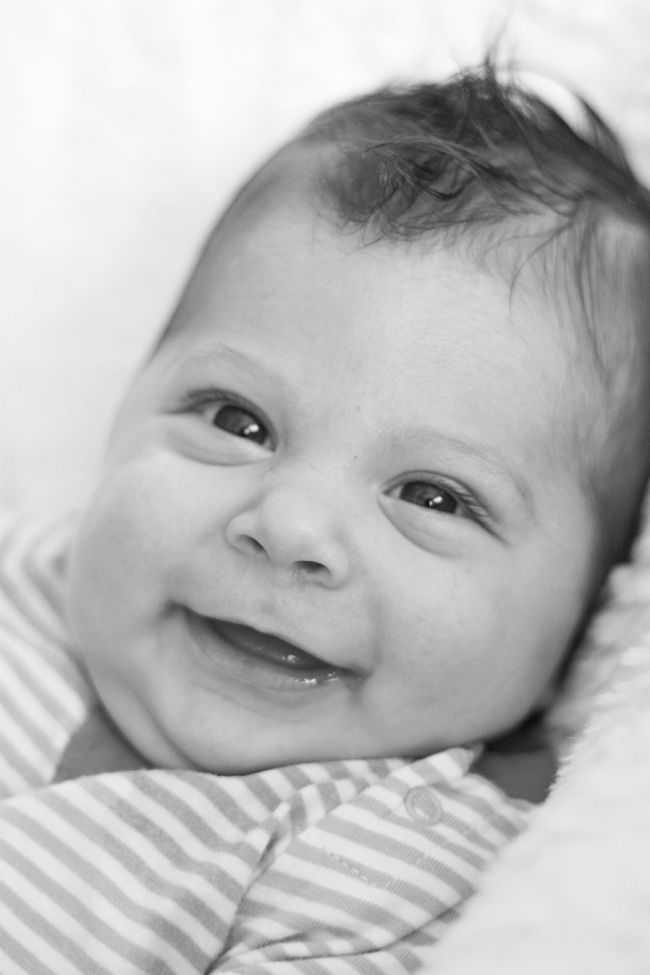 Milo.
As it happens, Milo means peaceful, merciful, gracious, and generous.
I hope all of that is true. So far, it is.