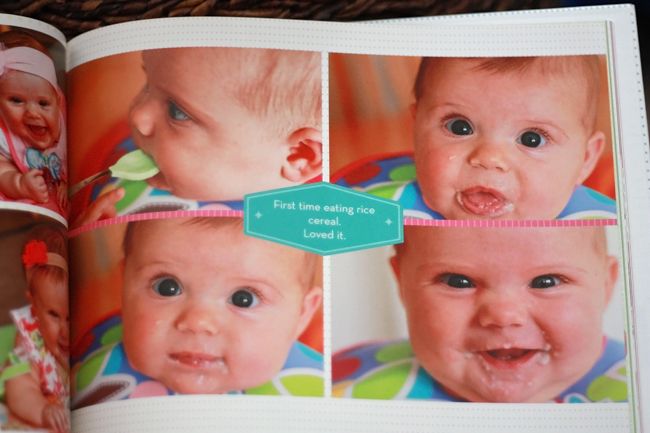 I was surprised by how many emails and comments I received on Monday's 101 Things to Do in 1001 Days post asking about photo organization, our digital photo books, and even our church ABC book. I'm more than happy to share. First off, let me say that not a single company mentioned below knows who I am, is compensating or perking me in any way, and that these are just our experiences.
With that out of the way, let's talk photos and books!
How I made my photo books
I used Shutterfly. I asked around and several friends recommended Shutterfly. Similar companies that allow you to load and print your own photo books are Picaboo, MyPublisher, and Blurb. As far as I know, all these are free to join–the only cost involved is in printing/ordering and any premium themes or add-ons that you want. I went with Shutterfly thanks to reviews of friends, and I've been very pleased with my experience.
The program itself is quite user-friendly. Basically, you upload the digital files of the photos you want to use and then arrange them in a digital scrapbook, of sorts. Then, you order as many hard copies of the book as you want! If you're not tech savvy or even scrapbook savvy, there's even an option that will create a book for you, putting photos in chronological order. All you have to do is choose a theme. I've gone the custom route, and have really enjoyed the process. You can add stickers, captions, frames, even whole pages of text if you want to write a story down to accompany a picture. Gretchin Rubin (of Happiness Project fame) has Shutterfly put her photos in chronological order then hand-writes her captions, etc. later. That's also a great way to go.
We've actually been so pleased by our Shutterfly experience that we've tried more of their products. We've ordered photo prints from them with great results, and even a huge enlargement for our living room of one of our recent family photos. All of them have turned out very well (we LOVE our huge enlargement). I've gotten a little crazy-pants, making several photo books as gifts, and tried things like photo magnets, and have actually even ordered my Christmas cards from them already. They also have other ideas for photo gifts (calendars, acrylic prints, bags, cups, ornaments, puzzles, notebooks, etc). They even have custom iPhone cases, which would be cool. You know, if I ever get an iPhone.
A few tips for Shutterfly:
Wait for a sale! You can finish a book and then essentially store it there online until they have a great sale and order then. I've found there's nearly always a special going on, and especially around holidays (even ones like 4th of July) they have great sales–sometimes 50% off! They have killer sales around Christmas and New Year's, so you're in luck if you want to get started. *Also, don't forget you get free shipping on orders over $30.
Use the largest files you can for your photos for the best resolution. Shutterfly gives you a warning if the photo has been re-sized too large and might not print at best quality.
SAVE OFTEN. Always. Save, save, save-y, save, save. Nothing is worse than working for a long block of time and losing your work. Save.
Know that if you're like me, your first book will come with a learning curve, and your second book will be better! I was and am pleased with the first book I made, but I've loved each new one more than the last. I can't wait to see how this year's turns out.
How I store my photos
I'm not an expert at this, and I could certainly use some advice if you have any to pass along. For now, our images are backed up using online storage (Mozy and Carbonite are two respected companies that do this). You pay for a subscription and your photos are automatically backed up when you log into your computer. So far, it's worked well for us, and we've had friends whose computers have crashed or been stolen who were saved by having their photos stored this way.
Other than that, some of it's still old-school stored on CDs and flash drives. Lame. Needs to be changed.
Another option: Shutterfly has a guarantee that they won't ever delete your photos or projects while you have an account with them. I have no experience with de-activating an account with them or having photos lost, but since I don't rely on them exclusively for my photo storage, I'm not too worried about it yet. It's essentially free photo storage in the meantime if you're not sure what you want to do long-term.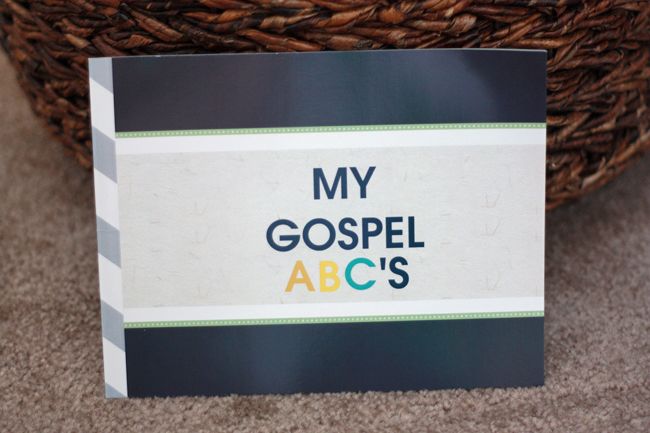 Gospel ABC Book
As for my Gospel ABC book, I was inspired by Pinterest. There were loads of examples here. I made mine using Shutterfly as well, using the smallest size book. I custom-made mine with photos applicable to us, and using words/phrases with special meaning for our family. Want to make your own? For some ideas, see below:
Free resources for Gospel/Church ABC Books:
Darling Doodles – Free printable that you can print, cut, and slide into a photo album (I think 4×6, but it may be 5×7?). Actually quite similar to what I came up with.
Nap Time Crafters – Free PDF printable (I think these are 8×8) This has ideas for quotes, etc.) You could laminate and hole punch these and slide them onto a ring, or if you can find an 8×8 album, you could use that. Shutterfly also prints 8×8 books.
LDS Gospel Library – This is where I got many of my photos from, especially the New and Old Testament sections. They may be downloaded and printed. (These images are free for personal use, but are not for commercial use.)
That's it! Please feel free to email or comment with any questions you have. I'll do my best to answer them!