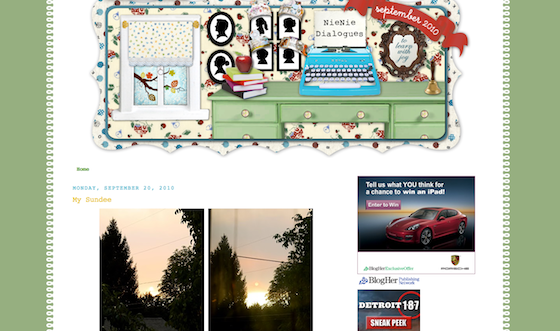 Do you read NieNie?
I've been reading this blog for ages. It seemed for a long time like almost everyone I knew did. Having moved and met a lot of new people lately, I wanted to spread the love.
I love sunshine-y blogs a lot, which I'm sure doesn't come as any surprise. I tend to avoid the news (except sometimes when it's on when I'm exercising) because I so often come away feeling depressed and disheartened. Thoughts of "oh, that's so sad!" or "how could a person behave that way?" or "can you imagine what that family is going through?"
I find when I get caught up in this kind of atmosphere, I tend to absorb all the sad feelings. So, I find when I avoid them and surround myself with sunshine, I feel more positive, hopeful, and full of promise. I've been teased about this by people who call me naive or sheltered, and maybe that's what it is. But try it! Read, watch, and listen to only what makes you feel better this week. Ask yourself, 'is this helping me feel better about myself, my family, and the world I live in?' If it doesn't, change the channel, skip the song, or find something else to read. It makes a noticeable difference!
For me, one of my favorite parts of the day is checking blogs like the NieNie Dialogues. Stephanie Nielsen, who writes NieNie, survived a horrific private plane crash with her husband in 2008. The crash killed the pilot (their friend) and left burns on 80% of her body. Her husband was also badly burned, but was able to pull Stephanie from the burning wreckage and save her life. A mother of four beautiful children, Stephanie writes each day about happy little victories in her life. Amidst countless surgeries, pain from her burn scars, and difficulty doing things she loved to do before the crash, Stephanie is full of hope and faith. Each blog post is almost magical. She writes almost every day Monday through Friday and is absolutely wonderful.
She helps me see the blessings and tender mercies in my own life because of her amazing example. She is fun to read because she uses funny words and finds humor in the antics of her children. She takes beautiful pictures and has a FANTASTIC sense of style that I wish I could copy in full.
For a few starter posts, I'd recommend looking at these:
A fun family photo shoot with balloons
A great pep talk for rough days.
A fun back-to-school feast (with a great table setting!)
Spread the love!