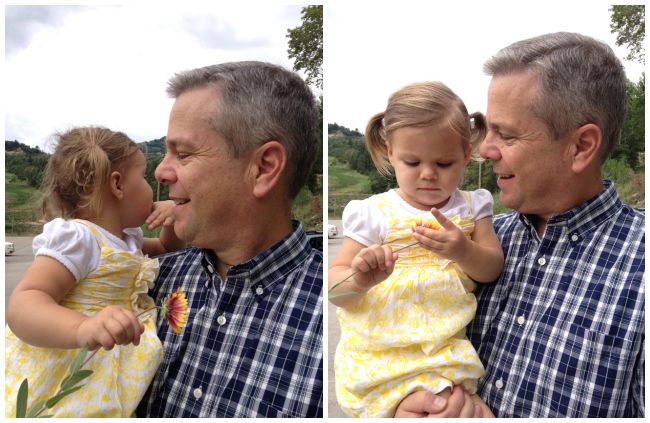 We're in the throes of unpacking. If unpacking has throes. Does it? Nevermind. Let's assume that unpacking has throes. And also that we're in them. And that as such, we don't have much coming out of the kitchen other than a delicious assortment of cold cereal, eggs, and fruits and vegetables.
Anyway.
In lieu of a recipe-related post (see "throes" fiasco above), I'd like to pose a question.

First: the background. This situation arises regularly in some form most of the places we go, but for the sake of this question, we'll use the grocery store.
I'm at the check-out with Milo strapped in a Baby Bjorn and Sophie is in the body of the shopping cart helping me load our items onto the conveyor belt. A kind stranger behind us or in front of us notices us (we're hard to miss) and comments something like "what adorable children!" or "my, you certainly have your hands full!" I smile, and say something back like "thank you, they are!" or "yes, I do."
By this time, if they've even hinted at making eye contact at Milo, he's all smiles and flapping his arms and legs in excitement. A total flirt man. Sophie has usually not abandoned her task. She carefully picks up something with her right hand, transfers it to her left hand, places it on the conveyor belt and watches it for a split second to make sure it's moving in the right direction. Repeat ad infinitum.
Stranger: What are their names?

Me: Well, this is Milo, and this is Sophie.

Stranger: What cute babies! He's so sweet. And this is Sophie? Sophie? Sophie! SOPHIE! Hi, SOPHIE!
Sophie is still usually focused on her task, or is starting to reach for the stylus for the credit card machine (her other favorite task). She doesn't usually acknowledge in any way that the person is talking to her.
At this point in her life, Sophie doesn't typically respond to her name. We've had success a handful of times ever. She doesn't like to be touched or approached by strangers, and having her name called over and over can be upsetting. Sometimes, after a few attempts, she'll start shaking her head or turning her body away, or sometimes moan or cry.
For the most part, at this point, people get the vibe that something is different about her, but some continue–"Sophie? Sophie!" or they'll try to tickle her cheek or tousle her hair or hold her hand to get her attention.
While from the outside, this is a really simple exchange–stranger noticing cute children, wanting to elicit a smile, then move on–inside, I'm a mess of butterflies. On the one hand, I don't want to upset a kind, well-meaning person just trying to enjoy my adorable children (who could blame them?). On the other hand, my defense mechanisms are firing and part of me wants to just put my body between Sophie and the person and say "Sophie has autism and prefers not to be touched" or "Sophie has autism and it can be upsetting to hear her name over and over."
Still, there's also a part of me that doesn't want to swoop in every time anyone approaches Sophie's boundaries and another part that doesn't want her to ever feel that her most identifying feature is autism. Anyone who knows her knows that Sophie is bright, happy, clever, and so very beautiful. As a potential "stranger," what would be a good response from the mom of a child with autism? What would be a tactful, yet firm way to respond that respects Sophie's needs and the kindness of the stranger, but makes my message clear? Thoughts?