cajun shrimp po'boys (gf, df)
I have a heritage rich in many of things. Cajun cooking is not one of them.
Yet, I LOVE cajun food! I love blackened fish sandwiches, gumbo, and now these babies. For anyone who doesn't know, po'boys are traditional sandwiches served in Louisiana that are usually served on baguette-style bread. They most often consist of some kind of deep-fried seafood and often a remoulade sauce of some kind. I LOVE fish and shrimp, but I am trying to eat healthy foods, so I wanted to skip the fried part.
Heaven help me, I love these. We've eaten them twice, and we're already talking about eating them some more.
True, these aren't traditional, in that the shrimp isn't fried and we used ciabatta rolls, but the idea still stands. I used a homemade blend of cajun seasoning (the same blend I use for gumbo), but you can certainly use a commercial spice mix. The beauty of these is that they come together really quickly and taste fantastic.
I've found that roasting shrimp really allows them to stay tender and succulent instead of tough and rubbery (as can happen when they're over-cooked). If you like, you can certainly skewer the shrimp and grill them before putting them on sandwiches.
You can certainly use frozen shrimp for this recipe (I often do). To thaw, just run them under cool (NOT hot) water for a few minutes in a colander until they're thawed.
We served these on ciabatta buns with lettuce, tomato, and my mom's recipe for tartar sauce. Best of all, they were super speedy to make, since the shrimp only need to roast for a few minutes–just enough time to slice up tomatoes and tear lettuce. They are a fast, easy, flavorful solution when your schedule is crazy, and this week…whose isn't?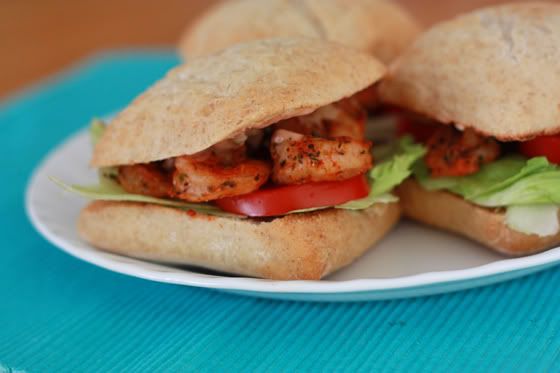 Print
Cajun Shrimp Po'Boys
---
1

lb shrimp, peeled, deveined, and tails removed

2 Tbsp

Cajun seasoning (more or less to taste)*

4

sandwich buns (toasted if desired)*
lettuce, tomato, and tartar sauce for serving
---
Instructions
Preheat the oven to 450 degrees.
In a medium bowl, toss shrimp with Cajun seasoning and stir to coat. Spread shrimp out on a baking sheet coated with nonstick spray or brushed with olive oil. Roast at 450 degrees for 4-6 minutes or until opaque.
Make sandwiches by layering shrimp, lettuce, tomato, and tartar sauce.
Notes
*Gluten & Dairy Free Notes: Be sure that your Cajun seasoning is dairy and gluten free. We make ours from scratch, but there are lots of spice blends available. Also, be sure to serve it on a gluten free bun.