For our anniversary last year, Michael and I went to this FANTASTIC Italian grille and ordered all the courses. The salad I ordered came with a delicious creamy parmesan dressing I've wanted to re-create since I got home. I know you're not supposed to, but I looooove a good salad dressing when I go out to eat. I even usually get it… ON the salad *gasp!*
I got the idea in my head to try adjusting a recipe for ranch dressing by adding in parmesan and basil pesto. The result was mouthwatering.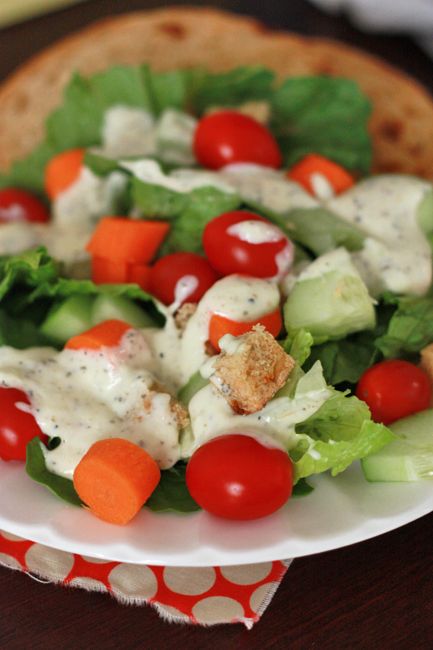 I thought it had all the goodness of a Caesar dressing without the anchovy. It paired very well with a basic chopped salad, and it would be delicious as a sandwich spread, a vegetable dip, or on a wedge salad with a bit of bacon and tomato.
I love when I can recreate restaurant favorites at home. It might not be an exact copy, but it sure is delicious.
Creamy Pesto Ranch Dressing
Ingredients
½c buttermilk
¾c mayonnaise
¼c parmesan
2-3tsp pesto (start with 2tsp)
½ tsp pepper
salt to taste
Instructions
Directions:
In a liquid measuring cup or small bowl, whisk together all ingredients. Add more buttermilk to thin the mixture or more mayonnaise to thicken the mixture, if needed. Taste and add more pesto, salt, or pepper, if desired.
Notes
Makes about 1¼c dressing