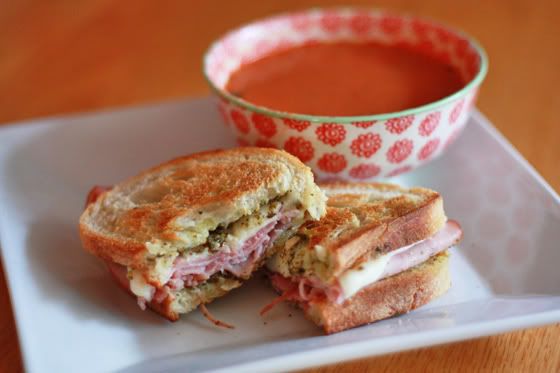 Three cheers and vigorous slaps on the back for making it through pumpkin week! I thought it was a fun adventure, although I'll admit this year was a bit baked-goods heavy and less focused on all the delicious savory choices for pumpkin. I guess that's what next year is for, right?
Confession: I'm really glad Halloween is over. My mom heard a quote on the radio that pretty sums up my feelings: "Halloween has become a parade of strumpets." Between that and everything that gives a body the heebie-jeebies, I'm always a little bit relieved when we move past Halloween and onto Thanksgiving.
I really love this time of year. It's the start of all the traditions, family time, and holiday fun that surround the holidays. Thanksgiving brings me ever closer to Christmas (my VERY favorite time of the year). Starting last week, we've really kicked off the fall/winter eats around here lately, and it just gets me more excited all the time.
Few things say cloudy/rainy/snowy/blustery day to me like grilled cheese and tomato soup. There's something magical about a warm cozy sandwich and a cup of steamy soup to warm you up and help you feel snuggly. My friend Amanda asked me a week or two ago if I had a good recipe for tomato soup. I pointed her to our favorite creamy tomato basil soup from last year, and then knew I needed to make some myself. Stat.
We loooove homemade tomato soup. It's so much tastier than the canned stuff, and we especially love it when we eat it with what Michael calls Grilled Italy. It's a grilled ham and mozzarella sandwich with basil pesto that is delicious alone, but TO DIE FOR when served with soup.
It's nothing particularly fancy, but it makes for a great quick, comforting meal, perfect for this time of year. We like ours with a good-quality crusty bread and Classico brand basil pesto (when we don't use homemade).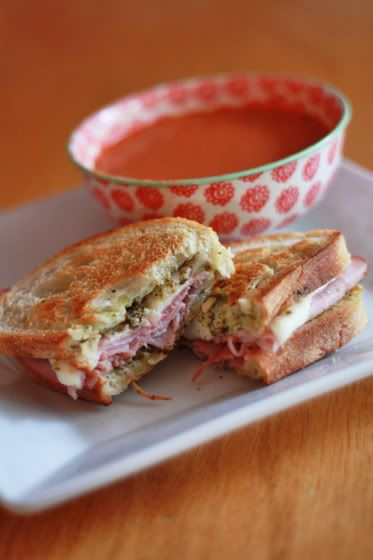 Print
2

slices good-quality bread

1/2

–

1

Tbsp basil pesto (or more to taste)

2

–

3

slices smoked deli-sliced ham

2

–

3

slices mozzarella cheese (fresh is best)
---
Instructions
Spread a layer of pesto on one side of each slice of bread and layer with ham and cheese. Grill (plain side of the bread facing out) on a panini press or in a medium pan until golden. Serve warm.