Honey Almond Granola. A delicious gluten free start for the day.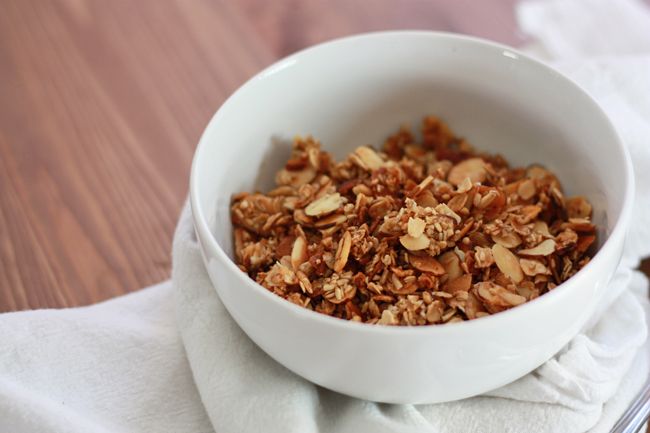 Happy Monday! Please tell me you're not thinking "enough with the granola recipes!" Because, well, this is one. A really, really good one.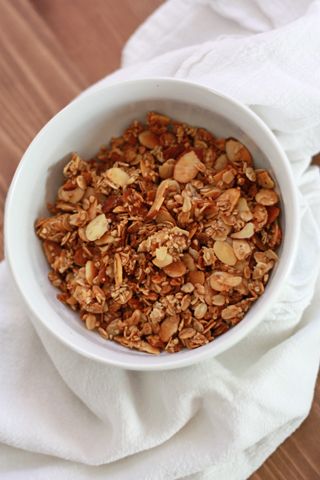 We make batches of granola almost once a week (sometimes more, sometimes less). It makes a nice change from oatmeal, eggs + veggies, or toast. Plus, let's be honest. Gluten- and dairy-free cereals that don't taste like cardboard can be hard to come by. So, hello granola.
This is a super-simple version that's fabulous over yogurt (we love So Delicious coconut yogurt), sprinkled over your bowl of oats, enjoyed by the handful, or combined with other nuts and dried fruit for trail mix.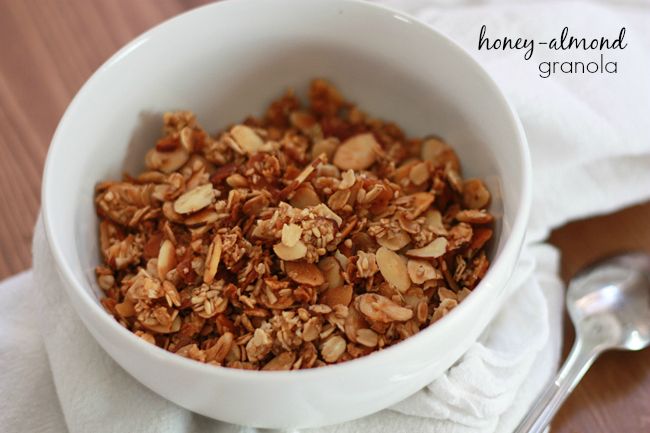 Print
3

c old-fashioned rolled oats*

1

c steel-cut oats*

1 1/2

c sliced almonds

1/4

c honey

1/4

c maple syrup (you can use 1/2c honey instead and skip the syrup, if you like)

1/4

c coconut oil

1/2 tsp

vanilla

1 tsp

almond extract
pinch salt
---
Instructions
In a large bowl, combine all ingredients and toss to combine well. Spread granola mixture out onto a baking sheet (I like to line mine with a silicone baking mat for easy clean-up later, but I've made it on an un-greased baking sheet without any trouble).
Bake at 325 degrees for 20-30 minutes, turning every 10 minutes or so. Allow mixture to cool completely on baking sheet. Transfer to an airtight container.
Granola will keep 1-2 weeks (if you can make it last that long!)
Notes
*Be sure to use certified gluten free oats if you are gluten free. I've had great success with Bob's Red Mill brand. Trader Joe's also carries GF rolled oats. If you'd prefer, you can use 4c rolled oats in place of the 3c rolled + 1c steel cut.