Kentucky Hot Brown – The very best sandwich I've ever eaten, a Derby tradition… why isn't this on your menu yet!?
Are you getting ready for the Kentucky Derby this weekend? I never even knew when the Kentucky Derby was until marrying into Michael's family. It's quite an affair. We all choose horses and the winner gets glory and honor until the next year.
We don't drink alcohol, so we don't go for the traditional mint juleps, but we DO go for the food, which makes everything fun. We try something new every year and this year, we wanted to try the legendary Kentucky hot brown sandwich.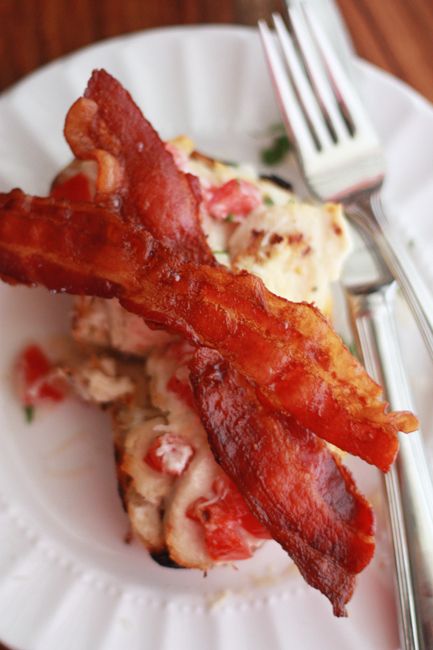 The Kentucky Hot Brown, as I understand it, originated at the Brown Derby restaurant as a late night snack for guests to eat after a long night of dancing. I wish my late night snacks were this glamorous! 12,000 steps above a handful of chip crumbs or stale microwave popcorn, the kentucky hot brown is an open-faced sandwich topped with shaved turkey or chicken, sliced tomatoes, and mornay sauce that's put under the broiler until bubbly and browned then topped with an "x' of bacon slices and garnished with parsley.
Seriously, people. Doesn't part of you just need one right now?
This is the sort of sandwich that becomes a knife and fork affair. Unless, of course, you and your husband agree not to think less of each other and you eat it like pizza, mornay sauce dripping off your fingers and toasty crumbs sticking to your cheeks.
Not that I know from experience.
Traditionally, the bacon is served as pictured, in an "x" over the sandwich. If you're serving this to little ones or want it a bit easier to eat, I recommend crumbling it and sprinkling it on top of the mornay sauce after broiling. It's for ease of eating that I diced my tomatoes instead of slicing them. You do what you will.
Print
For sandwich:
4

slices thick toast

1

lb turkey or chicken, cooked and sliced thin

8

slices bacon cooked (crumbled if desired)

8

slices tomatoes (or

2

small roma tomatoes, diced)
Mornay sauce (see below)
fresh parmesan and fresh parsley for garnish
For Mornay sauce:
4 Tbsp

butter

4 Tbsp

flour

1 1/2

c half-and-half

3/4

c grated parmesan or Romano cheese
salt and pepper to taste
---
Instructions
For the mornay sauce:
In a medium saucepan, melt butter over medium heat. Stir in flour and cook 1-2 minutes, or until slightly golden. Stir in half-and-half and stir until sauce has thickened somewhat. Stir in grated cheese and add salt and pepper, to taste.
For the sandwiches:
Preheat the broiler. Line a baking sheet with foil. Place toast on baking sheet and divide the turkey (or chicken) among the toast and layer tomatoes on top of the turkey. Pour mornay sauce the top of each sandwich.
Place pan under the broiler for 2-3 minutes, or until mornay sauce is golden and bubbly.
Place bacon in an "x" over each sandwich and garnish with parmesan and parsley.
Recipe adapted from the Brown Derby.