pork and ginger potstickers (df)
I first tried these potstickers last summer, and Michael and I fell in love with them. They've made regular appearances at our house ever since– a true feat, since we really don't make many meals over and over again.
We "grind" our own pork in our food processor with the metal blade attachment in my food processor rather than buying pre-ground at the grocery store. It cuts down on the fat content, since we grind pork loin chops, and cuts down on the "ick" factor I usually experience with ground meat.
Making your own potstickers takes a little bit of time, but it's fun to do with a partner and the recipe makes lots. We usually make them then freeze them for whenever we're ready for them. I've included freezing directions in the recipe, if you're interested. I like doing them this way, since once they're all assembled, they take less than 15 minutes to have all the way cooked and ready.
For a visual tutorial on filling and folding potstickers, look here.
**Notes on the recipe: If you can't find round wrappers, feel free to buy square ones then trim them after they're folded. We do this sometimes if we have to, and they seem to turn out just fine. Also, depending on how full you fill them, you may need to use part of a second package of wrappers. Extra wrappers freeze well and can be used any time in three months. Just thaw in the refrigerator before you do your next batch of potstickers (and you'll WANT to make a next batch of potstickers).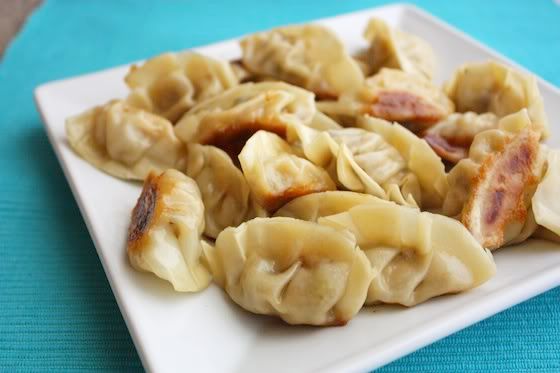 Print
Pork and Ginger Potstickers
---
3/4

lb ground pork

3

stalks green onion, finely sliced

5

napa cabbage leaves, finely minced

5

small mushrooms, finely minced

2

cloves garlic, finely minced

1/4

c fresh ginger, finely minced

2Tbsp

cornstarch

2Tbsp

sesame oil

3Tbsp

soy sauce (I use reduced-sodium)

1/2tsp

black pepper

1

–

2

pkgs round posticker wrappers (in refrigerated section)
---
Instructions
Make sure all vegetables are finely minced. You don't want a mush, you want a mince, but you don't want large chunks of anything in the filling. Combine all ingredients and stir well to combine. Scoop small teaspoons of filling into the center of each round wrapper. Use a pastry brush to brush water on one half of the wrapper's border.
Fold each wrapper in half tightly to enclose the filling and remove any extra air bubbles. Pinch the edge together tightly. Make several small folds at the top of each wrapper and set aside.
If you are making the potstickers ahead of time, place them on a baking sheet covered with parchment or waxed paper. Place in the freezer until solid (about 30 min), then store in an airtight container or freezer bag until ready to use. Otherwise, use immediately.
To cook, heat a large pan with 1 Tbsp canola oil. Place about 1 dozen potstickers in at a time, flat side down. Cook 2-3 minutes over medium-high heat until bottoms are browned. Pour in 1/2c water and cover with a lid. Let steam 5-7 minutes or until water is absorbed and wrappers are transluscent.
If cooking frozen, add an additional 2-3 minutes to the steaming time.
Serve with dipping sauce or teriyaki sauce. Our favorite is Veri Veri Teriyaki. We also like the Island Teriyaki version.