raspberry limeade slushies (gf, df, v)
Raspberry Limeade Slushies – Cool, refreshing, and delicious!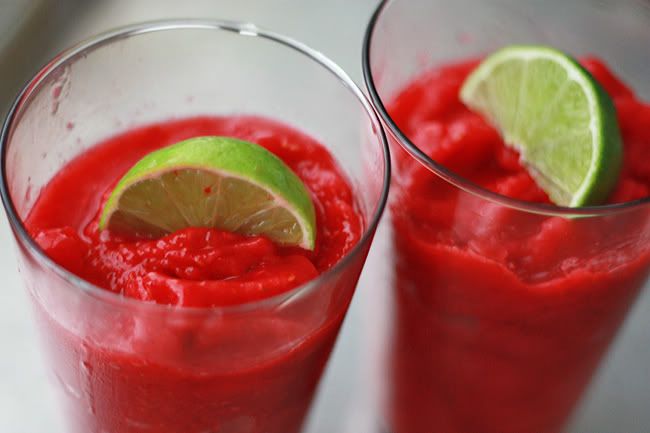 You've Got Mail season in in the air. It's not quite here yet, but I feel it in my bones. It's the official movie of fall for me. That sure doesn't stop me from watching it every other season of the year, I just find, like so many things, it's best enjoyed in its season. And the season for You've Got Mail is the fall.
"Don't you love New York in the fall? Makes me want to buy school supplies. I'd send you a bouquet of newly-sharpened pencils if I knew your name and address. On the other hand, this not knowing has its charms…"
Swoon.
Although I've pledged my undying love and adoration for fall a million billion times, I do live in the desert. Where triple-digit weather days are in my future till, oh, November. Which necessitates having something cool and refreshing to enjoy with my favorite fall movie, rather than a steaming cup of something to fight off the newly crisp air.
Michael and I have been sweet on frozen berries this summer, so I thought some sort of slushy or shake would really hit the spot. Michael has a growing affection for all things citrus, so we decided to do limeade slushies.
I feel almost silly posting a "recipe" for these, since they basically come together on their own. The most important thing, I suppose, is finding a suitable limeade. I prefer Simply Limeade brand because they don't have a bunch of weird additives, and they use sugar rather than high fructose corn syrup (still avoiding corn for Sophie). You could be extra fancy and make your own limeade from scratch, I'm sure. Since I often make things one-handed in the kitchen these days with Sophie in the other arm, I went for the convenience of store-bought.
These could be done with any fruit you fancy. We chose raspberries, because they're our favorite, but I be these would be AWESOME with strawberries, or even blueberries. Excuse me, for a moment. I've got to go try these in strawberry form…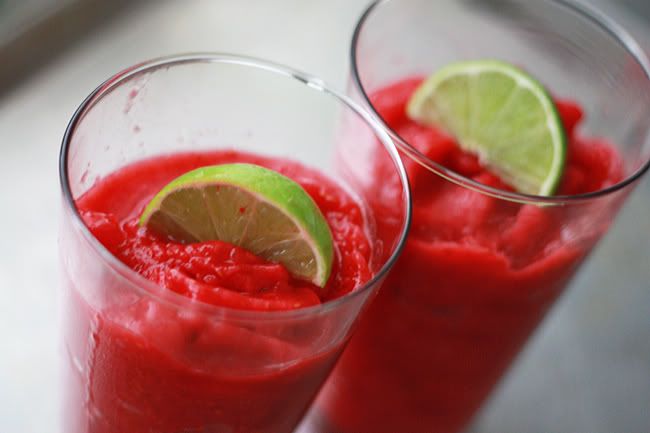 Print
Raspberry Limeade Slushies
---
2

c limeade (I prefer Simply Limeade)

1

–

2

c ice, based on your preference. I'm usually closer to the 1c range

1 1/2

c frozen raspberries
---
Instructions
In a blender, combine limeade, ice, and frozen berries. Blend until desired consistency (stop sooner if you want more crunchy ice, keep going if you want it silky). Enjoy!
Makes 2 large or 4 small slushies.