lemon ice cream with very berry swirl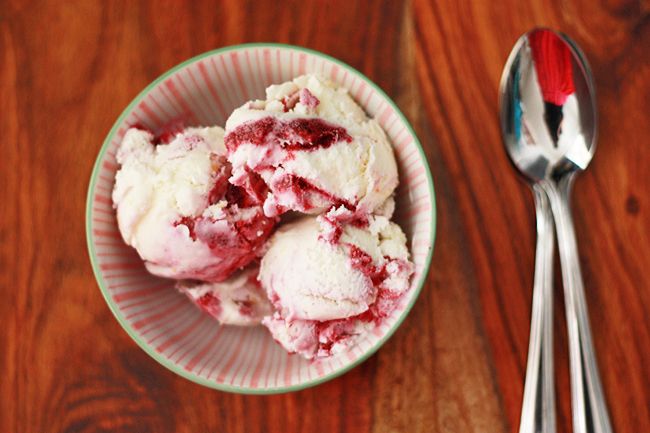 I have a thing for lemon and berries together. I can't help myself. I love a good ol' raspberry lemonade, die and go to heaven when I have this lemon cream cake with raspberry sauce…I could go on and on.
So, when Michael asked if we could have homemade ice cream for dessert this weekend, I was all in. I missed ice cream while I was off dairy. That is to say, I missed good ice cream–which to me means either gelato or homemade. The cravings were stronger than anything I had while pregnant. It was intense.
We brainstormed flavors for a while as we flipped through The Perfect Scoop, and since chocolate is still off the table, we focused on fruity flavors. We didn't feel like we chose this ice cream. This ice cream chose us.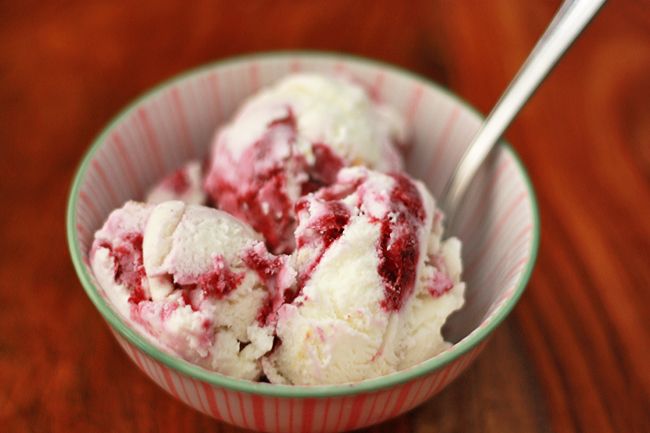 The lemon flavor was perfect–creamy and light, definitely lemony without being too strong. Ahhh…
As for the very berry swirl, it was heavenly. And smooth. This is as good a time as any to tell you that I don't mind seeds in fruit things. As in, I purposely buy the raspberry jam that DOES have seeds in it, because I like it better. Still, I know that where ice cream is concerned, I am likely in the seed-liking minority, and I was serving this to guests, so I wanted to be a crowd pleaser. So, I strained it.
And then, dear reader, I did something, well…weird. After refrigerating the strained berry sauce, instead of throwing away the pulp left over…I saved it. And I spread it on toast. Like jam. And it was really, really delicious. And jammy.
There, I said it. Fewf! Glad I got that off my chest. Are we still friends? I hope so.
Anyway, strained or not, the berry swirl was fantastic paired with the creamy, dreamy lemon ice cream. I think this would make a dynamite ice cream sandwich between two homemade cookies or graham crackers, and it was FABULOUS on its own.
Make it, dear reader, and soon. Fall is not far off in all its crisp, cool glory. And, before we know it, we'll be hankering for warm, cozy desserts instead of light, cool ones.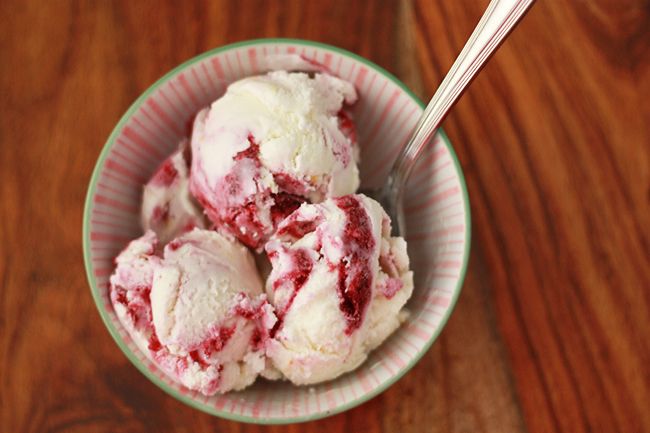 Print
Lemon Ice Cream with Very Berry Swirl
---
For the ice cream:
zest of

3

lemons

3/4

c sugar

1 1/2

c whole milk

2 1/2

c heavy cream

1/4 tsp

salt (trust me)

1/2 tsp

vanilla
For the berry swirl:
1

c raspberries (frozen is fine)

1

c blueberries (ditto)

1

c strawberries (ditto again)

1/4

c sugar
juice of

1/2

lemon

1/2 tsp

cornstarch
---
Instructions
In a large saucepan, combine lemon zest and sugar until very fragrant. This allows the lemon oils from the zest to get friendly with the sugar. Pour in milk, cream, and salt and stir over medium heat until the sugar is completely dissolved. Stir in vanilla. Pour into a large bowl, cover, and refrigerate until completely chilled, 1-2 hours or overnight.
To make the berry swirl, add berries, sugar, lemon juice, and cornstarch to a medium saucepan. Stir over medium heat, crushing berries with a spatula or potato masher. Heat until sugar is dissolved and mixture comes to a boil. As soon as the sauce begins to boil, remove it from the heat. If you want a smooth sauce (as pictured), strain through a seive and discard seeds/pulp. Refrigerate strained sauce until chilled.
Pour lemon/cream mixture into your ice cream maker and churn according to manufacturer's directions. (For my cuisinart, this means about 30 minutes). Pour ice cream into a container for freezing and pour berry sauce on top. Swirl with a knife to incorporate. Cover and freeze 2-3 hours before serving.
Freeze 2-3 hours or until ready to serve.
Ice cream recipe adapted from The Perfect Scoop,*  very berry swirl recipe my own
* I combined/adapted the Philadelphia-style Vanilla & Lemon Speculoos recipes