I've got a recipe queue longer than I am tall, but sometimes there are recipes that stop me in my tracks and call to me. I saw this idea on The Kitchn and could. not. help. myself.
My thoughts? Totally amazing.

While they're certainly not traditional fajitas, they were absolutely delicious. We loved them! Michael's already asked to have them again soon. They were definitely spicy, but not so much so that they just taste like burning. I cut the recommended amount of cayenne in half in my adaptation, but if you're serving them to children, or are concerned about the spice yourself, feel free to cut the cayenne pepper in half again.
I think the fresh limes are absolutely essential. Don't leave them out! The lime juice helps temper the spice and adds a fantastic flavor that really ties things together. (I also think the cilantro is important, but if you can only choose one, go with the lime.)
One other note on the recipe: if you prefer, you can use another white fish. I used tilapia since it was a great price and it worked beautifully. Use whatever you can find for a good price!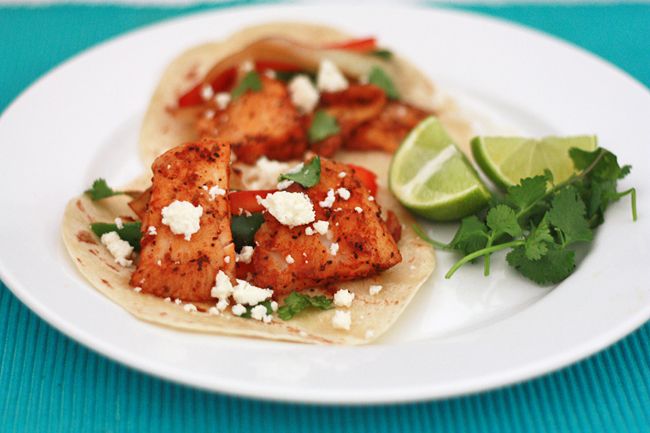 Print
Spicy Blackened Fish Fajitas
---
Scale
Ingredients
For Fajitas
1 1/2 Tbsp

paprika

1 1/2 tsp

pepper

1 1/2 tsp

salt

1 1/2 tsp

oregano

1 1/2 tsp

sugar

1 tsp

garlic powder

1/2 tsp

cayenne pepper

1 1/2

lbs tilapia, cut into large pieces

1

onion, sliced

1

green pepper, sliced

1

red pepper, sliced
olive oil
For serving:
small tortillas
lime wedges
cilantro
grated cheddar or cotija
---
Instructions
In a small bowl, combine paprika, pepper, salt, oregano, sugar, garlic powder, and cayenne. Place fish in a large bowl, or zip-top bag, and add seasoning mixture. Stir or shake to coat well.
In a large pan, heat a small drizzle of olive oil over medium-high heat. Add onion and peppers, and cook 5-7 minutes or until crisp-tender. Remove onion and peppers from pan and set aside. Add another drizzle of olive oil and add about 1/3 of the fish. Cook 2-3 minutes per side, remove from pan and repeat with the remaining fish. (Don't crowd the pan, this will help it to get slightly crispy on the outside and will prevent the fish from steaming).
To serve, add a few pieces of fish, peppers, and onions to each tortilla. Add a little lime juice and garnish with cilantro and cheese.
---
Spicy Blackened Fish Fajitas
Adapted from The Kitchn
Printable Recipe