tomato sauce with butter and onion (gf)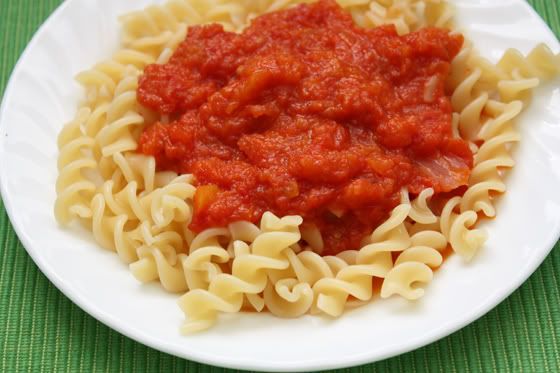 I talk about the movie Julie and Julia a lot. I just love it. Toward the beginning of the movie, Julia Child arrives in Paris and is absolutely taken with all of it. I think of one scene in particular, where she and Paul are sitting in a restaurant and her meal–and entire fish–is delivered to her. The waiter removes the lid to the steaming pan, she closes her eyes, takes a deep breath, and as she opens her eyes to exhale, all she can manage to get out is the word "butter."
I think the same thing every time I eat this tomato sauce.
I first read about this sauce on the Smitten Kitchen blog (one of my favorites). I was intrigued and also a little unsure about how I felt about it.
Pros: a simple red sauce for pasta. Only 3 ingredients. It looked beautiful.
Cons: tomatoes and butter? Really?
I just wasn't sure how I felt about it. So, naturally, I had to try it out for myself. And I'm here to tell you, something MAGICAL happens when you combine tomatoes, an onion, and butter. There is truly nothing extraordinary about any of the ingredients alone, but simmered together, they create a fantastic sauce that's absolutely delicious and a nice change from basic marinara.
And it's so SIMPLE. It was a really nice, clean flavor. It's now one of my go-to sauces. I usually make the recipe, then freeze half for quick dinners or lunches later. It's just so good.
I like serving it with rotini or capellini pasta–something with a spiral–but you can certainly use linguine or another favorite pasta shape if you like.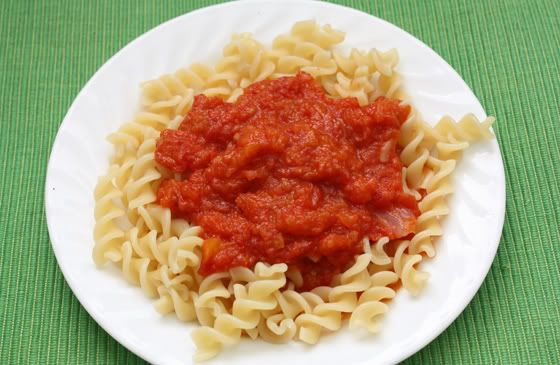 Print
Tomato Sauce with Butter and Onion
---
2

(28oz) cans whole plum tomatoes (try to use best quality, if you can)

7 Tbsp

butter

1

medium sweet onion, peeled & halved
---
Instructions
Add tomatoes and their juices to a large saucepan. Add butter and onion. Cover and bring up to a simmer. Simmer over medium-low heat about 45-50 minutes, stirring often. Break up tomatoes with your spoon as you stir.
When ready to serve, remove onion and discard (or, you can mash it up and stir it back into the sauce if you like). Serve over pasta.
Notes
*Gluten free notes: this is a gluten free sauce. Feel free to serve it over gluten free pasta!
adapted from Smitten Kitchen