Do you eat breakfast for dinner? I love it. I get into breakfast for dinner phases here and there. I should give you fair warning: I'm in one of those phases. Especially since Sophie's been tolerating eggs better lately, we've been enjoying eating dishes that include them.
Waffles are one of our favorite breakfasts for dinner, and these were no exception.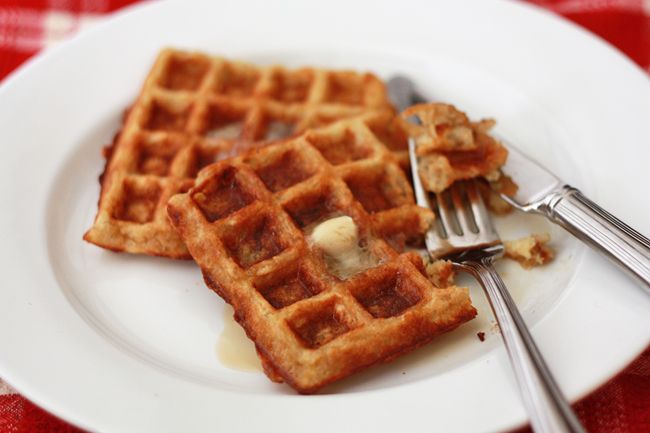 Sometimes oatmeal waffles can be dense and heavy. This recipe takes care of that problem by soaking the oats in buttermilk overnight. By the time you're ready to make them, the oats are softened, and the result is a crisp, hearty waffle that's not too heavy. Plus, the day-of preparation is minimal. In the time it takes for your waffle iron to heat up, your waffles are ready to go!
We enjoyed these with a pat of maple butter and syrup, but they'd be delicious with strawberries and cream, or cinnamon-sugar apples. For a special treat, you could even top them with buttermilk syrup. Whether you eat them for dinner, breakfast, or brunch, they're sure to be delicious.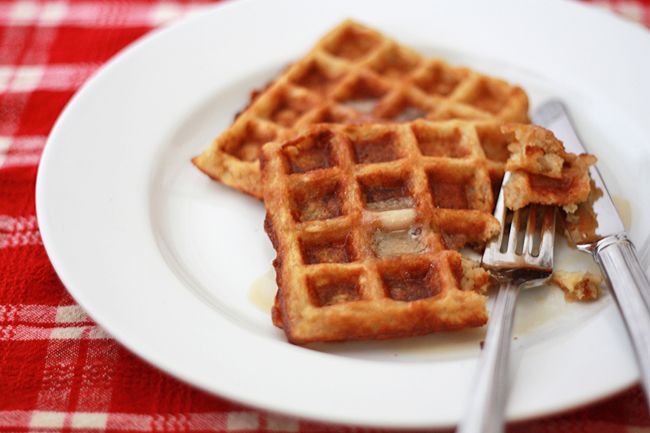 Overnight Oatmeal Waffles
Serves:
about 6 (depending on how hungry you are)
Ingredients
2c oats
2c buttermilk
2 eggs
7 Tbsp butter
½c flour
2 Tbsp sugar
1 tsp bk powder
1 tsp bk soda
½ tsp salt
Instructions
In a medium bowl, combine oats and buttermilk. Cover and refrigerate overnight.
When ready to prepare waffles, stir eggs and melted butter into the oat/buttermilk mixture. In a separate bowl, whisk together flour, sugar, baking powder, baking soda, and salt. Add in flour mixture and stir till just blended. (Batter will be quite thick).
Cook in waffle iron according to manufacturer's directions. You may want to leave them in a bit longer than normal to crisp a bit more.
Adapted from Orangette