Salsa Verde Chicken Chili – My new favorite soup, made with homemade (or not) salsa verde. A lighter take on chili night.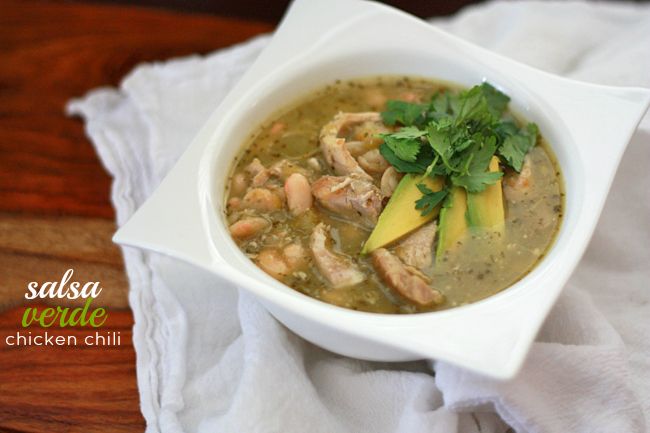 So… I'm apparently really on a salsa verde kick. I've been making batches of this verde sauce since this summer pairing it with eggs, veggies, and everything else that sounds good. It was only natural when I saw Ali's 5 Ingredient Chicken Chili from Gimme Some Oven that I knew. I must. eat. it.
Now.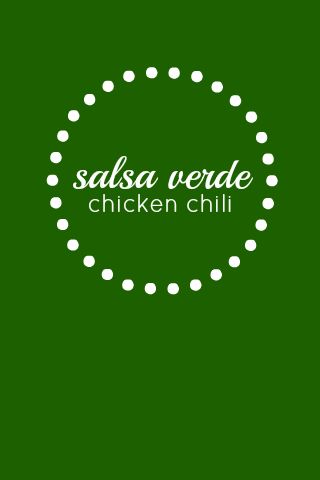 I'll admit, I didn't stick with the 5 ingredients. I couldn't help myself. I added a few things here and there, but there's nothing complicated about this recipe. You can use any leftover cooked chicken or rotisserie chicken you like, and any salsa verde you like. I do think the key to this recipe is using a great salsa verde. I've included the recipe I use for mine below, but if you've got a favorite store brand or homemade recipe, feel free to use it!
As most soups and chilis do, this gets better with time. I made this in the morning, then re-heated it for dinner. It was AWESOME! I have no reason to believe this wouldn't be a great freezer meal–we just didn't have enough leftover to try 🙂
p.s. Serve with chips for dipping or mini corn muffins for best results!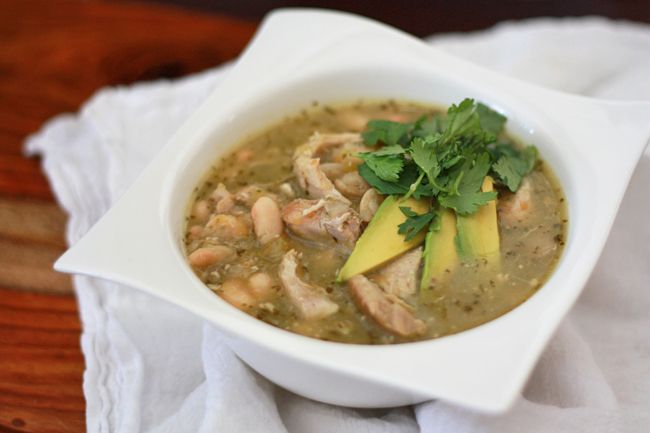 Salsa Verde Chicken Chili (gf, df)
You can use any cooked chicken or any salsa verde you like (in a pinch, this is a great recipe for rotisserie chicken and jarred salsa). I've provided recipes and methods for what I did below. I prepped the chicken and salsa the night before, which speeds up dinner prep on the night I want to eat it.
Author:
One Lovely Life, inspired by Gimme Some Oven
Ingredients
For the soup:
1lb cooked chicken, see below for suggested preparation
2c salsa verde, homemade or store bought (see below for suggested)
4c water
2 (15oz) cans great northern beans, drained and rinsed
1 (4oz) can diced green chiles
1 tsp cumin
salt and pepper, to taste
For the chicken:
1lb boneless, skinless chicken thighs
2 Tbsp lime juice
2 Tbsp honey
zest of 1 lime
For the salsa verde:
1 (4oz) can diced green chiles
1 (12oz) can tomatillos, drained (I used Embasa brand)
1 medium onion, diced
olive oil
½c cilantro
salt
To serve:
Extra cilantro, lime wedges, tortilla chips, avocado, cheese, or sour cream.
Instructions
For the chicken:
Place chicken on a piece of foil. Stir together honey, lime juice, and lime zest. Pour over chicken. Cover with a second piece of foil. Bake at 350 degrees for 25-30 minutes, or until cooked through. Shred.
For the salsa:
Heat a drizzle of olive oil in a medium saute pan. Add onion and saute until translucent and tender. Put cooked onion, green chiles, tomatillos, cilantro, and a big pinch of salt into a food processor or blender. Puree until smooth.
For the soup:
Add chicken, salsa, water, beans, chiles, and cumin to a soup pot. Bring to a simmer. Taste and add salt and pepper, as desired. Soup gets better over time, so feel free to make it early!