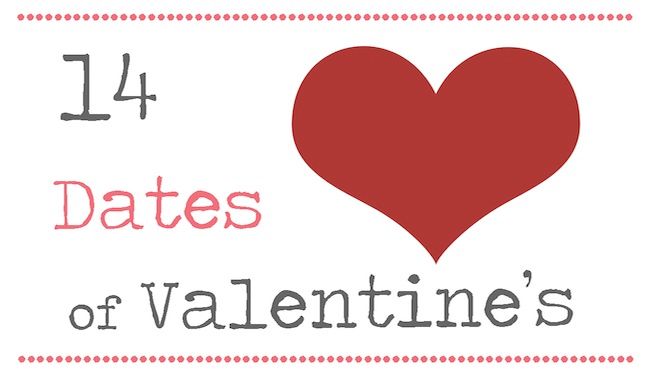 It's a bit early for a Valentine's Day post, but I wanted to share my plan for this year. Since we've been married, I've tried to complete a 14 Days of Valentine's for Michael. From February 1st through the 14th, I'd give him something small to show him I love or care about him. Sometimes, it was a note, sometimes a treat, a small token, an act of service… you get the idea. (For what I did last year, click here).
This year, I've decided to do something just a little different. Instead of the 14 days of Valentine's, I'm doing the 14 dates of Valentine's. Since Sophie's arrival, dating each other and spending quality one-on-one time has definitely changed. Sometimes we feel like we're in a rut or too tired to think of anything to do, so this year, I'm coming up with 14 different ideas for dates. Each day, I'll give him essentially one date idea that we can use any time. Half of the dates will be things we can do at home after Sophie goes to bed, and half of the dates will be things we can go do and leave Sophie home with a babysitter.
Want to do something similar? Read on for some ideas!
As I said, I've broken the ideas up into two categories: nights in and nights out. I'm not sure just which of these ideas I'll go with, but here's what I've been able to come up with in the last few weeks of brainstorming…
Nights in:
1. Board games. Pop some popcorn or make another game night treat (sweet Chex mix? caramel corn? s'mores treats?). Bust out the card games or the scrabble and have fun.
2. French night. Make a French meal–French onion soup with gruyere, baguettes, eclairs for dessert, etc. Watch something like "An American in Paris," "Ratatouille," or an actual French film.
3. Dance! Pop in some music or play a dancing game (our favorite is Just Dance 3 for the Wii). Make it a challenge: make a friendly wager on the outcome of the game–say, best out of 5 dances. Winner chooses dessert, or loser has to do a job around the house.
4. Splurge on a variety of fancy cheeses, fruit, crackers, and something sparkly to drink. Munch and talk as long as the food lasts!
5. Get Chinese takeout and eat it on the floor or couch. Bonus points if you watch a fun movie.
6. Indoor spa night. Give each other back or foot rubs, soak your feet in warm sudsy water, light candles, and play soft music.
7. Watch a sports game (or sports movie, if you prefer) and eat stadium food like nachos or hot dogs, etc.
8. Make breakfast in bed for dinner and talk or watch a favorite show or movie in your jammies.
9. Decorate cookies or cupcakes. Think about someone who could use a little cheering up and make plans to deliver the treats later.
10. Put together a puzzle.
11. Color. Might sound funny, but there are actually some great, more intricate coloring pages out there. Try these or these.
12. Dress up for dinner in. It's really fun to get all dolled up for dinner in. Play mood music, eat by candlelight…try it!
13. Spend an evening writing questions for a conversation jar. Try to think outside the box. These are some good questions to get you started.
14. Take the love languages quiz. Talk about the results.
15. Get a season of a tv show (libraries actually carry lots you can check out for free) and make a date to watch it together regularly.
Nights out:
1. Find a bakery or cupcake shop. Get a few things to taste and try. Eat them there or bring them home.
2. Go to brunch. It's not the usual time for a date, and it can be a lot of fun!
3. Take dance lessons or try a fitness class together–spinning, kick-boxing…something outside your comfort zone.
4. Go out for dessert. Michael and I never go out for just dessert. Get a table and order something indulgent. Linger and take your time enjoying it.
5. Head to a bookstore. Browse or buy. Or, you can sit down and flip through travel books and plan a dream trip.
6. Rent a tandem bike and take a long ride.
7. Picnic outside. Keep it simple with something store-bought or go all out and pack a picnic basket.
8. Progressive dinner out. Start somewhere for an appetizer, go somewhere else for the entree, and stop somewhere after for a treat.
9. Take a nighttime drive – bring car trip treats, or listen to an audiobook
10. Take a long walk. Walk or hike around a lake, go to a large park, visit a botanical garden, or just explore the neighborhood.
11. Go to the batting cages, miniature golf, or a driving range.
12. Go snow-shoeing or sledding
13. Catch a movie in a park. These are so fun and romantic. Plus, you can bring your own treats!
14. Go to a farmer's market or fine foods store and plan a dinner using what you pick up. Cook together for bonus points.
That's all that I can think of at the moment. Do you have any suggestions? I'd love to know what I might have overlooked. What are you doing this Valentine's Day?