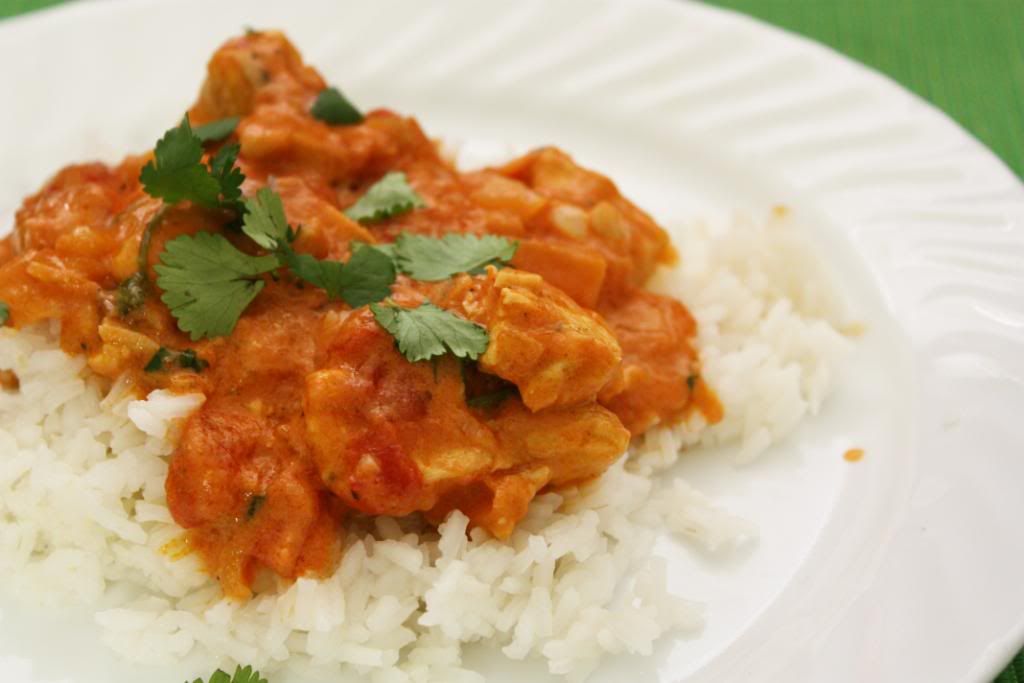 Please don't be afraid.
I'm serious.
Lest a title like "butter chicken" my inspire thoughts of Paula Deen and incredibly rich indulgence (it did for me), let me assure you: it's not that bad.
I'm serious!
In fact, it is OH SO good. I have had a craving for Indian food lately, and I didn't feel like curry. What's a girl to do in a situation like this? Research. Always research.
So.
I found a great-sounding recipe for butter chicken floating around the blogosphere and adapted it for dinner last night.
It. Was. Delicious.
So delicious that after I ate it for dinner and put the leftovers away, I scraped down the pan with a spatula and ate every last speck of remaining sauce. Then proceeded to think about how good it was until I fell asleep. Then I ate more of it for breakfast. At 6:45am.
It was that good.
I absolutely LOVED the marinade the chicken sat in the night before and it had just the right amount of heat and spice. I decreased the amount of butter and substituted for the cream, and oh baby. It was so good. I'm going to have to make it again VERY soon. The leftovers are almost nonexistent and it's been less than 24 hours.
Make this now. You'll thank me.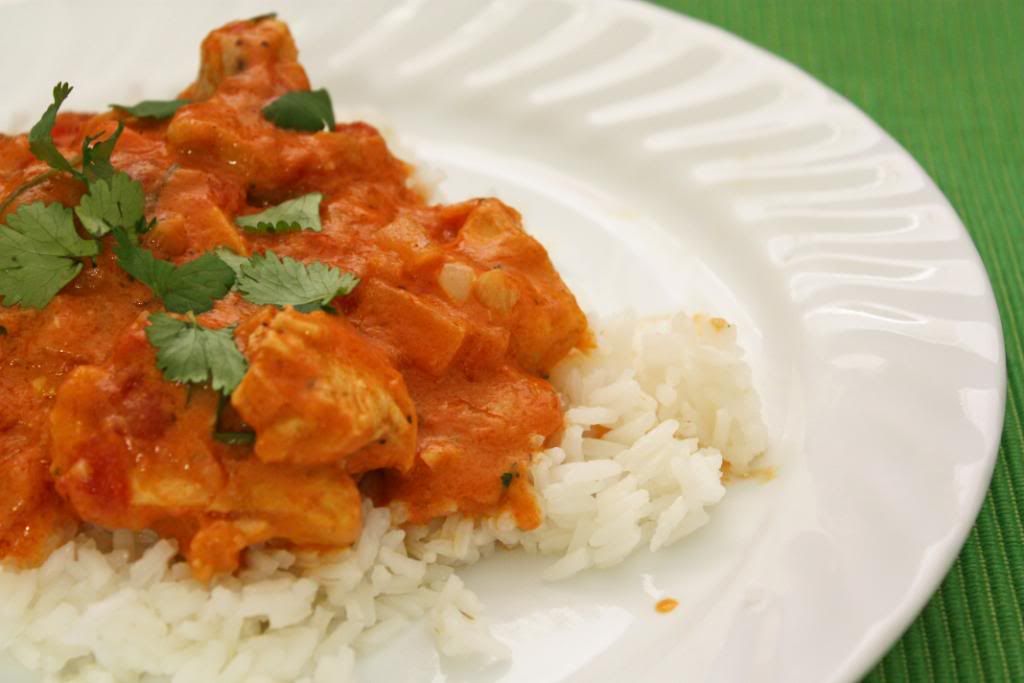 Print
Butter Chicken
---
1

lb boneless, skinless chicken breast, diced into bite-sized pieces

4

cloves garlic, minced

1tsp

salt

1/2tsp

pepper

1/4tsp

cayenne (or more to taste)

1/4tsp

coriander

1/4tsp

cumin

1/4tsp

cardamom
juice of

1

lime

3Tbsp

butter*

1

onion, diced

1

(8oz) can tomato sauce

1

(14.5oz) can petite diced tomatoes (do not drain)

1/2

c half-and-half*

1/4

c cilantro, diced
rice to serve
---
Instructions
In a small bowl, combine garlic, salt, pepper, cayenne, coriander, cumin, and cardamom with the juice from the lime. Whisk to combine. Add chicken pieces and stir to coat. Cover with plastic wrap and refrigerate overnight to marinate.
When ready to cook, heat butter in a large pan to melt and add chicken and marinade. Cook chicken until no longer pink, about 5-6 minutes. Add onion and stir, cooking over medium heat until onion is tender and translucent. Add tomato sauce and diced tomatoes with their juice and cover with lid. Simmer about 20 minutes, or until the sauce has thickened somewhat.
Turn off heat, stir in half-and-half and chopped cilantro. Serve over warm rice.
Notes
*For a dairy free version, use Earth Balance or a little olive oil instead of butter, and canned coconut milk (not cream of coconut) in place of the milk.