Chicken Florentine Puffs – Creamy chicken and spinach filling wrapped in flaky pastry pockets.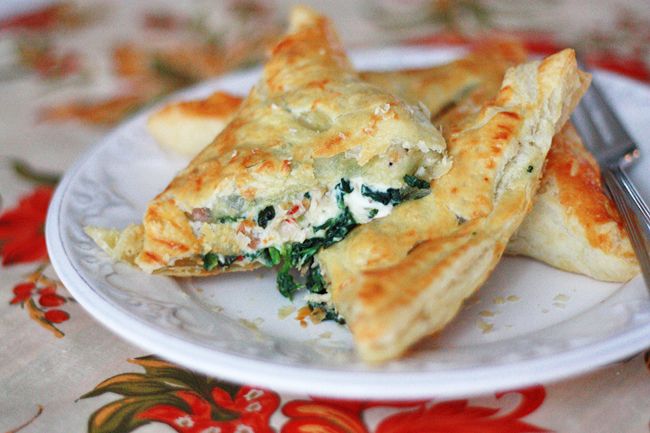 Did you catch the crock pot rotisserie-style chicken I posted about Monday? It was truly a game-changer. I'll be using that method over and over. With the leftovers, I decided to try something new. I had some puff pastry in the freezer and decided to cobble together a recipe for a chicken and spinach puff. Oh, dolly, did I hit the big time.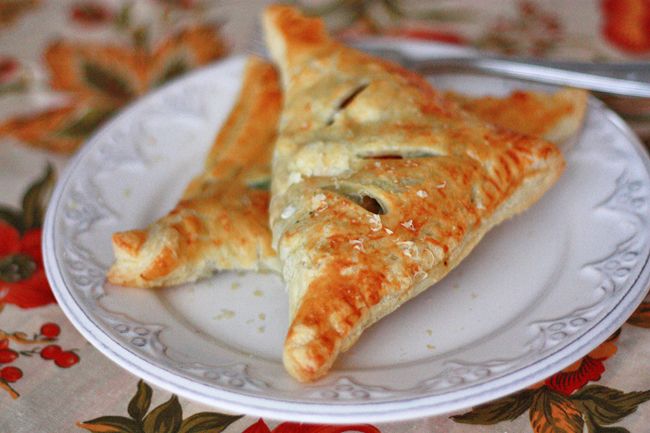 I loved all the flavors going on here–the basil, spinach, roasted pepper, gruyere. Sigh. So tasty. We ate them fresh out of the oven, reheated from the microwave, and baked in the oven after having frozen them. They were delicious every time, though the texture was predictably much better when re-heated in the oven. It's a great meal to make ahead of time, or to eat half and freeze half for later.
I also think they'd make a great appetizer. These were made dinner-sized, but you could certainly make them half this size for appetizers. You'd just need to decrease the baking time a little.
A few notes: You can use 1/3 less fat/Neufchatel cream cheese for this recipe, but you do NOT want to use fat-free cream cheese. Also, you can use either a jarred or freshly roasted red pepper. To make a freshly roasted one, place a red pepper on a baking sheet and place under the broiler until blackened on all sides, rotating every couple of minutes. When blackened, place pepper in a paper or plastic bag to steam about 5 minutes. Peel off charred skin, discard seeds and stem, and slice or dice as desired.
Print
Chicken Florentine Puffs
---
2

sheets puff pastry, thawed and rolled out

2 cups

cooked chicken, cubed or shredded

1

(10oz) pkg. frozen chopped spinach, thawed and liquid squeezed out

1

roasted red pepper, diced

4oz

cream cheese, softened

1

c gruyere, grated

2

–

3

Tbsp fresh basil (or

2 tsp

dried)

1/4 tsp

garlic powder

1/4 tsp

salt

1/4 tsp

pepper

1

egg

1 Tbsp

water
parmesan cheese (optional, for garnish)
---
Instructions
In a large bowl, combine chicken, spinach, red pepepr, cream cheese, gruyere, basil, garlic powder, salt, and pepper. Toss until well combined and cream cheese is completely mixed in.
Make an egg wash by beating egg with water.
Roll out puff pastry. Slice each sheet into 4 pieces (for 8 squares total). Divide filling among the 8 squares. For each puff, place filling in the center. Brush the edge of one half with egg wash and fold in half diagonally to form a triangle. Press down the edges with a fork to seal. Brush the top of the puff with egg wash and sprinkle with a bit of fresh parmesan, if using. Make 2-3 small slits in the top to allow steam to escape during baking.
Place puffs on two baking sheets lined with parchment or sprayed with nonstick spray (I recommend using parchment).
Bake at 400 degrees for 15-18 minutes, or until golden.
and place in the center. Brush the edge of one half with egg wash. Fold each square in half diagonally to form a triangle. Press down edges with a fork to seal.
Notes
*To re-heat frozen puffs: place on a baking sheet lined with parchment and bake at 400 degrees 15-18 minutes or till heated through.
Adapted from Shugary Sweets