German Potato Salad – A recipe from Michael's side of the family. Tender potatoes tossed with a tangy bacon vinaigrette. How can you go wrong with bacon vinaigrette?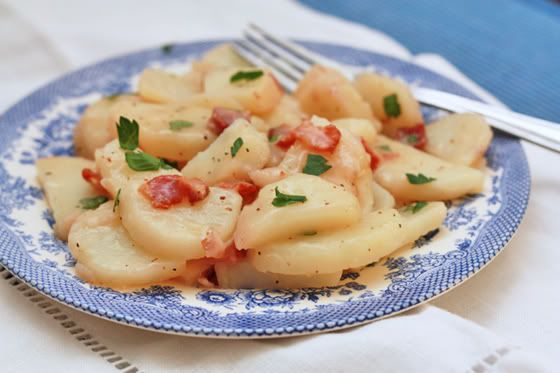 Know what I love in the summer? A good salad. Sure, I love a grilled something just as much as the next person, but at picnics, barbecues, potlucks, and summer cook-outs, I get MOST excited about the salads and sides. I just love all those fresh flavors!
I especially love trying twists on old favorites. This German potato salad is totally one of those. A quick Google search will tell you that there are lots of different versions of German potato salad, but most of them center around a few key ingredients: potatoes (obviously), bacon (yay), and a vinaigrette dressing in place of the mayo (woot!).
The end result is tangy, smokey, salty, savory, and absolutely delicious.
Signed, sealed, delivered, I'm yours!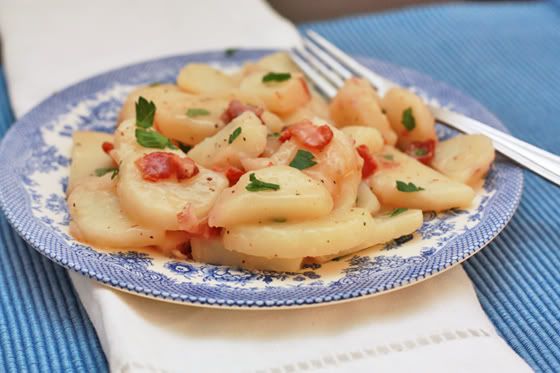 Michael's family has a pretty strong German heritage, so we've had several family recipes trickle down over the years. One thing I've noticed is that many of the recipes have a strong tangy component. I LOVE tangy flavors, whether that's a nice, strong mustard, or sauerkraut, or tangy picked veggies. In this recipe, the tang comes through in the bacon vinaigrette.
Related: Michael's family recipe for Rotkohl (German Braised Red Cabbage)
So, while yes we're skipping the mayo-based dressing, we're definitely adding bacon to the mix. Ha! It's worth it! You use some of the bacon drippings to make warm vinaigrette, which you toss with the potatoes.
The vinaigrette soaks in a bit as the potatoes cool, which means every bite is infused with smoky, tangy, savory, salty flavor. Finish things off with some fresh herbs and a sprinkle of that crispy bacon, and you're ready to go!
It's one of those beautifully simple recipes that doesn't require a lot of fuss but REALLY delivers on flavor.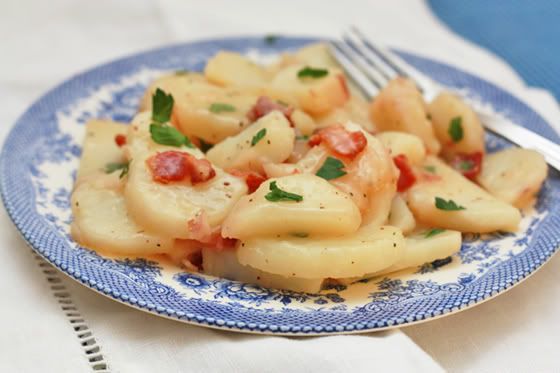 Notes on this German Potato Salad
Let's Talk Herbs – Parsley is typically not my favorite herb. I find it's often pretty strong and overpowering. I do like it in this recipe, but I also REALLY like fresh dill. You could mix and match herbs if you like, or swap in some fresh chives. You do You!
Slice 'Em, Dice 'Em. You can prepare your potatoes any way you like. Michael's mom has a family recipe that includes sliced potatoes (into large rounds/coins), but many that I've seen and tried in years since have used diced potatoes. You can totally do what works for you.
Yes Skins or No Skins? Your choice! I love red potatoes and baby potatoes and don't mind the skins one bit in potato salad. If you prefer your potatoes peeled, go for it! It won't change the flavor a bit.
More Summer Sides & Salads to Love:
Print
Scale
Ingredients
6

–

8

medium red potatoes, scrubbed

3

slices bacon, diced

1 1/2 Tbsp

flour (Use 1:1 gluten free flour for GF, such as Bob's Red Mill, Cup

4Cup

or King Arthur Flour brands)

1/2

c apple cider vinegar

1/2

c water

3 1/2 Tbsp

sugar

1 tsp

salt

1/4

–

1/2

tsp black pepper

3

–

4

Tbsp fresh parsley, minced (optional)
---
Instructions
Place potatoes in a large pot and fill with water until potatoes are completely covered by 1-2 inches of water. Bring to a boil and cook until mostly tender, about 15-20 minutes (or more, if larger). Drain and allow to cool before peeling and slicing into 1/4″ thick slices.
To make the dressing, brown bacon pieces in a large skillet over medium heat until crisp. Set bacon aside to cool on paper towels. Reduce heat to medium-low and add flour, stirring to combine. Cook 1-2 minutes. Pour in vinegar, water, sugar, salt, and pepper. Cook, stirring until thickened, about 3-4 minutes. Toss dressing with sliced potatoes and stir in parsley. Serve warm or room temperature.
---
SaveSave
SaveSave
SaveSave