honey lime fish tacos (df)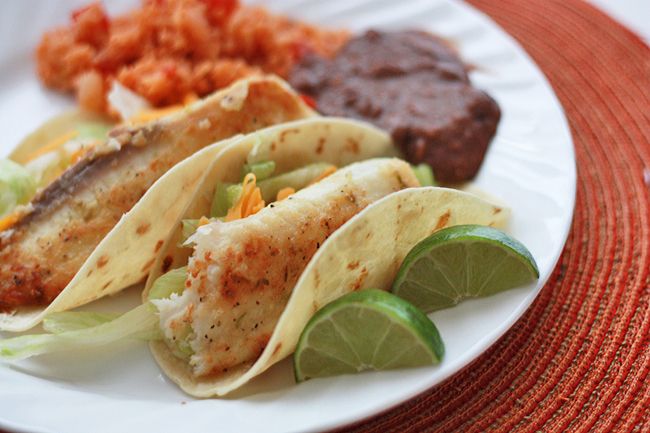 Anyone remember that honey lime tilapia I made a while back? Have you tried it yet? It's really, really delicious.
Well, my aunt Nicki commented on the tilapia post and mentioned that she'd used it for fish tacos. Michael and I both drooled at that suggestion. We didn't stop thinking about that idea, and when Michael's brother Ben was coming into town, we knew that we had to give homemade fish tacos a try.
Oh, dear reader. They were incredible.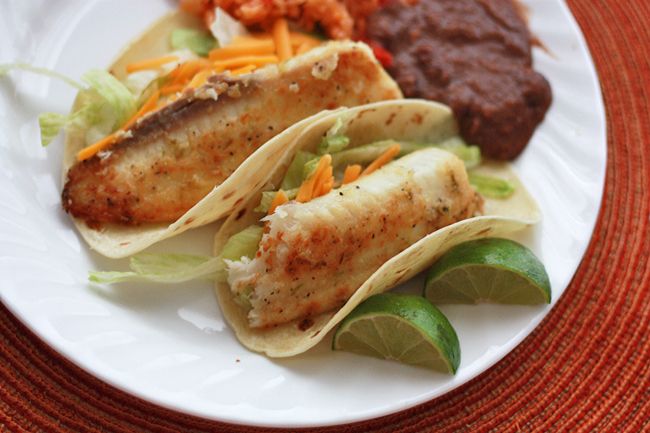 Often, fish tacos are served with pickled onions and cabbage. Michael asked for no cabbage, and I thought pickled onions might compete with the honey-lime sauce of the tilapia, so these aren't what you'd call traditional. Nevertheless and notwithstanding, we LOVED them!
Since we went cabbage- and pickled onions-free around here, we opted for some crisp iceberg and a sprinkling of cheese, and we topped them with honey-lime sauce. They were full of flavor and the fish and sauce were really able to shine.
Give them a try on your next taco night!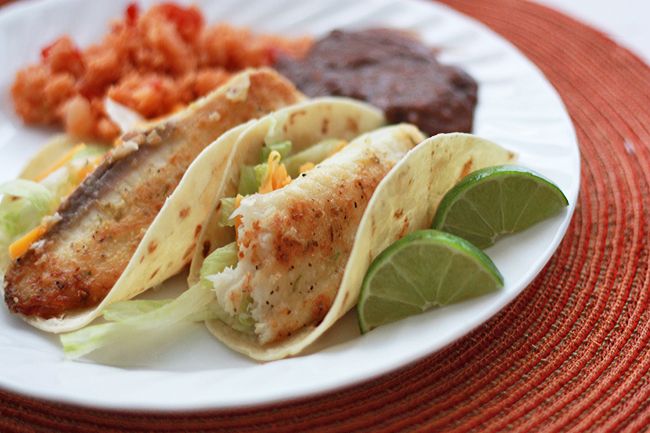 Print
6

(4-6oz) fillets tilapia
zest and juice of 2 limes

1 Tbsp

olive oil + more for cooking

3 Tbsp

honey

3/4 tsp

salt + more for dredging

3/4 tsp

pepper + more for dredging

1/2 tsp

garlic powder

1/2

c flour (white or whole wheat pastry flour work best)
small fajita-size flour tortillas
shredded lettuce, cheese, or other favorite taco toppings
---
Instructions
Assemble marinade by combining lime zest, lime juice, olive oil, honey, salt, pepper, and garlic powder in a gallon-sized zip-top bag or shallow container with a lid. Add fish and marinate in the refrigerator anywhere from 30 minutes up to 24 hours*
When ready to cook, combine flour with a pinch of salt and pepper on a plate. Remove each fish fillet from the marinade and dredge lightly with the flour on both sides (just a light, light coating).
Heat 1-2 Tbsp olive oil in a medium skillet over medium-high heat until shimmering. Cook fillets 2 at a time for 3-4 minutes per side or until opaque and browned (this works best if you don't disturb the fish much while letting it cook). Add additional oil to the pan if necessary.
While tilapia is cooking, make honey-lime sauce by pouring leftover marinade into a saucepan and bring to a boil over medium heat. Boil 5-6 minutes until slightly reduced.
To serve, break fish into large pieces and serve in tortillas with honey-lime sauce, lettuce and other favorite toppings.