raspberry stuffed french toast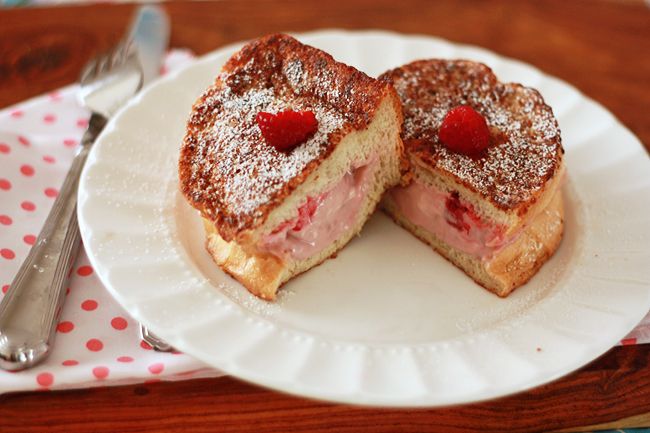 Michael and I got talking about stuffed French toast one afternoon after seeing a photo of a delicious-looking Nutella-and-banana-stuffed  number. We got talking about all kinds of different combinations we could try, and while we're excited about lots of the possibilities (blueberry-lemon, Nutella-banana, strawberries-and-cream), we were most excited about trying a raspberry French toast. It took us four tasty tries, but we've nailed it.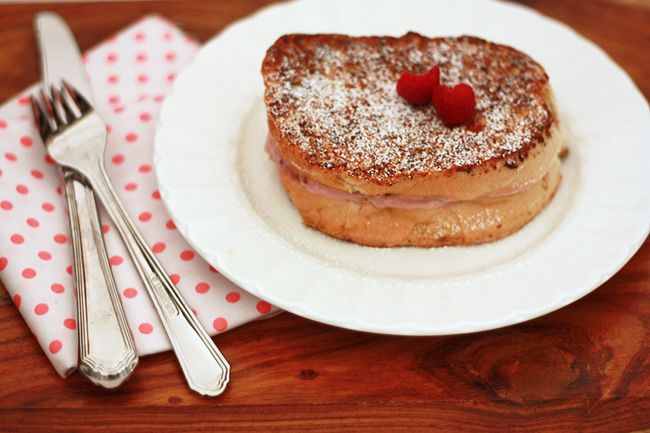 French toast is usually hit or miss for me. I'm rather particular about it. I don't like it to be soggy, I want plenty of flavor, and a delicious crisp crust with a tender, custard-y inside. And that's just plain French toast, not stuffed. I thought it would be impossible to achieve the perfect texture with stuffed French toast. I was, thankfully, wrong.
The keys for us were making sure we had stale bread, only dipping it in the custard mixture for a few seconds, and then cooking it in a buttered pan over medium heat till golden and perfect. Ohhhhhh it was good.
And the filling–oh! the filling! Not too sweet, great raspberry flavor, and not too juicy. We mixed in raspberry jam (our favorite is Bonne Maman –it doesn't have high fructose corn syrup and tastes almost as good as homemade) and then folded in some lightly sugared raspberries. Perfection.
So, for your next big breakfast, brunch, or breakfast-for-dinner, I highly recommend this stuffed French toast. We even made a date night out of it–we put Sophie to bed, changed into our jammies, popped in one of our favorite shows and had a breakfast-in-bed date. So cozy. So romantic. So tasty.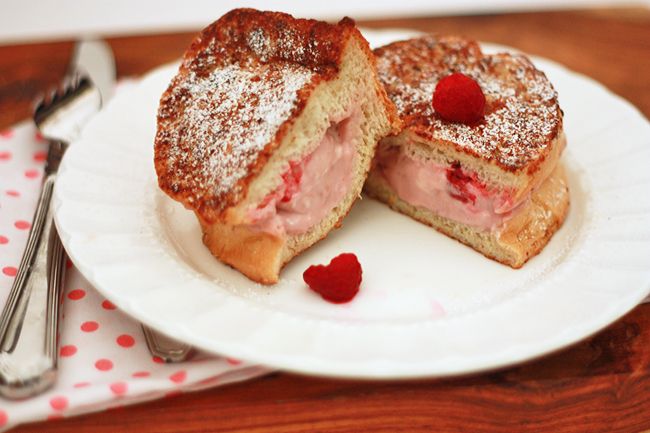 Print
Raspberry Stuffed French Toast
---
1

loaf french bread, ends trimmed off, and cut into

5

–

6

sections.

1

(8oz) block cream cheese, softened (low-fat is okay)

4 Tbsp

raspberry jam

1

c raspberries (fresh or frozen)

1/2

–

1

Tbsp sugar

2

eggs

1/2

c milk

1/4 tsp

vanilla

1/2

–

1

Tbsp cinnamon

1

–

2

Tbsp butter
Powdered sugar
---
Instructions
Prepare the French bread by slicing into 5-6 sections after trimming the ends off the loaf. Each of the sections will be quite thick. Use a serrated knife to slice 3/4 of the way through each section, leaving it attached. (This way, you have the perfect place to put the filling). I prefer leaving the bread out for a few hours to get hardened a little bit. (It absorbs the custard much better this way.)
Make the filling by combining the cream cheese and raspberry jam. You can do this with a spatula or a hand mixer. Place raspberries in a separate bowl and sprinkle with a little bit of sugar.
Divide the cream cheese filling among the 5-6 sections of bread. Spread mixture in the slit of each section and sprinkle a few raspberries on top of the cream cheese. You'll now have 5-6 little "sandwiches."
Make the custard by whisking together eggs, milk, vanilla, and 1/2Tbsp cinnamon.
Melt butter in a large skillet over medium heat. Working in batches of 2-3 "sandwiches," dip each sandwich in the custard mixture 3-5 seconds per side. Add immediately to the pan and cook over medium heat 2-5 minutes or until golden brown, flip over and cook 1-3 minutes more till golden. Repeat with remaining sandwiches.
Sprinkle with powdered sugar to serve.
Notes
Makes 5-6 French toast sandwiches
(We got a full 6 servings out of this recipe, but if you want more filling in each sandwich, feel free to make 5.)