Can we talk about the show Pushing Daisies for a minute? Seriously, have you experienced this charming, sunny, quirky, and completely adorable show? The whole thing revolves around a loveable, shy pie maker named Ned and his childhood sweetheart Charlotte (called Chuck). The colors, wardrobe, scenery, narration, and dialogue are all fantastic, and it's the most brilliant piece of television I've ever seen. It is a crying shame that it was cancelled after two seasons. Luckily, I have both of them on DVD and watch them often.
I think of Pushing Daisies every time I make a pie.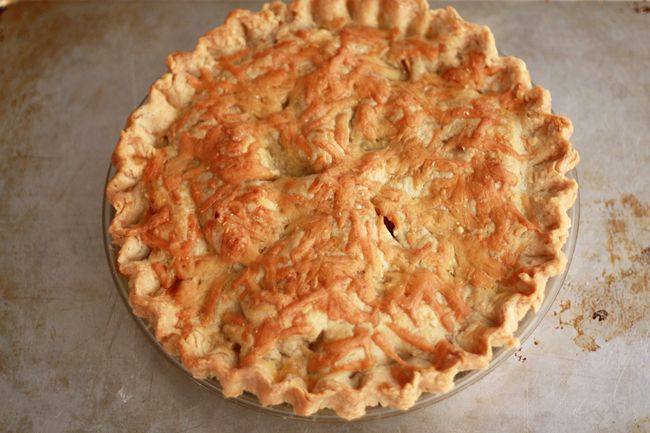 It is from said Best Show Ever that I got the idea for this pie. There are LOTS of different pies mentioned in the show, since it takes place at a pie shop called The Pie Hole. There are some I still have to re-create (like Three Plum served a la mode) but this Pear with Gruyere is one I think I've mastered. There just isn't anything like a bite of warm pear pie. The thick, juicy slices of pear, the perfect flaky pastry crust, and a subtle tang from the cheese.
If gruyere isn't your thing, you can go for a nice, strong cheddar. Do be sure to choose something bold, because if you use mild cheddar, you won't even be able to taste it. Or, if you just want to give the pear filling a try, you can top it with the same crumble topping I use in my Apple Crumble Pie. When choosing pears, you can use any sort you like–Anjou, Bosc, red–or, you can choose a combination. Just be sure to choose pears that aren't too soft; they should be firm (not hard) with just a touch of give.
Whatever you do, dear reader, make a pie, get Pushing Daisies from Netflix, and settle in for the perfect date ever.
(Psst… need other pie ideas? Check out the pie section.)
Print
1

double crust

7

–

9

pears, peeled, cored, and sliced

3 Tbsp

brown sugar

3 Tbsp

sugar

3

–

4

Tbsp flour

1 tsp

vanilla

3/4 tsp

cinnamon

1/4 tsp

cardamom

1

egg +

1 Tbsp

water or milk

1/2

c grated gruyere cheese (more or less to taste)
---
Instructions
Roll out bottom crust and place in a 9-inch pie pan.
Make pie filling by combining pear slices, sugars, 3 Tbsp flour, vanilla, cinnamon, and cardamom. If pears are especially juicy, stir in an additional tablespoon of flour. Pour filling into crust.
Roll out top crust and place over filling. Pinch crust edges together and crimp with fingers or press down with a fork. In a small bowl, whisk egg and water together. Brush top crust with egg wash. Sprinkle with cheese. Make a few small slits with a knife to allow steam to escape during baking.
Place pie pan on a baking sheet. Bake at 350 degrees 45-60 minutes, or until very golden. Rotate pan halfway through cook time for even baking. Allow pie to cool before slicing.
Notes
Makes 1 (9 inch) pie.
*The amount of spices are mild here to allow the flavor of the cheese in the crust to shine through. If you like, feel free to add more than what was called for.