Smoky Lentil Soup hits all the right notes. Flavorful and filling for a fall or rainy day.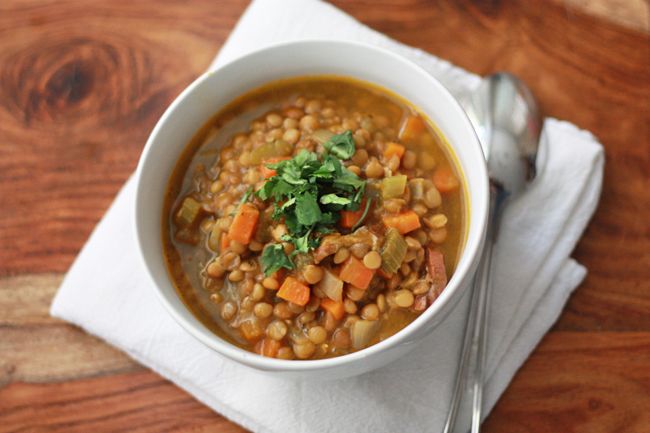 I feel like shouting "where did January go!?" in a big way. A big, celebratory and incredulous way. Yay! I did it! We did it! We're still plugging away, and I'm doing my best not to count the days until this quarter of Michael's program is over. Three days a week (at least) he's scheduled not to be home until just before bedtime. It makes for some perilously long days. As much as my mama heart wants to feel every minute of those long days that I love this, that it's worth it, that it's only for a few weeks, and that I'm so grateful and lucky to be able to be home with my babies… real life and my humanity creep in on a daily basis. I fight exhaustion, curse teething for the umpteenth time, and spend the better part of mornings and afternoons and evenings praying my heart out for patience and more love. I've been struggling to find a good balance between therapies, just letting my babies be babies, maintaining structure, and letting go. It's a dance I'll be doing for ages, I expect. So long as I'm a mother, which I hope is a very, incredibly long time.
So. What does that have to do with lentil soup?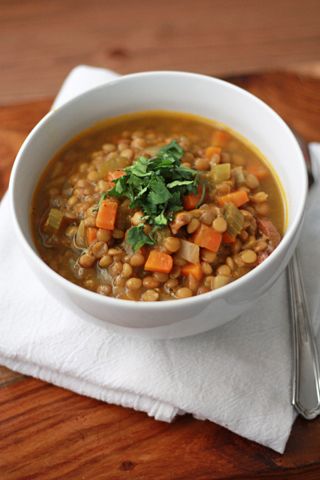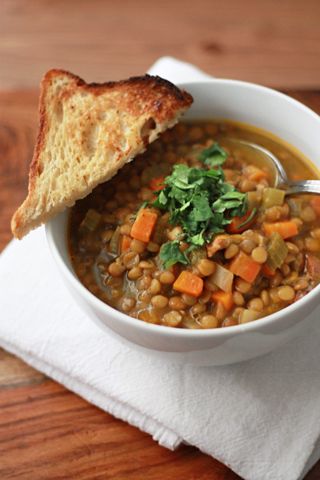 Well, on the food front, at the end of some of the harder/longer days, I've just put whatever I know the kids will eat in front of them and stress-eat chocolate chips in the pantry while they're not looking. Those days have happened more than I'd like to admit lately, so I've been falling back on slow, easy favorites and low-maintenance dishes I can make ahead or without much constant effort.
This is a recipe that feels like home. My house amidst chaos can feel warm and full. It smells like comfort, and, in its simplicity, tastes just like soup should. It's full of flavor, relies on simple, whole ingredients, and gets better with time. I put babies to bed, and dice vegetables–something that doesn't require much energy or attention. The methodic prep work is calming, and, in the absence of someone pulling on my leg or a diaper to be changed, I connect to the sizzle of the bacon in the pan as it pops away, and my house fills with the smell of vegetables.  While it simmers, I pick up toys or watch a bit of a show, or let my mind melt browsing Pinterest. I tuck it into the refrigerator before bed, and let the flavors marry overnight. I go to bed knowing that in the chaos of the next afternoon, I can pull out my pot and slowly heat it. Soon, the steamy, dreamy smell of soup fills the air, and my kitchen and I know that at least one thing will be very right today. 
It just feels like home.
Print
Smoky Lentil Soup (gf, df)
---
Description
I prefer nitrate free bacon (Applegate Farms is my favorite, but Hormel Naturals or Trader Joe's uncured are also lovely). These brands are all gluten free, but if you use something else and need to be GF, do be sure to double-check your labels.
---
2

–

4

slices bacon, diced

1

onion, diced

4

carrots, diced

2

stalks celery, diced

3

cloves garlic

1

lb lentils (I bought brown lentils)

2 quarts

vegetable broth*
olive oil
salt & pepper
---
Instructions
In a large soup pot or Dutch oven, brown bacon. Drain fat as desired, but don't scrub the pot. Add a small drizzle of olive oil to the pan and heat over medium heat. Add onion, carrot, and celery to the pan with a sprinkle of salt and pepper. Cook over medium heat until tender. Add garlic, and cook 1 minute longer. Add lentils and vegetable broth to the pot.
Bring to a boil, then reduce heat to a simmer. Simmer soup 30 minutes-1 hour, or until lentils are tender (if your lentils are a bit older, you may need to simmer longer). Taste and add additional salt or pepper, as desired.
Notes
*If you're GF, be positive you're using GF broth. I like Pacific Foods brand, but Imagine Organic is also a safe choice. Naturally, homemade veggie broth should be completely safe.