spicy potato pancakes (gf, df, v)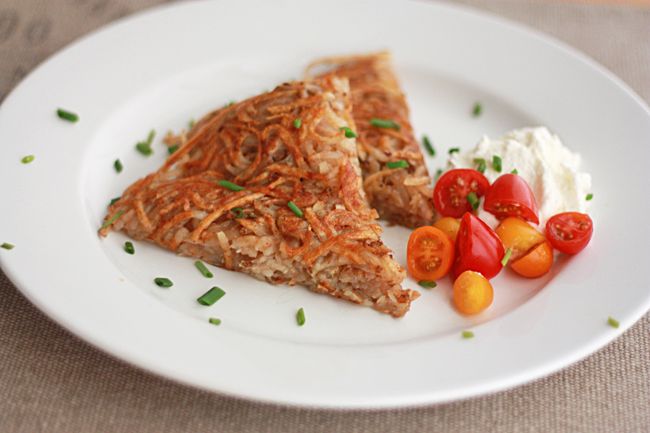 This was SO good. I hesitate to say this next thing because I fear some of you will hear the words I'm about to say and run off in the opposite direction. Which would be a shame, because these were delicious!
Okay… Here it goes: these tasted almost like curly fries.
Confession: I love curly fries.
Still here? Brilliant! Read on, friend.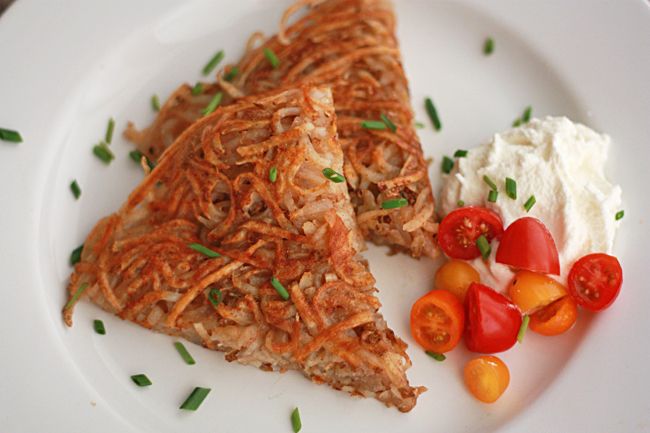 This tasted like curly fry seasoning to me. This surprised me, since the seasoning was nothing more than a little paprika, salt, and garlic powder (plus a little cayenne because we're wild and crazy). For some reason, I always imagine curly fry seasoning to have 300 secret herbs and spices. Oh well! Simple is best. The good news is that these are significantly healthier than curly fries, and they provide an excellent base to add on to.
I like serving potato pancakes like this one in wedges, topped with something tasty. You could serve it with a bit of cooked sausage, dollop of sour cream, a runny egg, or (as Adam and Joanne did) with a bit of ricotta and a few tomatoes. On the other hand, you can serve it plain with a little side salad and call it good.
The seasoning mixture is forgiving as well. Next time, I might try adding in a bit of fresh parmesan or making a fancy ketchup to serve alongside (maybe chipotle ketchup?).
However you try them, they were delicious!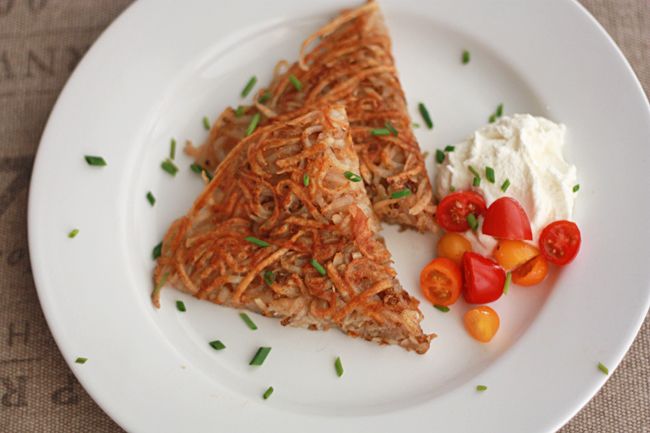 Print
Spiced Potato Pancakes
---
Description
One trick to achieving a crisp potato pancake is to squeeze as much liquid out of the potatoes as you can before cooking. Also, fight the urge to check on the potatoes. The less you touch them, the more golden brown they'll be.
---
1

lb. potatoes, scrubbed and grated (you can peel them if you like)

1 tsp

salt

1 tsp

paprika

1/2 tsp

garlic powder
pinch cayenne

1 Tbsp

butter*

1 Tbsp

olive oil
chives, for garnish (optional)
---
Instructions
Using a kitchen cloth or a stack of paper towels, squeeze as much water out of the potatoes as you can. Add potato shreds to a medium bowl and toss with salt, paprika, garlic powder, and cayenne. Toss to be sure all the potato strands are well coated with the seasoning mix.
Heat a 10″ pan over medium heat. Melt butter and olive oil in the pan and add the potato mixture. Toss the potatoes with the butter/olive oil, then using a spatula, pat the potato mixture down as much as you can to make it quite compact.
Do not disturb potatoes as they cook over medium heat 5-7 minutes. Check under one corner and, if golden, flip the potato pancake over. If any sections come apart, pat them together again with your spatula. Cook 5-7 minutes longer, or until golden brown. Serve with a sprinkle of chives.
*If you're nervous to flip the potatoes in the pan, you can place an upside-down cookie sheet over the top of the saute pan and, in one motion, flip the potatoes out onto the cookie sheet. Then, simply slide the pancake back into the pan.
Notes
*For dairy-free version, use 2T olive oil instead of 1T butter + 1T olive oil. Also, serve it with something besides ricotta 🙂
Adapted from Inspired Taste