Updated from the archives
Let's be honest. Split pea soup isn't going to win any beauty contests. This I know.
Still, please don't be fooled by its appearance. Split pea soup is delicious. And, ironically, it doesn't so much taste strongly of peas, thanks to homemade broth, ham hocks, aromatics, and simmering time.
In about a month and a half, bone-in hams are going to go on sale for Thanksgiving. Big time. (They also tend to be on GREAT sale around Christmas and Easter.) I find it's best to use ham on the bone for this recipe–if you serve ham and potatoes, for instance for a Sunday dinner, reserve about 1 pound of ham on the bone and use that for your soup. You can also just save the bone any time you have ham and combine that with a ham steak. If you can't find ham on the bone, you can look for ham hocks, which are inexpensive (although really ugly to look at) and use that instead.
The reason you want a ham hock or ham bone is that it flavors your soup, especially when paired with a longer simmer time. Not only that, but in all honesty, your soup picks up extra calcium. I'm not even kidding. Simmering the bone in with the soup also gives the soup a better texture. I'm not going to go into detail, since I'm afraid I've already lost half of you, so just trust me.
Anyway. Moving on.
If you do have time and energy to make homemade chicken broth, I promise it would be worth your time. Pinky promise. But, if not, I understand, and you will still come out with a tasty soup.
If you want more going on in your soup, feel free to add a few diced carrots or potatoes in. I love the simplicity of the soup as is, and still feel like I get a great flavor. Also, as a side note, the soup tends to thicken when refrigerated, so if you find this is the case for you, feel free to stir in a splash of water when reheating leftovers.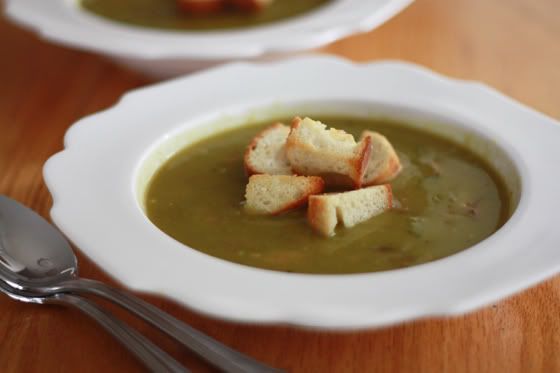 Print
Scale
Ingredients
1

lb smoked ham on the bone (if you can't get a bone, just use 1lb of ham +

1

ham hock)

1

lb dried split peas

1 quart

chicken broth

1 quart

water

1

onion, diced (I like a fine dice)

2

stalks celery, sliced or diced (again with the fine dice/slice)

1

clove garlic, minced

1

–

2

tsp olive oil
salt and pepper to taste
---
Instructions
In your largest pot, saute the celery and onion in olive oil till tender over medium heat. Add garlic and cook 1 minute more. Add remaining ingredients. Bring mixture up to a boil. Reduce to a simmer, and simmer at least 1 hour, or up to 2 hours (till the peas have completely softened and the soup is smooth). Before serving, remove ham hock/ham bone from soup. Remove ham from bone and dice. Return ham to soup and discard bone, etc.
Serve warm with garlic croutons, toasted bread, or rolls. (I made garlic croutons by dicing a baguette, tossing it with olive oil and 1 minced clove of garlic, then toasting at 400 degrees for 4-8 minutes.)
---