vegetable and sausage gumbo (df)
It's practically soup season!
At least it probably is where you live. Here, it's supposed to be in the high 90s, low 100s for the rest of the week. Still, there's something about gumbo this girl loves.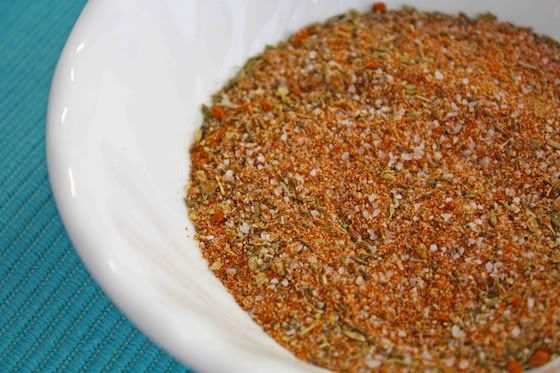 There are a million different ways to make gumbo, and I can't think of a single version I've seen that didn't sound great. Key elements of gumbo are the roux and okra, which are used as thickeners. Gumbo uses a brown roux, made from oil and flour, which takes a little bit more time than a traditional butter/flour roux for thickening cream sauces, but develops a smoky, deeper flavor that goes perfectly with the other gumbo ingredients.
If you've never tried okra before, this is a good recipe to eat it in. Flavor-wise, okra is pretty mild and absorbs other flavors like a dream. I have a hard time finding fresh okra to use, but every grocery store (and even Wal-mart) I've ever been in sells frozen cut okra, so it shouldn't be too hard to locate.
As many soups and stews do, I find gumbo appreciates with time. (I loved it better the second day even more than the first). You can serve this stew-style over white rice or eat it more like a soup. It freezes really well and makes a nice, big, steamy pot. I like to freeze it in small containers for a quick, warm lunch on days where soup just feels right. Oh, gumbo…I love you. Drool.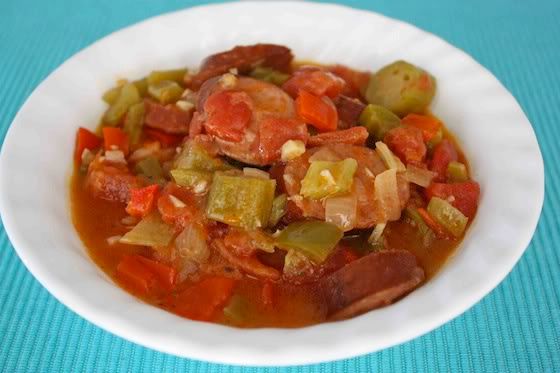 Print
Vegetable and Sausage Gumbo
---
For Gumbo:
1 1/2

lbs kielbasa, sliced (I like light or turkey versions)

1

red or orange bell pepper, diced

1

green bell pepper, diced

1

onion, diced

4

stalks celery, sliced

1/2

lb okra, sliced (if using frozen, don't thaw)

3

cloves garlic, minced

2

–

3

tsp cajun or creole seasoning (recipe below, or you can use store-bought)
Black pepper, to taste

1/2

c canola oil

1/2

c flour

1

(28oz) can diced tomatoes, with juices

3

–

4

c chicken stock
For Cajun Seasoning:
Ingredients:

2 1/2tsp

paprika

2tsp

salt

2tsp

garlic powder

1tsp

black pepper

1tsp

onion powder

1tsp

cayenne

1tsp

oregano

1tsp

thyme
---
Instructions
For Gumbo:
In a large soup pot, brown kielbasa. Set aside. In the same pot, cook bell peppers, onion, celery, and okra over medium-heat till crisp-tender. Add garlic, creole seasoning, and pepper and cook 1-2 minutes more. Turn off heat and cover.
In a small saucepan, cook oil and flour over medium heat until golden brown–many describe the color as coffee with milk. (I don't drink coffee, so I guessed, but I went for a caramel color.) Stir pretty consistently, as you cannot use burned roux. Remove from heat and let cool 3-4 minutes.
Add tomatoes & juice to soup pot. Pour roux over all and stir to combine. Add 3 1/2c chicken stock to pot and stir over medium-high heat until mixture comes to a boil. Simmer, 30-40 minutes or until thickened slightly. Add more chicken stock if necessary or desired.
Serve over rice or in bowls like soup.
For Cajun Seasoning:
Combine all ingredients in a small airtight container or jar and shake well to combine. Will keep for 2-3 months in airtight container.