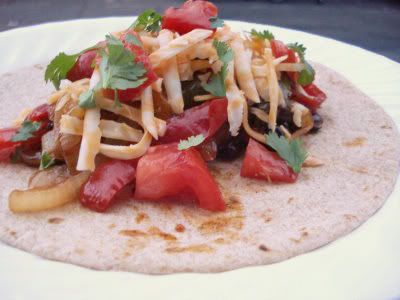 I can't explain it, but I've had an insatiable craving for vegetable fajitas over the past few weeks. Had I ever before had vegetable fajitas? Nope. But I knew it would go well, so I made up a super-simple recipe that came together in minutes.
I'm sorry that I covered up all those great-looking veggies with the cheese…I couldn't help it. I devoured it RIGHT after I photographed it, and, by the quality of the photo, I'm sure you can tell I was eager. For the record, I absolutely recommend whole wheat tortillas. I LOVED them. They made me feel extra healthy in this meatless meal.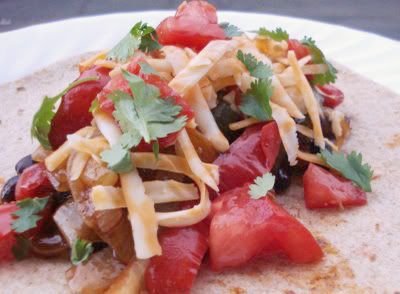 Veggie Fajitas
Printable Recipe
Ingredients:
3 bell peppers, sliced (I used red, orange, and green)
1 large onion, sliced
1 small zucchini, cut into matchsticks
1 lime
1 pkg fajita or taco seasoning
1-2 cans your favorite beans (I used black, but I think refried black beans would also be great)
10″ tortillas
grated cheese
tomato slices, olives, avocado, cilantro, what-have-you for garnish
Directions:
In your largest saute pan, saute peppers, onion, and zucchini in 1-2 tsp olive oil. Squeeze in the juice of 1 lime and stir in fajita seasoning. Cook till veggies are tender. Serve on tortillas with beans, cheese, and garnishes of choice.