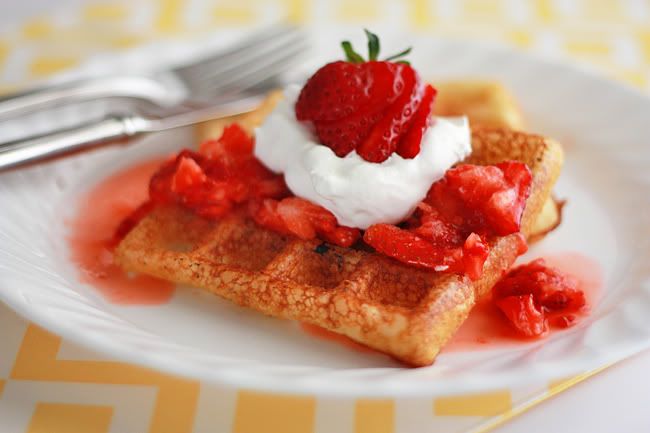 Breakfast foods. I love them.
Although my love was ardent and true pre-pregnancy, this baby girl has done nothing but increase my affection for breakfast foods. Cold cereal, granola, toast, oatmeal, and the like, sure, but I've just craved waffles and pancakes and French toast.
Have I made many of these things? Nope. But sure doesn't stop a girl from bookmarking more than a dozen ideas for 'em.
Finally, last night, we tackled one that's been on my list for about 2 years: yeasted waffles.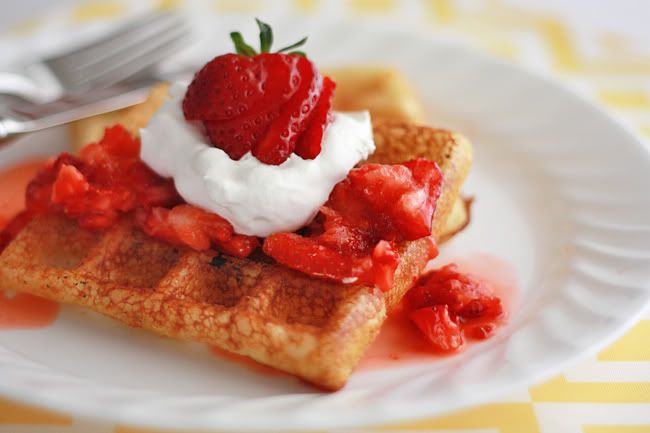 So, why worry about yeast? I'd just heard the flavor was so much more developed and delicious. I'd heard the texture was light, airy, and crisp. I'd heard they work well for sweet and savory toppings.
Uh, yes please.
What's great about this recipe is that the waffles can be almost entirely mixed up the night before you want to serve them. Then in the morning, you stir in the eggs and baking soda, and voila! All done. If you're putting on a big breakfast, this saves all kinds of time, and makes for an easy (or at least easiER) morning.
We ate ours with fresh strawberries that we mashed with a tiny sprinkle of sugar and about a tablespoon of orange juice. They were GREAT. I think the traditional syrup route would be spectacular, and I do think that if you were feeling adventurous, they'd be the perfect vehicle for a savory breakfast sandwich.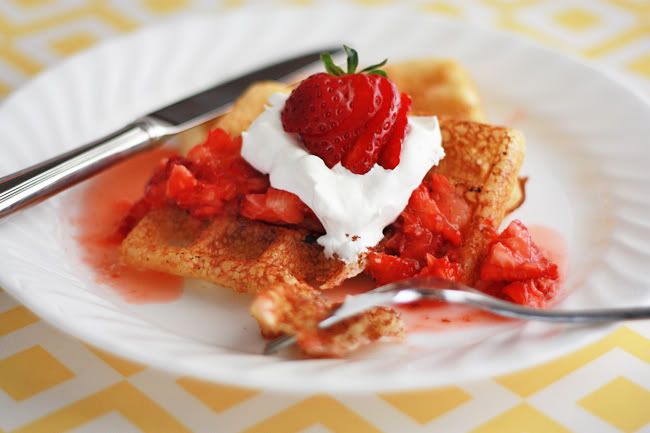 Print
1/2

c warm water

2tsp

yeast (I like SAF brand)

2

c warm milk

1/2

c butter, melted

3Tbsp

sugar

1 tsp

salt

2

–

2 1/4

c flour

2

eggs

1/4tsp

baking soda
---
Instructions
In a large bowl, combine yeast, warm water, and milk. Stir to combine and let rest 5 minutes. Stir in butter, sugar, salt, and 2c flour until smooth. Cover and let rest at room temperature 6-8 hours or overnight.
When you're ready to cook the waffles, stir in eggs and baking soda. Batter will be somewhat thin. Cook a test batch according to your waffle iron's instructions. If waffle comes out too thin, or you feel it's needed, stir in up to 1/4c more flour and continue cooking.
*Leftover batter will keep covered in the refrigerator up to about 2 days.