Updated from the archives
I don't even think I have to ask. But I will. What do you think of this one?
I hope I don't sound like the boy who cried wolf, but these cookies really are change-your-life amazing. TRY THEM.
These cookies are very elegant and I just can't help but love them.
I will warn you, however, not to inhale whilst putting the cookie into your mouth. The powdered sugar will surely coat your lungs and coughing will ensue, which sort of takes away from the velvety magic of the cookies.
One note on the recipe: I have found that when I live at a higher altitude that I need to add an extra 3-4Tbsp flour to the recipe to achieve the proper crackle effect when baking the cookies. If you find you're having a hard time getting the right effect, try adding a few tablespoons of flour to the batter and see how it goes.
Also, don't be afraid if when you take the cookies out they still look a little wet in the middle when you take them out of the oven. They finish setting as they cool and will be soft and delicious if you bake them this way.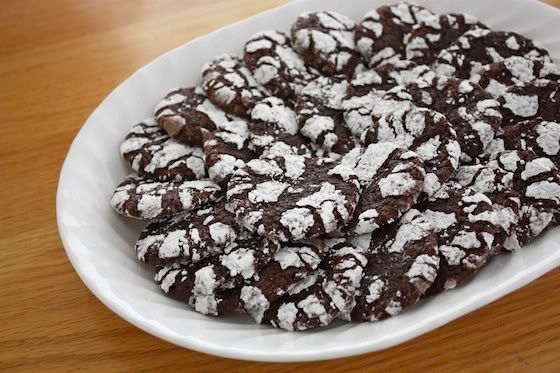 Chocolate Crinkle Cookies
Ingredients
¾c oil
¾c cocoa
2 c sugar
4 eggs
2 tsp vanilla
½ tsp salt
2 tsp baking powder
2c flour
about 1 c powdered sugar
Instructions
Mix oil, cocoa, and sugar until it's about the texture of wet sand. Stir in one egg at a time, making sure to incorporate each egg. Stir in vanilla, salt, and baking powder. Sift in flour and stir to combine.
Refrigerate 2-3 hours or overnight. Form into 1″ balls. Roll each in powdered sugar to coat well. Place on a cookie sheet sprayed with cooking spray, covered with parchment, or lined with a silicone baking mat.
Bake at 350 degrees for 8-10 minutes.
Cookies will still look slightly dough-y. Don't overbake them! Leave them on the warm pan 1-2 minutes and the heat will continue to set the cookies. When cookies are set enough to move, transfer to a cooling rack.
Makes about 4.5-5 dozen cookies.