shredded beef tacos (gf, df, Paleo, Whole30)
Almost every family loves taco night. For Michael's birthday this year, he requested beef tacos. "Real beef tacos."
After a lot of research, I ended up putting together a spice mixture that was the perfect blend of spicy, tangy, and even a tiny sweet undertone. The smell and taste were close-your-eyes amazing. One of the keys here is to brown the meat very well. This helps give you those crispy edges that taste so delicious. When you brown the meat, look for a very deep brown. Something like this: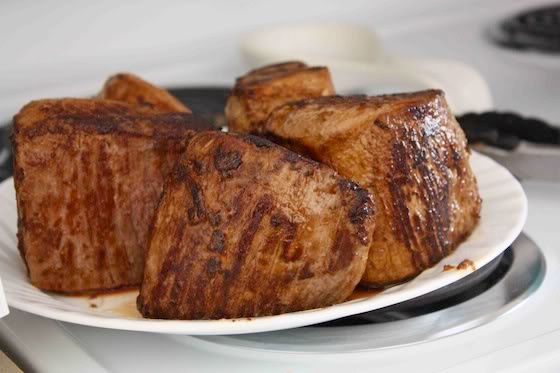 For this recipe, I used my enameled Dutch oven (like the Les Creuset brand). It goes from stovetop to oven. If you don't own something like this, you can certainly use a slow-cooker. Be prepared for a lot of leftovers–it's a lot of beef. It freezes beautifully. Or, you can use it for tamales.
If you're Paleo or on Whole30, you can make and eat this beef alone or paired with some roasted sweet potatoes.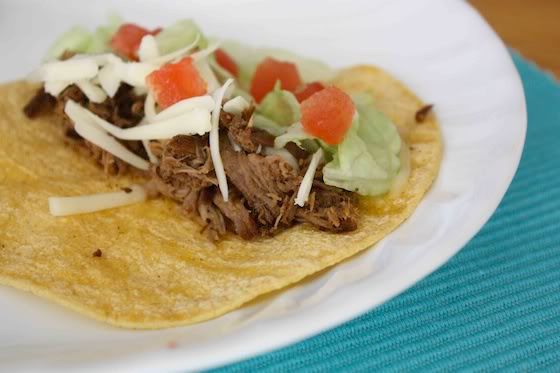 Print
4

lbs beef roast (I usually use chuck), sliced into 4-5 pieces

2

–

4

Tbsp canola oil, coconut oil, or avocado oil

1/3

c cider vinegar

2

chipotle chiles, adobo sauce rinsed off

4

cloves garlic

3 Tbsp

lime juice

3 1/2 tsp

cumin

2 tsp

salt

2 tsp

black pepper

2 tsp

oregano

1/2 tsp

cloves

3/4

c beef or chicken broth
To serve: lettuce, cheese, tomato, corn tortillas, etc.*
---
Instructions
In a large pot, heat oil over medium heat. Brown beef on all sides (do it in batches if necessary–don't crowd the pot). In a blender or food processor, puree vinegar, chiles, garlic, lime juice, cumin, salt, pepper, oregano, and cloves.
Pour spice mixture over beef and stir to coat. Pour broth over all. Bring to a simmer and cover with lid.
Bake at 275 for 5-6 hours. If using a slow cooker, cook on high 5-6 hours or low 7-8 hours.
Shred beef. Skim fat off top of broth and drippings and discard. Pour remaining liquid over beef and toss to coat. Serve with corn tortillas, lettuce, cheese, and tomatoes.
Notes
*For gluten free version: be sure your corn tortillas are gluten free. For dairy free, skip the cheese.